Alter Ego (アルターエゴ, Arutā Ego?) is a class of being created by BB, those who "rejected the old rules."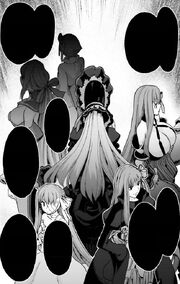 BB, as a unique function of an AI, was able to detach part of the "ego" that makes her an individual and divide her functions into them. She took them and created offshoots of herself, packing in as much data from the "goddess series" of Heroic Spirit data from the Moon Cell's Servant Archive. They are composite heroes and artificial Servants, Heroic Spirit complexes, created from multiple Servants, but those used were Divine Spirits rather than human Heroic Spirits. Taking goddesses compatible with each Ego and reproducing their data, they are brought into existence as beings with Composite Divinity formed from several goddesses. Calling them High-Servants, they are created to act as her vanguard and cores to expand the Sakura Labyrinth. As offshoots of BB's Personality, creating more Egos separate from her will make her smaller and weaker, limiting the amount she is able to make. They are formed by five emotions: "love and hate", "joy and happiness", "purity and chastity", "compassion and affection", and "lust and yearning." They symbolize sensuous parts of the female body with Passionlip representing the breasts, Meltlilith representing the feet, and the others representing the eyes, lips, and back.[1] As they all originated from "White Sakura", they all have floral based name to signify this.[2]
Creating souls within the Moon Cell is not difficult due to their design having been long solved, but the issue is the soul being able to "house" the self-consciousness.[3] While made from fragments of BB's emotion fused into new souls, they develop their own AI and existence separate from her, taking the characteristics of the gathered Servants to develop their own peculiar humanity. They inherit a resemblance to Sakura due to BB's connection to her, but develop different characteristic from both of them. They develop their own original hearts that could not normally be created by an AI, but they do not know how to hide themselves or their secrets. This makes them prone to others pointing out weaknesses in their hearts and collecting their SGs. Even if they become different, they have no true freedom because the core of their soul is still that fragment of BB. Though they display certain exteriors, they are called monsters that are unable to reach a true understanding with others at their true nature. While others can be spoken with to come to an understanding, they are much more likely to fight when confronted.
They are Advanced AI that have great power far above normal Servants from taking that of the goddesses mixed together, so they have special skills like the "id_es." They are not bound by BB's programming that does not originally allow her to harm Masters, so they are free to attack. Having become even more harmful existences than BB, even one such as the seemingly docile Passionlip can become a monster in a moment's notice. Due to being offshoots of her, having harm come to them is like having harm come to her, allowing her to use them to bring about her "self-preservation" priority to overwrite her "cause no harm to Masters" setting.
Development
Edit
The initial proposal was for Alter Egos based on five emotions, forming what was called the Sakura Five (サクラファイブ, Sakura Faibu?) in development of Fate/Extra CCC. They would have been the consecutive bosses of the Sakura Labyrinth after Lancer, but the "Sakura Hell" did not materialize. Passionlip and Meltlilith ended up in the game, while the other three remained unused and detailed in Fate/EXTRA material. Violet and Kingprotea were later used in Fate/Extra CCC Fox Tail. There originally would have been a village in a dungeon containing normal Sakura-offshoots and Kazuradrop.
Known Alter Egos
Edit
References
Edit
↑

[] Fate/EXTRA material - Encyclopedia: Sakura Five [Other], p.183

Sakura Five [Other]
The Alter Egos that rejected the old rules.
They were the five alter egos of BB, formed by five emotions: love and hate, joy and happiness, purity and chastity, compassion and affection, as well as lust and yearning.
In the early design of CCC,
the boss of Level 1 was Red Lancer.
The bosses of Level 2-6 were the Sakura Five.
BB or the Mastermind would reside on Level 7.
It truly was Sakura Hell. It was fortunate that the design did not materialize, but at the same time, there was a sense of pity.
By the way, Alter Egos symbolized the sensuous parts of the female body.
Passionlip represented the breast, Meltlilith the feet.
The other Alter Egos represented eyes, lips, and back.

サクラファイブ【その他】
没になった旧プロットに存在したアルターエゴ。
愛憎、快楽、純潔、慈愛、渇愛、と五つの感情から作られたBBの分身たち。
CCC最初期案では、
第一階層のボスは赤ランサー、
第二~第六階層のボスはサクラファイブ、
第七階層のボスはBBか黒幕、という構成だった。まさにサクラ地獄。お蔵入りになって良かったような、残念のような。
ちなみにアルターエゴたちは女性の扇情的な身体部位をシンボライズしている。
リップは胸、メルトは脚。
残りのアルターエゴたちは目、唇、背中。

↑

Fate/Extra CCC Foxtail Ch19 Page 8

↑

[] Fate/EXTRA material - Encyclopedia: Alter Ego [Circumstances], p.157 [T]

Alter Ego [Circumstances]
The Alter Egos are alternate personalities separated from the ego of BB. Indeed, Alter Egos.
Alter Egos are a group of high-level AI's created by BB in CCC.
These girls who were created from BB's emotions each have a soul, and are active in the cyber world as entities completely separate from BB.
Creating a soul is not a difficult task for Moon Cell, this is because the design and structure of souls has already been discovered. The problem lies in whether the soul can become self-aware once put into its "container."
The Alter Egos were all created as incomplete copies, so in order to account for this flaw they were each bestowed with independent self-awareness separate from BB's.
Each Alter Ego inherits a single emotion from their progenitor BB. This is why Passionlip is embodied with despair, and Melt Lilith is a disciple of destruction.

To digress, in the original design plans for CCC there were 5 Alter Egos, and during development they were called "The Sakura Five." Before the release of CCC they were pit head-to-head in a cruel life or death competition. Passionlip and Melt Lilith are the two Sakura of the five who were victorious and survived to the end [in order to make it into the game].

アルターエゴ【事柄】
自我から分かれた別人格。オルターエゴとも。
CCCではBBから作られた上級AIたちを指す。
BBの感情から作られた彼女たちには魂があり、すでにBBとは違う生命体として活動している。
ムーンセルにおいて魂の作成はそう困難な事ではない。魂の設計自体はとっくに解明されている。問題は魂という「筐」の中に自意識が宿るかどうかだ。
アルターエゴたちは不完全なコピー形式から生まれ、その欠損を埋めようとあがく事でBBとは違う独自の自意識を獲得した。
……しかし発端であるBBが持つ「ある感情」だけは共通して受け継いでおり、そのためにパッションリップは絶望を知り、メルトリリスは破滅を受け入れた。

余談だが、CCC初期案ではアルターエゴは五体おり、開発中はサクラファイブと呼ばれていたとか。
リップとメルトはゲーム開始前から過酷な生存競争で生き残った、勝ち組サクラなのだった。
Ad blocker interference detected!
Wikia is a free-to-use site that makes money from advertising. We have a modified experience for viewers using ad blockers

Wikia is not accessible if you've made further modifications. Remove the custom ad blocker rule(s) and the page will load as expected.