April Fools' Day
Talk

2
555pages on
this wiki
TYPE-MOON has created a yearly April Fools' Day parody website each year since 2005.
Type-Moon
Edit
Neco-Arc The Movie (2005)
Edit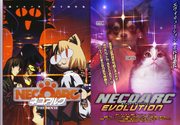 Neco-Arc The Movie is a parody film starring Neco-Arc.

Hazakura Romantic (2006)
Edit
2008 featured various characters set up in different wrestling leagues.

moon.cinemas.jp (2009)
Edit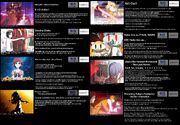 moon.cinemas.jp is a fake movie theater site listing a number of parody films, some of which have their own mini-sites. One of the films joked about is an adaptation of Kara no Kyoukai Mirai Fukuin, an epilogue to Kara no Kyoukai. It was decided it would be done as a real film several years later.
TMitter (2010)
Edit
The Room of the April Witch (2011)
Edit
Main article: The Room of the April Witch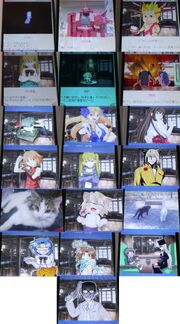 Rather than a typical joke, they instead created an original and serious short story based around on the concept of April Fools' Day. The Type-Moon Mobile Site featured one of 79 splash images with text every time front page was loaded.[2]

Koha-Ace (2012)
Edit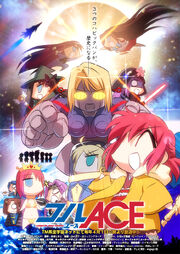 Koha-Ace: Chemical Maid Kohaku is a parody movie poster similar to Neco-Arc The Movie, and it has the tagline "The Three Koha-Big-Bangs will go down in history." The joke for 2012 is much smaller in scale compared to previous years, which each had its own site. The movie poster was placed on the main page of their site, and clicking on it brought up a small two page comic that lampoons both the scale of the joke and the number of times Mahou Tsukai no Yoru was delayed.[3]
This movie was later referenced in Carnival Phantasm, with Kohaku claiming it had been animated. However, before it can begin, Kohaku states their budget had been completely spent in the preceding action scenes.

Rojiura SATSUKI Chapter Heroine Sanctuary (2013)
Edit
Intro
"Type-Moon is now officially mad. But it's funny."
Is what the man who appeared in front of the Back-Alley-Alliance said.
His name is Shiro Emiya. He is the producer in charge of Human Resources of Type-Moon's world.
He doubts the heroine current system, and says that he will "Make everyone happy" by introducing a rotation system, a ploy to stop the top idols from keeping all of the power and popularity.
He suggested to Satsuki, that as the representative of bronze-class heroines, she gather the others and they stand together.
Satsuki was reluctant, but ShirouP said that at the heart of the TV world, it is possible to change the system if you try.
Through Sion's cajolery and Shirou's desperation, Satsuki agreed to rebel against the system.
"For the sake of all of the heroines who don't get a chance...!"
Under this slogan, the three bronze-class heroines Satsuki, Sion and Ries, journeyed from the back alley.
They will overthrow the black heroines, they will reject the silver heroines, they worked part-time to cover travelling expenses, and finally arrived at the zodiac.
"Yes! We've arrived! Our journey is nearly complete! Shirou is a hero-ish person who gave us just one night! All that about 'Ally of justice', 'Ally of justice'!"
If ShirouP had been there, it would have been easily resolved, so Satsuki had been optimistic.
However, right in front of the entrance to the zodiac, SirouP was murdered by a mysterious assassin(Hasako).
ShirouP fell easily, his parting words "Why?" still floating on the air.
"Acha~ Shirou got killed~ Can't be helped~"
Without their advantage, Satsuki wanted to go home.
But they were confronted by Assassin(Hasako).
"Keep away! On this day that fates can be altered, our task is to keep rebels away from the zodiac!"
And so forth, Hasako kept revealing confidential secrets completely unasked.
As she got carried away, she revealed that any heroine can become a gold heroine if she reaches the top floor of the zodiac before the end of April 1st.
(※Note: If a heroine is promoted to gold, an existing gold heroine will be demoted at random)
Sion and Ries became motivated, but Satsuki was scared of fighting.
"Shouldn't we leave such a dangerous thing and just quietly go back to the back alley?"
Satsuki tried to persuade Sion.
But it was too late, as Riesbyfe had already beaten Hasako to death.
"Kyaaa! That sort of violence is unsuitable for a heroine! Even if it's a midnight broadcast, you're reching the limit! Why are you so merciless!?"
"It's fine, Assassin's life doesn't count as a human life. Anyway Satsuki, look at this."
Riesbyfe took a video recording from Hasako.
It projected a 3D imade of the zodiac. On the top floor, at the heart of the TV station, was the Holy Grail.
And there was also the top producer, Shiki!
"L-Let's go...! It's scary but we have to help Tohno-kun!"
"The golden frame, it seems even men want it...that's good, Satsuki."
"Well, I don't agree with the goal, but Satsuki is motivated, so that's good."
"The number of heroines is growing too large. Destroying the Saber-clones is my jurisdiction."
The number of allies had increased without anyone realising.
"Oh? Who are these people?" They set off while Satsuki was still confused.
The goal is the top floor, the Holy Grail.
To gain the role of gold heroine, fight, idols of the back alley!
Presented as a mini-game with text and options, this parody follows
Satsuki
,
Riesbyfe
,
Sion
,
Ciel
and
Saber
as they are trying to climb up the 12 houses of the chinese zodiac. The mini-game unlocked automatically each of the houses, presented in a stone clock illuminating the zodiac with flames, where the heroines engaged some other characters, such
Aoko
,
Arcueid
,
Shiki
, etc. The battles were RPG-style and some of them required the user action, such as choosing the character and order for the fight. Choosing wrong resulted in game over. This game is based off the manga series Saint Seiya
TM-channel (2014)
Edit
TM-channel was a number of streams featuring various characters like Saber, Satsuki Yumizuka, and Lancer.
Fake/states night
Edit
Main article: Fate/strange fake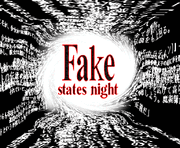 Fake/states night was a joke concept for a game created by Ryohgo Narita. The novel prelude was later released with TYPE-MOON Ace volume two, titled Fate/strange fake.

Notorious Brand
Edit

Notorious Brand is a joke created by French Bread, the creators of Melty Blood. It was presented as a 2d fighting game similar to Melty Blood based upon Fate/stay night. It has a release date of April 1st, 2014. The plot follows strange events occurring one year after the end of Heaven's Feel. There is a mysterious shadow once again stalking the night and killing innocents, which Shirou will not stand for without fighting against it. He manages to master Unlimited Blade Works with his puppet body, but he cannot even scratch the shadow. Its actual identity is Stanrobe Calhin, a ghost Dead Apostle, who has fused with the leftover remains of the Holy Grail. He has become an entity with god-like powers who will destroy everything in his path, and Zelretch summons Servants from alternate dimensions to combat him. They are too busy fighting each other to actually do anything else.
It has an innovative ten-button combat system that will allows for control of both a Servant and Master at once. Commands can be given to the Servant, or they can be kept in the background to enhance the Master's fighting. Another unique feature is the mana bar, which dictates how long a Servant can fight and when it can use its Noble Phantasm. The crucial strategy of the game is knowing when to switch between using Masters and Servants The characters include Saber, Shirou, Archer, Rin, Rider, Shinji, Sakura (Dark Sakura and hollow ataraxia forms), Shinji, Ilya, Berserker, Lancer, Kotomine, Gilgamesh, Caster, Kuzuki, Zouken, Assassin, True Assassin, Lysritt, Sella, Issei and his brother Reikan, Neko-chan and the legendary bartender Ryuu Sasakura, The Mitsuzuri siblings Ayako and Minori, the demon girls of the track team, Kaede, Kane, and Yukika, and the gorgon pair of Stheno and Euryale. Taiga and the servant of the Tiger may also make an appearance.[4]
Sensha Otoko (Ufotable)
Edit
Main article: Sensha Otoko
Ufotable's 2012 April Fools' Day joke was an announcement for an adaptation of Sensha Otoko.

References
Edit
External links
Edit