Assassin of "Black" ("黒"のアサシン, "Kuro" no Asashin?) is the Assassin-class Servant of Reika Rikudou of the Black Faction in the Great Holy Grail War of Fate/Apocrypha. Originally summoned by Hyouma Sagara, Reika becomes her Master shortly after. She is one of the Servants of the Protagonist of the Grand Order conflicts of Fate/Grand Order.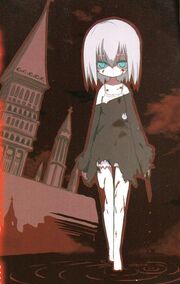 Assassin's True Name is Jack the Ripper (ジャック・ザ・リッパー, Jakku za Rippā?), the Legendary Serial Killer (伝説の連続殺人鬼, Densetsu no Shiriaru Kirā?). She is the perpetrator of a series of gory murders in 19th Century England.[2] She grew up without ever having a home, and spent her time living in the streets. She was extremely thin, and lived outside even during cold weather. She only has memories of the alleyways shrouded in mist and stench. The areas where she slept were not places of rest, but rather nests covered in waste and feces where filthy rats ran about. She was in constant danger of being attacked at night while she slept, and upon waking up on the morning, someone may have easily died during the night. She constantly dealt with pitch black smog so bad that she often couldn't breath properly or even open her eyes.
She eventually reached the point where her mind could no longer deal with the conditions. Upon randomly finding prostitutes, she would impose her image of a mother onto them. While better off than her, they were still crushed by their daily lives, having been worn down to existences that simply struggled to live day by day. While suffering from poverty and wondering whether they would die from starvation or disease, they simply told her to leave. Aware that she would be rejected, she hung her head, held back the tears, and wandered the streets once more without change. If she came into contact with her "Mother" again, she would slowly approach within the mist, and after saying "I'm sorry", she would slit their throats. As they were in anguish, she began to dissect them while in tears. After obtaining a part of the woman, she would press it against her face and cry while remembering the warmth of her mother's womb.
While she is thought to be a legendary serial killer who knew of dissection and slipped into the darkness of night to quietly perform his work, the true form of Jack the Ripper is just a pitiful girl. It is believed that all of her victims were assailed when unguarded, and they were all found with organs removed in a somewhat skilled fashion. Her lamentations never reached anyone, and it is unknown how she eventually faded away after the murders. No one knows if she was killed, committed suicide, or simply passed away naturally. She will likely perpetually reign as an eternal mystery and eternal darkness carved into the history of England. While her identity was never discovered, her knives were left behind after her death and later obtained by Hyouma Sagara.
There is another incarnation of Jack the Ripper that can be summoned, and though this version qualifies for the Berserker class, it is suggested that this version is summoned under the Assassin class, while the other is summoned under the Berserker class.[4]
Appearance
Edit
Personality
Edit
She is a young girl who embodies contradiction itself, combining the dual natures of "day" and "night." She displays a childish manner of speech, but she is truly quick of thought. Rationality dominates her behavior, but there are many inherent weaknesses to her psyche. Her personality is both pure and cruel, and she is inclined to repay cruelty with cruelty and benevolence with benevolence. Killing to her is no more to her than it would be to pick a flower or step on an ant. Her psyche is inherently broken, and mistreatment toward her may result in irreversible deterioration. She uses first person plural pronouns, such as "us" and "we", to address herself, and often lamented the fact that all of the voices she heard on the streets would never mourn "them."[2]
Due to her time on the streets, her ultimate wish from the Holy Grail is to return to the safe and comfortable warmth inside her mother. This desperate wish was the driving motivation behind the murders. While dissecting the women she labeled as her "mother", she would constantly apologize that she wants to "go back" while crying and rubbing a part dissected from the woman against her face. Rather than continue on the cold streets, she wished to return where it was warm.
If summoned by a female Master, she will begin to refer to them as "Mother." When she addresses them, they hear a strange sound, as though she is pronouncing both "Master" and "Mother" at the same time. She is extremely affectionate and childlike towards her Mother, but cruel and ruthless towards others. While she fawns over her wounded Mother, Reika Rikudou, she easily turns cold and maims her proper Master, Sagara Hyouma, with ease before returning to her concerned filled expressions towards Reika. After casually devouring him, she turns childishly bashful and asks Reika to pat her head. Despite becoming easily flustered by Reika's question a moment earlier, she can just as easily casually rip out and eat the hearts of loan sharks without any expression.
Reika feels that the Servant's disposition sometimes matching that of the Master is true in their case. She, who does not truly feel alive, and Jack, for whom the word "alive" may not even be applicable, met due to fate. She is surprised by the notion of having a home to return after having lived on the streets her entire life. Remembering her desperate struggle for survival, she cannot help but feel that "going home" is an occasion that has nothing to do with her. While Servants do not require food to survive, Reika tells her that she is going to cook dinner for her. While she is initially unresponsive to the idea, once Reika tells her it is a reward for her work, she smiles happily and dances around in joy.
Fate/Apocrypha Act1: Unbirth
Edit
Sagara Hyouma, a magus, wishes to summon Jack the Ripper as a Servant, but he fails to do so even with her six knives as the catalyst. He concludes that he needs to create the conditions where the blades were practically used in order to establish a better connection. He quickly decides to use Rikudou Reika, a prostitute he is living with, as a sacrifice. In his attempt summon Jack by killing her, her wish to live is what brings her into the world. While Sagara is the proper Master with Command Spells, she quickly shows that she has concluded that Reika is her Master instead. Before he can tell her to commit suicide after realizing something is wrong with the situation, she incapacitates him by cutting off his jaw and the hand with the Command Spells. She uses her skills to stitch up both their wounds while Reika is unconscious.
She explains the nature of the Holy Grail War to Reika upon arriving at her apartment. She is able to transfer the Command Spells from Sagara's hand to Reika, but she is not a magus or a proper Master. This requires that she devour souls in place of being unable to restore magical energy from her Master. She uses Sagara at Reika's suggestion, and they decide to participate in the War together. Jack's memories appear in Reika's dream during that night, and she sees Jack cutting open a woman to return to where it was warm. They target a loan shark company full of "bad people" the next day in order to gather energy for Jack. She uses the Mist to kill them all, and then they return home for a meal afterward.
Fate Apocrypha: Zugzwang
Edit
Fate/Apocrypha
Edit
While Assassin was originally meant to be summoned in London, it became enemy territory after Yggdmillennia seceded from the Mage's Association. Assassin was instead chosen to be summoned in Japan near a leyline that suited her. After the murder spree in Japan, she and Reika arrive in Bucharest, Romania several days later. Searching out people to kill for her to eat, they hear of the "children of Ceaușescu", and Reika acts as bait in order to capture one for information. After she is attacked by two men, one is slain by Assassin and the other is kept alive to gather information. Though the man tries to resist, it is futile with only the strength of a human, and she incapacitates him to stop further resistance. After Reika obtains the necessary information, Assassin is allowed to eat him, and they go on to slaughter the man's comrades, leaving fifteen corpses in total before moving on to Trifas. Though the circumstances of the murders are strange, all of their hearts being ripped from their bodies, the authorities believe it to be from an internal struggle amongst the criminal groups, but one paper jokingly publishes the headline "The Return of Jack the Ripper?"
Fate/Grand Order
Edit
Abilities
Edit
Her weapons include four strangely-shaped knives, two butcher's knives, and a black, bloodstained scalpel. Compared to other Servants who have garnered legends over centuries and millennia, she is a young Heroic Spirit of only one hundred twenty years. Even with the fame she garnered that gives her the necessary "monstrosity" befitting of a Heroic Spirit, she cannot hope to match those worshiped as gods and heroes with such little history of her own. She can be called a completely unknown Servant, and she has never participated in the Holy Grail War. This suits Hyouma's plan, as he wishes to avoid the weakness granted to those of the Assassin class. It is normally fixed that only one of the Hassan-i Sabbah can be selected as Assassin, so it is possible to develop countermeasures against them simply by having their identities as Assassin exposed. With a different Heroic Spirit, it is possible for him to best make use of the class. Her Noble Phantasms are The Mist and Maria the Ripper.
She has the qualifications to be summoned as either Assassin or Berserker. She obtains Mad Enhancement when summoned as Berserker, which causes a Rank Down in Luck and Mana and the loss of verbal communication and complex thinking in exchange for reinforcing all other attributes. She is only able to be active at night while summoned as Berserker, and The Mist remains active at all times while targeting all entities possessing magical energy within range of the ability.[2]
Reika cannot act as Jack's main magical energy supply due to not being a magus, and while the cost of an Assassin-class Servant is less draining than a Saber or Berserker, she still has to acquire it from other sources. She eats humans souls to replenish herself, feeling considerable hunger when low on energy. Due to her nature as chaotic evil, an existence that preaches chaos in the face of order while carrying out evil deeds, souls of the same nature are more easily digested. Eating evil people is the best for her because it is more polluted and delicious. Hyouma works well for her, especially his quality as a magus. She sucks out all of his blood, leaving him much like a pile of dead leaves with the exception of the hand that had his Commmand Spells. She mainly eats the hearts of her other targets instead of devouring them fully.
She prefers the cover of night to conceal her exposure, and due to her provocative manner of dress, she rarely leaves her abode in daytime. She has the normal Presence Concealment Class Skill granted to the Assassin class, which allows her to almost completely eliminate her presence toward others.[2] This allows her to easily carry Hyouma down the street behind Reika without exposing herself at all. She is even able to elude the senses of Servants, but the ability fails upon the execution of an attack. She has her own unique skill, Murderer of the Misty Night, that compensates for the weakness of Presence Concealment and utilizes both their strengths to allow for a perfect ambush. The skill is associated with her nature as a serial killer rather than that of an Assassin, and it permits a preemptive against all opponents. The skill is unconditionally successful during the night, and if utilized during the daytime, the success is determined by a luck roll.
Her unstable nature grants her a natural protection against mental interference magecraft. Mental Pollution provides a probability that it will be rendered ineffective on its use. Masters of an Evil alignment that perpetrate acts of cruelty towards her can further increase its rank and its capability to defend against magecraft at the cost of possibly causing irreversible damage to her psyche. She has her own ability that affects the minds of others, Information Erasure, which removes any records or memories of her true name, abilities, or appearance following the conclusion of an engagement. It not only targets witnesses of the her fights, but also the opponent and even digital recordings by a closed-circuit camera in broad daylight will be changed. Physical evidence of the engagement is not altered in any way, and her identity may be revealed through logical deduction.[2]
She has a very low rank in Surgical Procedure that uses techniques over one hundred twenty years old.[2] While it is somewhat unreliable simply by its crude appearance upon its application, the procedures manage to attain the intended effect after being boosted somewhat with the application of magical energy. It can be applied to either Jack or her Master, and it stems from the anatomical knowledge and skills with dissection required to remove the organs of her victims. It allows her to heal Reika's stab wounds. Reika finds that her wounds have been stitched up, but it is done in a crude method looks like the black thread is creeping about haphazardly like an earthworm. While it seems like her wounds may not even be closed properly, the bleeding and pain have completely subsided. The same chaotically done surgical procedure is also able to keep Sagara alive after Jack cuts off both his jaw and one of his hands.
Development
Edit
Creation and Conception
Edit
She was designed by Yuuichirou Higashide and illustrated by Taketo Sanada for the original canceled online game project.[2] Assassin's height and weight were originally 150cm/45kg in Fate/Apocrypha and Fate/Grand Order, but it was later updated in Fate/Grand Order as being 134cm/33kg.[5]
References
Edit
↑ 1.00 1.01 1.02 1.03 1.04 1.05 1.06 1.07 1.08 1.09 1.10 1.11 1.12 1.13 1.14 1.15 1.16

[] Fate/Apocrypha material - STATUS: Assassin of Black, p.028-029

Class: Assassin
Master: Reika Rikudou
True name: Jack the Ripper
Gender: Female
Height/Weight: 150cm/45kg
Alignment: Chaotic Evil

Strength: C
Endurance: C
Agility: A
Magic: C
Luck: E
Noble Phantasm: C

Class Skills

■ Presence Concealment: A+
Cuts off presence as a Servant, a skill suited for espionage.
Complete presence cut off makes detection near impossible.
Switching to the preparation of an attack drops the rank of Presence Concealment greatly, this weakness can be compensated by "Murderer of the Misty Night," and a perfect surprise attack is possible.

'Personal Skills
■ Murderer of the Misty Night: A
Characteristic of a serial killer not an assassin. In regards to the victim the assailant always took the first move.
However, this first move can only be taken at night.

■ Mental Pollution: C
Mental Interference magecraft has a medium chance of being blocked.

■ Information Erasure: B
The very second battle is finished, eye witnesses and opponents' memories about information concerning abilities, true name, appearance etc disappear.

■ Surgical Procedure: E
Using a blood-stained scalpel can medically treat Master and self.
Visually does not look sound, however, for the time being, it'll manage.

Noble Phantasms
■ Maria the Ripper: Holy Mother of Dismembering
Rank: D~B
Type: Anti-Unit Noble Phantasm
Range: 1-10
Maximum Amount of Targets: 1 person
Jack the Ripper's murder reproducing Noble Phantasm.
When the conditions, "it is night-time," "opponent is a woman (female)," "misty," are met and the Noble Phantasm is used the contents of the body are expelled and they turn into a dismembered corpse.
In the case that not all conditions are met only simple damage is dealt, however, as each condition is met the power rises. This Noble Phantasm is not a knife attack but a kind of curse which makes long range use available.
To defend against this Noble Phantasm, rather than physical defense resistance against curses is necessary.

■ The Mist: Blackened Misty Metropolis
Rank: C
Type: Bounded Field Noble Phantasm
Range: 1-10
Maximum Number of Targets: 50 people
Mist Bounded Field producing Bounded Field Noble Phantasm. The Noble Phantasm is the sulfuric mist created from magical energy. Servants do not take damage. Agility is one Rank-Down. The user is able to decide who suffers the effects. Because the mist causes one to lose their sense of direction, to escape, B rank or higher "Instinct," or the use of magecraft is required.

CLASS アサシン
マスター:六導玲霞
真名:ジャック・ザ・リッパー
性別:女性
身長・体重:150cm/45kg
属性:混沌・悪

筋力:C
耐力:C
敏捷:A
魔力:C
幸運:E
宝具:C

クラス別能力:
■ 気配遮断:A+
サーヴァントとしての気配を断つ、隠密行動に適したスキル。
完全に気配を断てば発見することは不可能に近い。
攻撃態勢に移ると気配遮断のランクが大きく落ちてしまうが、この欠点は"霧夜の殺人"によって補われ、完璧な奇襲が可能となる。

固有スキル
■ 霧夜の殺人:A
暗殺者ではなく殺人鬼という特性上、加害者の彼女は被害者の相手に対して常に先手を取れる。
ただし、先手を取れるのは夜のみ。

■ 精神汚染:C
精神干渉系の魔術を中確率で遮断する。

■ 情報抹消:B
対戦が終了した瞬間に目撃者と対戦相手の記憶から彼女の能力・真名・外見特徴などの情報が消失する。

■ 外科手術:E
血まみれのメスを使用してマスター及び自己の治療が可能。
見た目は保証されないが、とりあえずなんとかなる。

宝具
■ 解体聖母
ランク:D~B
種別:対人宝具
レンジ:1~10
最大捕捉:1人
ジャック・ザ・リッパーの殺人を再現する宝具。
「時間帯が夜である」、「相手が女性(または雌)である」、「霧が出ている」すべての条件が整っているときに宝具を使用すると、対象の身体の中身を問答無用で外に弾きだし、解体された死体にする。
条件が整ってない場合は単純なダメージを与えるに留まるが、その際も条件が一つ整うたびに威力が跳ね上がる。この宝具はナイフによる攻撃ではなく一種の呪いであるため、遠距離でも使用可能。
宝具を防ぐには物理的な防御力ではなく、呪いへの耐性が必要となる。

■ 暗黒霧都
ランク:C
種別:結界宝具
レンジ:1~10
最大捕捉:50人
霧の結界を張る結界宝具。魔力で発生させた硫酸の霧そのものが宝具である。サーヴァントならばダメージは受けないが、敏捷が1ランクダウンする。霧の中にいる誰に効果を与え、誰に効果を与えないのかは宝具の使用者が選択可能。霧によって方向感覚が失われるため、脱出するにはランクB以上のスキル"直感"、もしくは何らかの魔術行使が必要になる。

↑ 2.00 2.01 2.02 2.03 2.04 2.05 2.06 2.07 2.08 2.09 2.10 2.11 2.12 2.13 2.14 2.15 2.16 2.17 2.18 2.19 2.20 2.21 2.22 2.23

[] Fate/complete material IV: Extra material - Fate/Apocrypha - Jack the Ripper, p.326-327

Jack the Ripper, Legendary Serial Killer
The perpetrator of a series of bizarre murders in 19th Century England. A young girl filled with contradictions, possessing properties of both day and night. Her personality is pure, but cruel at the same time. Though her manner of speech is innocent, she is quick of thought. She is rational, but is emotionally weak. She responds cruelly to others' ill will, but is soft against good will. And although she wears revealing clothing, she is shy, and doesn't go out during the day. She yearns strongly for a mother, and if her Master is female, she will insist on calling them "Mother".



Class: Assassin (Berserker)

Source: Historical fact

Region: United Kingdom

Alignment: Chaotic Evil

Sex: Female

Height: 150cm

Weight: 45kg

Armament: Knives, Black Mist



Illustrations: Sanada Taketo
Creator: Yuichiro Higashide

Legends

Status


STR: C

CON: C

AGI: A

MGI: C

LCK: E

Noble Phantasm: C



Skills


Misty Night Murderer - Rank A:


As a murderer rather than an assassin, she can strike before her victim. However, she can only unconditionally take the first strike at night. During the day, a luck roll is required. Jack the Ripper's victims are believed to have all been attacked while off-guard.



Information Erasure - Rank B:


At the instant a battle ends, her abilities, true name, appearance, and other information disappear from witnesses' and enemies' memories/records, even if the battle took place in broad daylight, or was recorded on a device such as a camera. To counter this, one must deduce her identity from evidence left at the scene.



Mental Pollution - Rank C:


Has a moderate chance of blocking mental interference-type magecraft. If her Master has an evil alignment, or is cruel to her, this mental pollution gradually rises. Her chances of blocking magecraft will increase, but her already broken spirit will begin to irreversibly corrupt.



Surgical Operation - Rank E:


Can heal her Master or herself using a blood-stained scalpel. It looks risky, but she manages somehow. The techniques are from 120 years in the past, but are improved a little with mana. Jack the Ripper killed victims in ways that would require anatomical knowledge, such as removal of specific organs.



Presence Concealment - Rank A+:


A skill that suppresses presence as a Servant, suitable for covert action. If presence were fully suppressed, she would be nearly impossible to detect. However, when prepared to attack, Presence Concealment's rank falls substantially. This weakness is compensated for with "Misty Night Murderer", allowing for a perfect surprise attack.



Mad Enhancement - Rank C:


If summoned as a Berserker, she gains this skill. Increases all parameters in rank with the exception of Luck and Mana, but removes the ability to speak or have complex thoughts. As a Berserker, she is only active at night, with "Darkened Misty Metropolis" always active, and will attack anything that possesses mana.

Noble Phantasm


Maria the Ripper: The Holy Mother of Dismemberment


Normally four D-rank knives, but under certain conditions, they are boosted by the grudge of "the 80 thousand children in London's slums, abandoned by prostitute mothers for the sake of their livelihoods, unable to even become prostitutes", with brutal results. There are three conditions. "It is night-time", "the target is a woman (or female)", and "it is misty". When all the conditions are fulfilled and the Noble Phantasm is activated, the target's innards are forced out of their body, and they become a dismembered corpse. When the conditions are not met, it is limited to simple damage, but increases in power with each condition that is fulfilled. As the Noble Phantasm is not an attack from a knife but rather a variety of curse, it can be used at long range. To defend against this Noble Phantasm, resistance against curses is required, rather than physical defence.



The Mist: Darkened Misty Metropolis


A Noble Phantasm that creates a mist-filled barrier. The mist itself, created with mana, is the Noble Phantasm. Although it is a means of keeping people out, a non-magus trapped inside the barrier will die after a few turns. A magus will not die immediately, but will take continuous damage. A Heroic Spirit will not take damage, but their Speed will decrease by one rank. The user of the Noble Phantasm is able to choose who is or is not affected by the fog. As those trapped in the fog lose their sense of direction, an "Instinct" skill ranked B or higher or some kind of magecraft is necessary to escape. The large quantity of soot emitted from the Industrial Revolution onward became a smog of sulphuric acid that caused disaster to London in the 1950s. "Darkened Misty Metropolis" is a Noble Phantasm that reproduces that "mist of death".

伝説の連続殺人鬼
ジャック・ザ・リッパー
19世紀のイギリスで発生した連続猟奇殺人事件の犯人。昼と夜の性質を併せ持つ、矛盾だらけの少女。その性格は純粋だが、同時に惨忍。あどけない口調だが、頭の回転は速い。理性はあるが、精神的に破綻している。他人の悪意に対しては残酷に応じるが、好意には脆い。そして露出度が高いくせに恥ずかしがり屋で、昼間には出歩こうとしない。母に対する強烈な憧れを持ち、マスターが女性の場合、問答無用で「おかあさん」と呼ぶ。



クラス:アサシン(バーサーカー)

出典:史実

地域:イギリス

属性:混沌・悪

性別:女

身長:150cm

体重:45kg

武装:ナイフ、黒いメス



イラスト:真田茸人
設定制作:東出祐一郎

伝説
ジャック・ザ・リッパーは1888年8月31日から約2ヵ月間に、少なくとも売春婦5人を殺したと目される殺人犯の通称である。猟奇殺人鬼の知名度ランキングがあれば、おそらく世界トップに輝くだろう。確たる証拠は死体以外殆ど残さず、人種や性別すら謎に包まれている。天才とも愚者とも、貧民とも王族に繋がる人物とも推理されたが、はっきりとはしていない。また、劇場型犯罪の祖とも呼ばれ、署名入りの手紙と臓器の切れ端を新聞社に送り付けたことでも有名である。ただ、それらが本物かどうかは定かになっていない。つまり、ジャック・ザ・リッパーについては、結局"何も分かっていない"のである。

筋力値


筋力:C

耐久:C

敏捷:A

魔力:C

幸運:E

宝具:C



固有スキル


暗殺者ではなく殺人鬼という特性上、加害者の彼女は被害者の相手に対して常に先手を取れる。ただし、無条件で先手を取れるのは夜のみ。昼の場合は幸運判定が必要。ジャック・ザ・リッパーの被害者は、状況から全員が無警戒に襲われたと考えられている。



対戦が終了した瞬間に目撃者と対戦相手の記憶・記録から、彼女の能力、真名、外見特徴などの情報が消失する。たとえ戦闘が白昼堂々でも、カメラなどの機械の監視でも効果は変わらない。これに対抗するには、現場に残った証拠から論理と分析により正体を導き出さねばならない。



精神干渉系の魔術を中確率で遮断する。この精神汚染はマスターが悪の属性を持っていたり、彼女に対して残酷な行為を行ったりした場合、段階を追って上昇する。魔術の遮断確率は上がるが、ただでさえ破綻している彼女の精神は取り返しのつかないところまで退廃していく。



血まみれのメスを使用してマスターおよび自己の治療が可能。見た目は保証されないが、とりあえずなんとかなる。120年前の技術でも、魔力の上乗せで少しはマシ。ジャック・ザ・リッパーの犠牲者は特定の臓器を摘出されるなど、解剖学的知識を要する殺され方をしていた。



サーヴァントとしての気配を断つ、隠密行動に適したスキル。完全に気配を断てば発見することは不可能に近い。ただし、攻撃態勢に移ると気配遮断のランクが大きく落ちてしまう。この欠点は"霧夜の殺人"によって補われ、完璧な奇襲が可能になる。



バーサーカーとして召喚された場合、このスキルを得る。幸運と魔力を除いた能力値をランクアップさせるが、言語能力を失い、複雑な思考ができなくなる。バーサーカーになった彼女は夜のみに行動し、常時"暗黒霧都"を発動させ、魔力のある者をかたっぱしから狙っていく。

宝具


通常はランクDの4本のナイフだが、条件を揃えることで"当時ロンドンの貧民街に8万人いたという娼婦たちが生活のために切り捨てた、娼婦にすらなれなかった子どもたち"の怨念が上乗せされ、凶悪な効果を発揮する。条件は3つ。"時間帯が夜であること"、"相手が女性(または雌)であること"、"霧が出ていること"。すべての条件が整っている時に宝具を使用すると、対象の身体の中身を問答無用で外に弾き出し、解体された死体にする。条件が整っていない場合は単純なダメージを与えるに留まるが、その際も条件がひとつ整うたびに威力が跳ね上がる。この宝具はナイフによる攻撃ではなく一種の呪いであるため、遠距離でも使用可能。この宝具の効果を防ぐには、物理的な防御力ではなく、呪いへの耐性が必要となる。



霧の結界を張る結界宝具。魔力で発生させた霧そのものが宝具である。"人払い"とはいうものの、魔術師ではない者が無理に結界の内側に留まった場合、数ターン後に死亡する。魔術師ならばすぐに死ぬことはないが、ダメージを受け続ける。英霊ならばダメージは受けないが、敏捷が1ランクダウンする。霧のなかにいる誰かに効果を与え、誰に効果を与えないのかは宝具の使用者が選択可能。霧によって方向感覚が失われるため、脱出するにはランクB以上のスキル"直感"、もしくは何らかの魔術行使が必要になる。産業革命以降、大量排出されるようになった膨大な石炭の煤煙が、1950年代に硫酸の霧となってロンドンに大災害を引き起こした。"暗黒霧都"は、その"死の霧"を再現する宝具である。

↑ 3.0 3.1 3.2 3.3 3.4 3.5 3.6 3.7

[] Fate/Apocrypha material - CHARACTER Profile: Assassin of "Black", p.080-081 [T]

Assassin of "Black" - Real name: Jack the Ripper


Height: 150cm

Weight: 45kg

Blood type: Unknown

Birthday: Unknown

Three sizes: B69 W49 H71

Talents: Dissection

Likes: Reika Rikdou

Dislike: The world

Image colour: Blood red

Enemy: Scotland Yard



Comment from Yuichiro Higashide & Ototsugu Konoe

"黒"のアサシン - 真名:ジャック・ザ・リッパー


身長:150cm

体重:45kg

血液型:不明

誕生日:不明

スリーサイズ:B69 W49 H71

特技:解剖

好きなもの:六導玲霞

苦手なもの:世界

イメージカラー:ブラッドレッド

天敵:スコットランドヤード



Comment from Yuichiro Higashide & Ototsugu Konoe

↑

[] TYPE-MOON Ace 9 - Narita, Higashide, and Hikaru discussion, p.070

Higashide:
Hikaru:
Higashide:
Narita:

東出:なるほど。ただ僕は最初、「Apocrypha]でジャック・ザ・リッパーの設定を考えるように言われたんですけどキャラクターデザインはすでにあがってたんですよ。
桜井:そうか。絵が先だったんだ。
東出:絵が先だったんです。あと2008年だから、すでに成田さんの「Fake]が書かれた後だったんですけど。
成田:そうそう。だから設定的にはバーサーカーのクラスで召喚すると「Fake]のほうのジャックが出てきて、アサシンで召喚すると東出さんのほうのジャックが出てくるっていうことになりました(笑)。

↑ Higashide Twitter 6/22/16 - I apologize for the amendment of Jack's height and weight in both Fate/Apocrypha and FGO. Her correct measurements are 134cm and 33kg respectively.