Rider of Black
Talk

3
447pages on
this wiki
Redirected from Astolfo
Rider of "Black" ("黒"のライダー, "Kuro" no Raidā?) is the Rider-class Servant of Selenik Icecol Yggdmillennia as part of the Black Faction in the Great Holy Grail War of Fate/Apocrypha. He was designed by Meteo Hoshizora together with Ototsugu Konoe for the original canceled online game project.
Black Rider's identity is Astolfo, the Twelfth Paladin of Charlemagne (シャルルマーニュ十二勇士 アストルフォ, Sharurumānyu Jūni Yūshi Asutorufo?). In the Charlemagne Legend, he is the son of an English king, and one of Charlemagne's twelve faithful Paladins. He is beautiful beyond all compare, but he is also a frightfully unparalleled blabbermouth, prone to speaking on and on until those involved lose all rationality. His conversations, through no ill intent on his part, have a way of meandering toward maximum social awkwardness. His hobby of adventuring gets himself mixed up in an assorted amount of mischief due to him constantly popping up everywhere. He states that his hair ornaments, which seem like something a princess would wear, are an "irresistible proof of friendship" that he uses to restore peace to his depressively mad boon ally, Orlando.
Fate/Apocrypha
Edit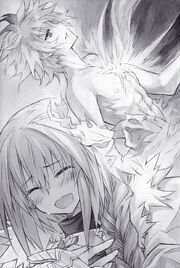 Rider befriends Homunculus after he develops an ego. He attempts to help Homunculus escape the castle during Berserker of Red's attack, but Homunculus is inflicted with a serious injury after Saber of Black catches them. While Rider is mourning over the dying Homunculus, he questions Saber about his pride as a hero. Saber revives the Homunculus by giving his own heart. As he was successful resuscitated, Rider of Black cries in joy.

Abilities
Edit
His main weapons are a sword and chain mail.
Noble Phantasm
Edit
La Black Luna (Lunatic Moon): The Magic Flute That Calls Panic (恐慌呼び起こせし魔笛(ラ・ブラック・ルナ), Ra Burakku Runa (Kurueru Tsuki): Kyōkō Yobiokoseshi Mateki?)
A horn that strikes fear into the hearts of all who hear its sound, prompting instinctive escape. Does not affect Heroic Spirits with magical resistance, but normal mages are not immune to its influence. Normally a small horn that hangs from the Servant's belt, it increases in size when activated, becoming large enough to enclose the Servant. Given to the Servant by the good witch Logestila of Avalon as a means to remove a large flock of harpies.
Trap of Argalia: Overturned If Touched (触れれば転倒(トラップ・オブ・アルガリア), Torappu obu Arugaria: Furereba Tentō?)
It is a magical golden decorated lance. It is not a weapon made to kill but as a lance to curse. When jousting against Servants, no matter where it touches the body, the lower body would temporarily forced to kneel down and would not get up. Healing or regenerative spells wouldn't remove this effect because it is is not a physical damage, this effect can not be recovered until the abnormality of the leg effect is lost. This Noble Phantasm is very effective against enemy with tremendous toughness such as the Berserker of Red.
Hippogriff: Otherworldly Phantom Horse (この世ならざる(ヒポグリフ), Hipogurifu: Konoyo Narazaru Maboroshi Ba?)
Hippogriff is a part of the Phantasmal Species, born between a griffin and a mare with a eagle upper body and a lower body of a horse. It is Rider's favourite mount and it has the ability to fly.
Magic Binding Book (, ?)
It is a thick leather book, basically it has the ability to disable magical properties. However Rider of Black has forgotten the name of this Noble Phantasm.
References
Edit