Berserker (Fate/Grand Order - Darius III)
Talk

6
Share
Ad blocker interference detected!
Wikia is a free-to-use site that makes money from advertising. We have a modified experience for viewers using ad blockers

Wikia is not accessible if you've made further modifications. Remove the custom ad blocker rule(s) and the page will load as expected.
Berserker (バーサーカー, Bāsākā?) is a Berserker-class Servant able to be summoned by the Protagonist in the Grand Orders of Fate/Grand Order.
Berserker's True Name is Darius III (ダレイオス三世, Dareiosu san-sei?), a valorous king of Ancient Persia. A character from the 4th Century BC. Known as the last emperor of the Achaemenid Dynasty. A "worthy rival" of Iskander, the King of Conquerors of Macedonia, whom he faced in combat many times.[1]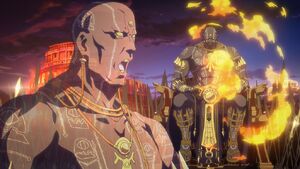 His land was eventually conquered by Iskander. Upon sitting on his throne, Iskander could not have his feet reach even Darius' footstool and had to swap it out with a table.[2]
Appearance
Edit
Although it is told in history books that Alexander was a short man, the reality was that Darius simply towered over the 212cm man at over three meters in height.[2]
His normal facial expression is calm. Still, he is constantly filled with a firm fighting spirit. During battle, he open his eyes and begins the destruction of the target by becoming a storm itself.[1]
Personality
Edit
An indomitable man with an unshakable fighting spirit. Although he still gives off the style of a monarch, his extremely high Mad Enhancement has scattered most of that human nature.[1]
In contrary to the sternness of his fight, strangely his reactions towards his Master are mostly obedient. As he does not run wildly in normal times, and comparatively listens properly to what he is told, his effective Restarting Skill is also not wasted when retreating from battle.[1]
His wish for the Holy Grail is to have "a rematch with Iskander". Not a one-on-one, he desires a rematch that is clash of troops against troops. Although a comparatively obedient Servant, he is likely to run wild when his wish is involved, so special attention is required.[1] He yells out the name "Iskandar."
Fate/Grand Order
Edit
In Fate/Grand Order, Darius III appears in the "Eternal Madness Empire".
Other appearances
Edit
He was mentioned by Rider in the Fate/Zero novel, and the manga, when Waver Velvet questions about Alexander the Great's height. Alexander holds him in high regard, his expression at hearing Darius' name showing reminiscence akin to remembering an old friend. He describes both Darius' caliber as an emperor and his figure as a person as majestic, and tells that Darius was a fitting ruler for the mighty Persian Empire.[2]
In Fate/GUDAGUDA Order, he is noted to be from Persia and a rival to the King of Conquerors. He looks like an Indian and he was breathing out fire, to which the manga parodies him like Dhalsim. Saber tells the audience to read Fate/Zero, whereas Rider points out that he doesn't appear in Fate/Zero. Waver Velvet and Rider both appear to recognize him. Dar-ius (誰イオス, Dare iosu?) is his given nickname in Fate/GUDAGUDA Order. It uses a combination of Japanese word Who (誰, Dare?) and ios (イオス, iosu?) to make it sound like Darius.
Abilities
Edit
He is seen wielding two axes. Besides combat performance, monetary assets are also a part of his strength.[1] His Noble Phantasm is Athanaton Ten Thousand.
Development
Edit
Creation and Conception
Edit
PFALZ is the character designer for Berserker.[1]
References
Edit
↑ 1.00 1.01 1.02 1.03 1.04 1.05 1.06 1.07 1.08 1.09 1.10 1.11 1.12 1.13 1.14 1.15 1.16 1.17 1.18 1.19 1.20 1.21 1.22 1.23

[] Fate/Grand Order - Berserker Profile [T]

Darius III - Berserker

Illustrator and Voice actor
Illustrator: PFALZ
Voice Actor: Kunihiko Yasui

Parameters
Strength: A
Endurance: A+
Agility: B
Mana: E
Luck: D
Noble Phantasm: A

Personal Skills
Golden Rule B
Disengage A
Battle Continuation A

Class Skills
Mad Enhancement B

Noble Phantasm
Athanatoi Ten Thousand: Ten Thousand Cavalry of Immortality
Rank: A
Type: Anti-Army

Profile
A valorous king of Ancient Persia.
A character from the 4th Century BC.
Known as the last king of Achaemenid Dynasty.
A "worthy rival" of Iskander, the King of Conquerors of Macedonia, and who had blocked his way for many times.

Level 1 Bond
Height/Weight: 345cm・280kg
Source: Historical fact
Region: West Asia
Alignment: Lawful Neutral  Gender: Male
Besides combat performance, monetary assets are also a part of his strength.

Level 2 Bond
An indomitable man.
His normal facial expression is calm. Still, he is constantly filled with a firm fighting spirit. During battle, he open his eyes and begins the destruction of the target by becoming a storm itself.
(due a high "Mad Enhancement", most of his human nature has disappeared)

Level 3 Bond
In contrary to the sternness of his fight, strangely his reactions towards the Master are mostly obedient.
As he does not runs wildly in normal times, and comparatively listens properly to what he is told, his effective Restarting Skill is also not wasted when retreating from battle.

Level 4 Bond
"Athanatoi Ten Thousand"
Rank: A  Type: Anti-Army
Ten Thousand Cavalry of Immortality.
Ten thousand soldiers transformed into moving corpses and walking skeletons appear, gather and become a "war elephant of death", exterminating the enemy.

Level 5 Bond
Immortal corps Athanatoi. The ten thousand elite men that existed as a historical fact turned into a Noble Phantasm, their indestructible and immortal nature is being emphasized due to the legends established in future years.
The "war elephant of death" is a colonial organism of sorts that completely destroys the opponents of the king with a terrifying blow of magical power.

Interlude
His wish for the Holy Grail is "a rematch with Iskander".
Not a one-on-one, he desires a rematch that is clash of troops against troops--
Although a comparatively obedient Servant, he is likely to run wild when his wish is involved, so special attention is required.

ダレイオス三世 - バーサーカー

イラストレーター・声優
ILLUST:PFALZ
CV:安井邦彦

パラメータ
筋力:A
耐力:A+
敏捷:B
魔力:E
幸運:D
宝具:A

保有スキル
黄金律 B
仕切り直し A
戦闘続行 A

クラス別能力
狂化 B

宝具
不死の一万騎兵
ランク: A
種別: 対軍宝具

キャラクター詳細
キャラクター詳細
勇猛の古代ペルシャ王。
紀元前四世紀の人物。
アケメネス朝ペルシャ最後の王として知られる。
マケドニアの征服王イスカンダルの"好敵手"として幾度も彼の前に立ちはだかってみせた。

アンロック条件:絆レベルを1にすると開放
身長/体重:345cm・280kg
出典:史実
地域:西アジア
属性:秩序・中庸  性別:男性
戦闘性能のみならず財力も彼の強さの一環である

アンロック条件:絆レベルを2にすると開放
不撓不屈の男。
平時の表情は物静か。ただし、常に揺るぎない闘志に満ちている。
戦闘になれば目を見開き、暴風そのものとなって対象の破壊を開始する。
(高い「狂化」で人間性の殆どは消えている)

アンロック条件:絆レベルを3にすると開放
戦闘の苛烈さと裏腹に、不思議とマスターには大人しい反応を返すことが多い。
平常時には暴走することもなく、言うことも比較的ちゃんと聞いてくれるので、戦闘離脱に有効な仕切り直しスキルも無駄にはならない。

アンロック条件:絆レベルを4にすると開放
『不死の一万騎兵』
ランク:A  種別:対軍宝具
アタナトイ・テン・サウザンド。
動く死体や歩く骸骨と化した一万の兵が出現、集結して「死の戦象」となり、敵を殲滅する。

アンロック条件:絆レベルを5にすると開放
不死隊アタナトイ。史実として存在した一万の精鋭が宝具化したものであり、後年成立した伝説に伴い不滅性や不死性が強調されている。
「死の戦象」はある種の群体であり、恐るべき魔力の一撃により王の敵対者を破壊し尽くす。

アンロック条件:「破壊の暴風王」をクリアすると開放
聖杯にかける願いは「イスカンダルとの再戦」。
一対一ではなく、軍勢と軍勢による激突での再戦を彼は望んでいる――
比較的従順なサーヴァントではあるものの、こと願いについては暴走しがちなので要注意