Ad blocker interference detected!
Wikia is a free-to-use site that makes money from advertising. We have a modified experience for viewers using ad blockers

Wikia is not accessible if you've made further modifications. Remove the custom ad blocker rule(s) and the page will load as expected.
Capsule Servant (カプセルさーばんと, ?) is a side-game set to be included with the PlayStation Vita release of Fate/hollow ataraxia. It is to be a "competitive Tower Defense-style game" featuring Masters and Servants from various Fate series titles.
Characters
Edit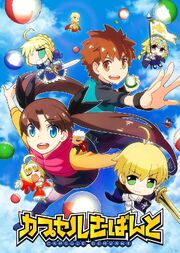 The player uses Shirou Emiya or Rin Tohsaka, described as elementary school students, and use Servants to compete with various other Masters.

| | Servant | Cost | Fighting strength | Breakthrough power | Moving force | Physical strength | Perseverance | Recast |
| --- | --- | --- | --- | --- | --- | --- | --- | --- |
| | Knight of the Lake | 800 | A | A | A | A | A | C |
| | Rider | 150 | D | E | B | D | D | A+ |
| | Pegasus Rider | 200 | - | - | B | D | - | A |
References
Edit
External links
Edit