Ad blocker interference detected!
Wikia is a free-to-use site that makes money from advertising. We have a modified experience for viewers using ad blockers

Wikia is not accessible if you've made further modifications. Remove the custom ad blocker rule(s) and the page will load as expected.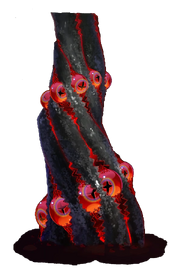 The seventy-two Demon Gods (魔神, Majin?) of Solomon are his familiars. There is an art for employing demons among the knowledge that King Solomon left behind, but said manuscript would later be named Lemegeton or Goetia.[1]
Known Demon Gods
Edit
Demon God Barbatos (魔神バルバトス, Majin Barubatosu?) is incarnated through Makiri Zouken in London.

Demon God Flauros (魔神フラウロス, Majin Furaurosu?) is incarnated through Lev Reinol Flauros in Rome.

Demon God Forneus (魔神フォルネウス, Majin Foruneusu?) is incarnated through Jason in Okeanos.

Demon God Halphas (魔神ハルファス, Majin Harufasu?) is incarnated through Cú Chulainn Alter in America.

The Great God Amun-Ra (大神アモン・ラー, ?) is the form Ramesses II takes in the Camelot Order. Utilizing the Demon God Aamon, Ramesses is able to attach the name "Amun-Ra" to the Demon God to transform it into a full Divine Spirit temporarily.

Clan Calatin
Edit
Main article: Clan Calatin
Medb uses Clan Calatin to manifest a composite being made up of twenty-eight Demon Gods.
References
Edit
↑

[] Fate/Grand Order - Grand Caster Profile [T]

Solomon - Grand Caster

Illustrator and Voice actor
Illustrator: Takeuchi Takashi
Voice Actor: ???

Parameters
Strength: E
Endurance: E
Agility: B
Magic: A++
Luck: A++
Noble Phantasm: A++

Character details
An individual from 1011~931 BC.
The Third King of Ancient Israel
The great king who made Ancient Israel prosper the most.
Employing 72 demon gods, and also the first individual who build the Temple of Israel.
He performed excellent political measures as a king, but beside that also have many anecdotes as a magus.

Level 1 Bond
Solomon married with the daughter of an Egyptian Pharaoh, but it has been said that, later, God appeared while he was dreaming on his bed and said "you are qualified. Speak your wishes. I'll shall grant it".
Rather than gold or political power, he sought wisdom more than anything. God was satisfied. For that answer itself was proof that he had the qualifications to attain "true wisdom".
When he woke up, Solomon had ten rings inserted on both hands. It was the proof of the wise man recognized by God. Later, it would be called Ring of Solomon, the source of the magecraft that employs angels and demons.

Level 2 Bond


To hear the "voice of heavens" and take optimum action.
"Instinct" is a sixth sense for battles, but Revelation accommodates all matters concerning the achievement of an objective (for instance, to choose the most suitable path during a trip).
Solomon received a revelation only once, but based on said revelation he established a phenomena operation technique--- that is, a magecraft that could be performed even by the hands of a common man (up until then, magecraft was the work of only those who stand in row to god).

Level 3 Bond
King Solomon accomplished only one miracle, but, on the other hand, that exemplifies his prudence.
It is better to be made known to the people that "the king is receiving God's protection" only once. Because any more miracles than that will either frighten or corrupt the people.
Even without using magecraft, Solomon had his reputation as King of Magecraft spread to the neighboring countries and left this world as a wise king.

Level 4 Bond


A magecraft that evokes spiritual bodies from the past, or possibly from the future.
Solomon's evocation - which tells about the spiritual existences called "72 demon gods" and establishes them as capable familiars - is worthy of the name of King of Magecraft.
There is an art for employing demons among the knowledge that King Solomon left behind, but said manuscript would later be named Lemegeton or Goetia.

Level 5 Bond


The rings inserted in his ten fingers that were given by God.
The proof of a king, the founder of magecraft.
In case all ten rings are together, any and all magecrafts performed by mankind are negated and placed under his subordination.



It has been said that Solomon's clairvoyance can see through the past and the future.

Interlude
"The Time of Birth Has Come, He Is The One Who Master Everything"
Ars Almadel Salomonis.
King Solomon's Third Noble Phantasm. The "|" of original sin.
At a first glance it looks like a ring of light that encircles the Earth, but in reality it is an aggregation of some hundred millions lines of light.
Each one of these lines carry extreme damage values comparable to Excalibur, an A Rank Noble Phantasm.
Unfortunately, there is nothing on the surface of the Earth that surpasses the heat value of this Noble Phantasm.

ソロモン - グランドキャスター

イラストレーター・声優
ILLUST:武内崇
CV:???

パラメータ
筋力:E
耐力:E
敏捷:B
魔力:A++
幸運:A++
宝具:A++

キャラクター詳細
紀元前1011年~931年の人物。
古代イスラエルの第三代王。
古代イスラエルを最も栄えさせた偉大な王。
七十二柱の魔神を使役し、はじめにイスラエル神殿を築いた人物でもある。
王として優れた政策を行ったが、それ以外にも魔術師としての逸話が多い。

アンロック条件:「そして、霧の彼方にて」をクリアすると開放
ソロモンはエジプトのファラオの娘を娶ったが、その後、夢枕に神が現れ「汝に資格あり。望みを口にせよ。願うものを与えよう」と告げたという。
ソロモンは黄金や権力より、なにより知恵を求めた。神はこれに満足する。その答えこそ「真の叡智」に至る資格を持つ事の証だったからだ。
ソロモンが目を覚ますと、その両手には十の指輪がはめられていた。これこそ神に認められた知恵者の証。後にソロモンの指輪と呼ばれる、天使や悪魔を使役する魔術の源泉だった。

アンロック条件:「そして、霧の彼方にて」をクリアすると開放
○啓示:B
"天からの声"を聞き、最適な行動をとる。
『直感』は戦闘における第六感だが、啓示は目標の達成に関する事象全て(例えば旅の途中で最適の道を選ぶ)に適応する。
ソロモンが啓示を受けたのはただ一度きりだが、彼はその啓示を元に只人の手でも行える現象操作術―――即ち、魔術を確立した。(それまで魔術は神に連なる者のみの業だった)

アンロック条件:「そして、霧の彼方にて」をクリアすると開放
ソロモン王が奇跡を成したのは一度きりだが、それは転じて彼の賢明さを示している。
民に「王は神の加護を得ている」と知らしめるのは一度だけでいい。
それ以上の奇跡は民たちを恐れさせ、また堕落させるからだ。
ソロモンは魔術を使わないまま魔術の王として近隣諸国に名を広め、賢王のままこの世を去った。

アンロック条件:「そして、霧の彼方にて」をクリアすると開放
○召喚術:EX
過去、あるいは未来から霊体を喚起する魔術。
"七十二柱の魔神"と呼ばれる霊的存在を語りあげ、有能な使い魔として成立させたソロモンの召喚術は魔術の王の名に恥じないものだ。
ソロモン王が残した知識に悪魔を使役する術があるが、その写本は後にレメゲトン、あるいはゲーティアと名付けられた。

アンロック条件:「そして、霧の彼方にて」をクリアすると開放
○ソロモンの指輪:EX
神から授かった十指にはめる指輪。
魔術の祖、王の証でもある。
十の指輪がすべて揃っている場合、人類が行うあらゆる魔術を無効化し、また配下に納める。

○千里眼:EX
ソロモンの千里眼は過去と未来を見通すという。

アンロック条件:「そして、霧の彼方にて」をクリアすると開放
『誕生の時きたれり、其は全てを修めるもの』
アルス・アルマデル・サロモニス。
ソロモン王の第三宝具。原罪のⅠ。
一見すると地球を囲む光の輪だが、その実態は幾億もの光の線の集合体である。
線の一本一本がAランク宝具であるエクスカリバーに匹敵する極大ダメージを持つ。
残念ながら、この宝具の熱量を上回るものは地球上には存在しない。