Noble Phantasm
Diatrekhōn Astēr Lonkhē
Japanese name:
ディアトレコーン・アステール・ロンケーイ
Title:
Spear-tip of the Star Traversing the Skies
Japanese title:
宙駆ける星の穂先
Transliteration:
Chū Kakeru Hoshi no Hosaki
Owner:
Rider of Red
Type:
Anti-Unit[1]
Rank:
B+[1]
Range:
2~10[1]
Maximum number of targets:
1 person[1]
Diatrekhōn Astēr Lonkhē (Meteor Spear): Spear-tip of the Star Traversing the Skies (宙駆ける星の穂先, Chū Kakeru Hoshi no Hosaki?) is Achilles's Hero-killing spear (英雄殺しの槍, Eiyū-goroshi no yari?) given to him by his father,Peleus, previously given to Peleus as a wedding gift by Chiron. He cannot invoke the true name against female opponents due to an awful amount of regret because he killed the Amazon Queen Penthesilea with this spear.[1]
Differing from that of Karna's spear meant to bring about destruction with immense weight, it is a simple spear with sturdy workmanship that is well designed for close combat. Able to destroy all defenses and pierce the chests of heroes, he holds it lightly in one hand as a means of using for its original purpose as a throwing weapon. Having been able to pierce through all other heroes, he feels it is superior to any other weapon in the aspect of its thrust, allowing it to pierce hearts and penetrate skulls with every strike he makes.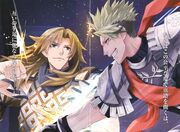 During his life, he developed an ability with the spear that not even Chiron knew of, using magecraft to create a Duel Field (決闘場, Kettō-ba?), a fair battle ground between two opponents, where no gods, outside help or elements of luck can intervene. It is a separate dimension outside of time, so when the duel within concludes, it will have lasted only a second from an outside perspective. Due to Hector not wishing to fight Achilles with the advantage of his immortality, he developed the ability so that they could evenly fight. The dueling rule must be agreed upon by both parties so it is useless against someone refusing to duel. While the fight in the novel involves only fists, weapon usage can be permitted. Achilles must descend his chariot to activate this function. And due to the nature of this noble phantasm and the curse by the Amazonian queen, it can neither be used on someone weaker than himself or a female. The three people that Achilles does not want to rematch regardless after death or alive are Hector, Penthesilea and Chiron.[2]
When summoned as Lancer, this spear would also gain abilities similar to Gae Buidhe, in which wound inflicted by this spear cannot be healed as long as it exists.[1] However, since Achilles would not have access to his chariot, he would need to rely on his feet for mobility.

References
Edit
↑ 1.0 1.1 1.2 1.3 1.4 1.5

[] Fate/Apocrypha material - STATUS: Rider of Red, p.038-039

Class: Rider
Master: Shirou Kotomine
True name: Achilles
Gender: Male
Height/Weight: 185cm/97kg
Alignment: Lawful Neutral

Strength: B+
Endurance: A
Agility: A+
Magic: C
Luck: D
Noble Phantasm: A+

Class Skills
■ Magic Resistance: C
Cancel spells with a chant below two verses. Cannot defend against Magecraft on the level of High-Thaumaturgy and Greater Rituals.

■ Riding : A+
Creatures on the level of Phantasmal Beast and Divine Beast can be used as mounts. However, that does not apply to members of the Dragon Kind.

Personal Skills
■ Battle Continuation: A
Doesn't know when to give up.
Even after being being struck in his weak points, heart and Achilles Heel he continued fighting for a while.

■ Bravery: A+
Ability to nullify mental interference such as coercion, confusion, and glamours.
Also damage in hand-to-hand combat also increases.

■ Goddess's Affection: B
Affection is from his mother, Thetis.
Other than MAN and LUK, all stats are Rank-Up.

■ Divinity: C
Sea Goddess Thetis and human hero Peleus's child.

Noble Phantasm
■ Troias Tragoidia: Tempestuous Immortal Chariot
Rank: A
Type: Anti-Army Noble Phantasm
Range: 2~60
Maximum Number of Targets: 50 people
Three-horsed chariot. Posiden the sea god, bestowed two immortal divine horses, the other, a great horse, was pillaged from a city. He tramples through the battlefield with godspeed. Increase is speed is also proportional to increase in damage dealt. At the highest speed it is just like a giant galloping lawnmower.

■ Dromeus Cometes: Comet Form
Rank: A+
Type: Anti-Unit (Self) Noble Phantasm
Range: 0
Maximum Number of Targets: 1 Person
A Noble Phantasm whose activation is usually triggered by stepping out of "Tempeteous Immortal Chariot."
It is an embodiment of the legend that he is the fastest among all heroes of all eras.
He can run through a giant battlefield in one breath, obstacles on the field will not slow him down.
It must expose his weak-point, the Achilles Heel, however there aren't many heroic spirits that can keep up with his speed.

■ Andres Amarantos: Amaranth of the Brave
Rank: B
Type: Anti-Unit (Self) Noble Phantasm
Range: 0
Maximum Number of Targets: 1 Person
Other than the heel, his mother, goddess Thetis, gave him immortality.
Any type of attack is nullfied. A person with a certain rank or above in the skill Divinity would negate this effect.

■ Diatrekhōn Astēr Lonkhē: Spear-tip of the Star Traversing the Skies
Rank: B+
Type: Anti-Unit Noble Phantasm
Range: 2~10
Max Targets: 1 person
A Noble Phantasm that becomes usable when dismounted from Troias Tragōidia.
A long spear that Chiron sent as a wedding gift to Achilles's parent's.
For the purpose of allowing fellow Heroic Spirits a one on one match, an area that is comparable to a Reality Marble is construction.
Because he has not been summoned as a Lancer, one part of the spear's ability, a curse of mortality, has been lost.
Also, because he killed the Amazon Queen Penthesilea with this spear, he cannot invoke the true name against female opponents due to an awful amount of regret.

■ Akhilleus Kosmos: The Azure Sky Enclosing this Small World
Rank: A+
Type: Barrier Noble Phantasm
Range: 0
Max Targets: 1 person
A defense type, bounded field Noble Phantasm that is comparable to Rho Aias. A shield said to be constructed by the god of smithing, Hephaestus. The world that Achilles saw. The outer circumference portion has a swirling ocean currents because of the sea god.
To oppose this shield is the same as making a world your opponent.
Can protect from Anti-Fortress, Anti-Country, Anti-God Noble Phantasms.

CLASS ライダー
マスター:シロウ・コトミネ
真名:アキレウス
性別:男性
身長・体重:185cm/97kg
属性:秩序・中庸

筋力:B+
耐力:A
敏捷:A+
魔力:C
幸運:D
宝具:A+

クラス別能力:
■ 対魔力:C
二節以下の詠唱による魔術を無効化する。
大魔術、儀礼呪法など大掛かりな魔術は防げない。

■ 騎乗:A+
騎乗の才能。獣であるのならば幻獣・神獣のものまで乗りこなせる。
ただし、竜種は該当しない。

固有スキル
■ 戦闘続行:A
往生際が悪い。
弱点であるはずのアキレス腱と心臓を射抜かれてもしばらく戦い続けた。

■ 勇猛:A+
威圧・混乱・幻惑といった精神干渉を無効化する能力。
また、格闘ダメージを向上させる効果もある。

■ 女神の寵愛:B
母である女神テティスからの寵愛を受けている。
魔力と幸運を除く全ステータスがランクアップする。

■ 神性:C
海の女神テティスと人間の英雄ペレウスとの間の子。

宝具
■ 疾風怒濤の不死戦車
ランク:A 
種別:対軍宝具 
レンジ:2~60 
最大捕捉:50人
三頭立ての戦車。馬は海神ポセイドンから賜った不死の神馬が二頭、都市から略奪した名馬が一頭。
その神速でもって戦場を蹂躙する。速度の向上に比例して追加ダメージを与えることができる。最高速度では、さながら疾走する巨大な芝刈り機。

■ 彗星走法
ランク:A+
種別:対人(自身)宝具
レンジ:0
最大捕捉:1人
『疾風怒濤の不死戦車』から降り立つことによって起動する常時発動型の宝具。
あらゆる時代のあらゆる英雄の中で、もっとも迅いという伝説が具現化したもの。
広大な戦場を一呼吸で駆け抜け、フィールド上に障害があっても速度は鈍らない。
自身の弱点であるアキレス腱を露出しなくてはならないが、この速度を捕らえきれる英霊は数少ない。

■ 勇者の不凋花
ランク:B
種別:対人(自身)宝具
レンジ:0
最大捕捉:1人
踵を除く全てに母である女神テティスが与えた不死の祝福がかかっている。
いかなる攻撃をも無効化するが、一定ランク以上のスキル『神性』を持つ者にはこの効果が打ち消されてしまう。

■ 宙駆ける星の穂先
ランク:B+
種別:対人宝具
レンジ:2〜10
最大捕捉:1人
『疾風怒濤の不死戦車』から降り立つことによって使用可能になる宝具。
アキレウスの父母が結婚する際、ケイローンが彼らに贈った長槍。
英雄同士の一騎討ちを目的とする領域を作り上げるという、固有結界に匹敵する大魔術。
ランサーとして召喚されていないため、不治の呪いなど一部能力が失われている。
また、アマゾネスの女王ペンテシレアをこの槍で殺した際、酷く後悔したという逸話のために女性相手では真名を発動できない。

■ 蒼天囲みし小世界
ランク:A+
種別:結界宝具
レンジ:0
最大捕捉:1人
『熾天覆う七つの円環』に匹敵する防具系の結界宝具。
鍛冶神ヘパイストスに作られたという盾。アキレウスが見てきた世界そのものが投影されており、外周部分には海神による海流が渦巻いている。
この盾に立ち向かうということは、即ち世界を相手取るということであり、発動させれば対城・対国・対神すら防ぎ切れる。

↑

[] Fate/Apocrypha material - Encyclopedia: Hektor [Person's name], p.183 [T]

Hector [Person's name]
The greatest rival of Rider of Red, Achilles, during his lifetime. He was the strongest hero on the side of Troy during the Trojan War. Also, his younger brother Paris is the perpetrator who caused the Trojan War to happen.
He is the exact opposite of Achilles as a hero, a bearded middle-age man who likes to play the fool. He refers to himself as "mister" (old man) in his speech, and always fights on the battlefield with an easygoing attitude.
He's ruthless, but not cruel; skilled, yet not gifted. He faced other famous heroes besides Achilles, without retreating a single step… or not; rather, he would often retreat two or three steps and then strike the enemy when their guard's down, before running away again, and just when they think he's far away, he throws mud at them; a-anyway, he prided himself at being the strongest when it comes to siege battles.
He uses dual long-sword/throwing spear called Durindana, and by throwing it he managed to pierce through six of the barriers of "Rho Aias: Seven Rings that Cover the Fiery Heavens", which boasts the greatest rank of toughness against projectiles.
In order to settle things once and for all with him, Achilles challenged him to a sink-or-swim duel, where he temporarily gave up his immortality. Unable to resist the temptation of getting the chance to take Achilles' life, Hector accepted the one-on-one duel and was defeated by a paper-thin difference in skill.
To Achilles, Hector is one of the top three people he never wants to fight again, whether it is before or after his death. The remaining two are Penthesilea and Chiron.

ヘクトール【人名】
"赤"のライダー、アキレウスの生前最強のライバル。トロイア戦争において、トロイァ側最高の英雄であった。また、弟であるパリスはトロイア戦争の原因を作った張本人である。
アキレウスとは完全に真逆の英雄で、髭を生やしてトボけ気味のおっさん。一人称は「オジサン」、常に瓢々とした態度で戦場を採欄する。
冷酷だが残忍ではなく、秀才だが天才ではない。アキレウス他、名だたる英雄たちを前にして一歩も退か……ない訳ではなく、二歩も三歩も退いて油断したところを殴りつけてはまた逃げて、遠くにいると思ったら泥をぶつけてくる、と、とにかく龍城戦にかけては最強を誇った。
ドゥリンダナ、と呼称される長剣兼投槍を使い、その投郵で飛び道具にかけては最高ランクの硬度を誇る『熾天覆う七つの円環』の六つを砕いた。
アキレウスは彼と雌雄を決するために、一か八か己の不死性を一時放棄して決闘を挑んだ。アキレウスを獲れるかもしれない、という誘惑に勝てなかったヘクトールは一対一の勝負を挑み、紙一重で敗れ去ってしまった。
アキレウスにとって、生前死後問わず再戦したくない人物ベスト3に入るという。残り二人はペンテシレイアとケイローン。
Ad blocker interference detected!
Wikia is a free-to-use site that makes money from advertising. We have a modified experience for viewers using ad blockers

Wikia is not accessible if you've made further modifications. Remove the custom ad blocker rule(s) and the page will load as expected.