Fate/kaleid liner PRISMA☆ILLYA
Talk

6
446pages on
this wiki
Fate/kaleid liner PRISMA☆ILLYA (Fate/kaleid liner プリズマ☆イリヤ, Fate/kaleid liner PURIZUMA☆IRIYA?) (caps part of official title) is a Fate/stay night alternate universe spin-off manga by Kalmia (who has previously drawn Fate doujins). There is currently an anime adaptation in production.[1]
Fate/kaleid liner PRISMA☆ILLYA
Edit
A two-volume manga series that introduced the story. Illya von Einzbern is a seemingly ordinary middle school student with no magical powers. When the kaleidostick Magical Ruby selects Illya to become its new master, Illya becomes a Magical Girl who collect Class Card together with another Magical Girl, Miyu.
Rin and Luvia were originally Magical Girls that were supposed to collect the Cards, but after trying to use Class Cards in a quarrel, Kaleidosticks abandoned them (mid-air) and went on to independently search for new masters. Ruby made a contract with Illya, and Sapphire with Miyu.
After a series of battles, Illya and Miyu were able to collect all Cards and became good friends, while Rin and Luvia remained in Japan by the order of Zelretch.
Fate/kaleid liner PRISMA☆ILLYA 2wei!
Edit
A second story focuses on a new character, Kuro, who is a girl identical to Illya, except for darker skin. She emerged from Illya after the seal on her prana was unlocked, coupled with her failed attempt to use Archer Class Card. Kuro has been shown to act extremely antagonistic towards Illya but had warm up to her after they had resolved their differences.
Name is probably the word play on "2" and "Zwei", which is German for "two".
Fate/kaleid liner PRISMA☆ILLYA 3rei!!
Edit
Continues right after 2wei ended, where Miyu is captured to another world.
Name is probably the word play on "3" and "Drei", which is German for "three".
Lyrical Nanoha×Prisma☆Illya
Edit
A short crossover manga with the Magical Girl Lyrical Nanoha series that has been published in 2010.
Characters
Edit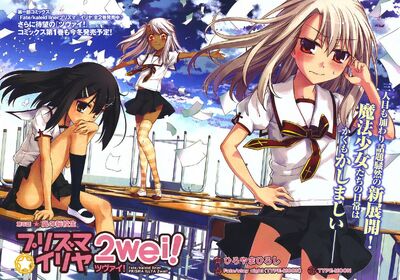 Illyasviel von Einzbern
Edit
Illyasviel von Einzbern, addressed as Illya for short, is the main character of the series. She is a departure from her Fate/stay night counterpart, as she is being raised as a normal aged middle schooler with absolutely no knowledge of the world of magic. She has been raised with her brother, Shirou, while under the care of Sella and Leysritt during periods when Irisviel and Kiritsugu are away.
She is extremely passionate about magical girl anime, and has fantasies about becoming one. She has a crush on Shirou, often acting very shy around him or having dreams about him, but she mainly attempts to ignore them as inappropriate feelings. She is a very open person, as she does her best to become friends with Miyu, who openly hates her at first, and Kuro, who attempts to kill her multiple times. She has a hidden obsession with maids, referred to as her "Maid Switch." When around someone dressed as a maid, her "MS level" will raise, and once the switch is "flipped", she will start harassing them to call her master and cling to them.
She is introduced to the world of magic by Rin and the Kaleidostick, Ruby, which leads to her forming a contract to become a Magical Girl. She initially finds it to be a fun experience, but after some time, she begins to see it as a burden. She often wishes to simply forget everything about the world of magic, which angers the people around her. She has some sort of great magical power sealed inside of her, which allows her to instantly harness vast power and knowledge of magecraft and class cards, such as the ability to use them to become one with a Heroic Spirit, while in mortal danger. She completely loses consciousness and attempts to remove the threat, regardless of the safety of her allies, and wakes with no memories of the events. This power is later revealed to be an aspect of Illya's 'creation'; she was originally meant to be used as a vessel for the Holy Grail War that her family, Einzbern, was planning to start. Though they did not complete the process, Illya was partially reconfigured as a Holy Grail and thus has access to tremendous Prana and a limited ability to 'grant wishes', which manifests itself in her bizarre bursts of power answering her wish to 'live' when her life is endangered. When she was an infant, her parents sealed these powers and her memories of them, abandoning the Einzbern family and taking Illya with them to live in Japan in an effort to give her a normal life.
Illya later combined both Kaleidosticks to equip her with the Kaleido Liner Zwei costume to defeat the 8th class card Archer (Gilgamesh). In this form, she is able to perform magic far above her limits for an extended period of time. But as feedback, all her nerves and blood vessels will be treated as magic circuits. After prolonged usage, all these will be damaged beyond repair.
Miyu Edelfelt
Edit
Miyu Edelfelt is a young girl who serves under Luvia as a magical girl. Her origin is unknown, except that she has a brother who looks similar to Shirou, and she takes on the Edelfelt name after being taken in by Luvia. She lives in Luvia's mansion and acts as her maid to earn her keep. She uses Ruby's sister Kaleidostick, Sapphire, in order to transform, and she initially has a much better understanding of her abilities than Illya. She takes her role very seriously and treats Illya as a bothersome rival, though they eventually become close friends. She later gains the ability to use the Saber class card to embody the Heroic Spirit after seeing Illya perform it.
At a later part of the story, Rin informs everyone, including Bazett, that there was a 8th class card. Miyu and Illya are forced to compete against Bazett to see who will retrieve it first. They are overwhelmed by the Heroic spirit (Gilgamesh) that dwells within the mirror world after the Gilgamesh takes out his Noble Phantasm Ea. After they had returned, Gilgamesh followed them through to the real world, having destroyed the mirror world with Ea.
It was later revealed that Miyu is not a human from this world, but is from another reality. Gilgamesh further revealed that she was a complete Holy Grail and was only born for the Holy Grail War. After IIlya combined both kaleidosticks and defeated Gligamesh, Miyu was captured by two intruders from the other reality and brought back to her world.
Kuro, initially referred to as Dark Illya, is a being created from Illya's hidden power and the Archer Class Card. She comes into existence after Illya uses the Class Card in order to save herself, and afterward, she falls unconscious and wakes up to find the card missing and an exact duplicate of herself, with the exception of dark skin and the Archer outfit, in its place. Kuro immediately escapes and makes various attempts on Illya's life, stating that they cannot both freely exist. She is eventually captured and has a seal placed upon her that forces her to share all sensations with Illya, including injuries and pain. Unable to freely fulfill her goal, she attends Illya's school as her cousin, Kuro, though she still holds resentment towards Illya. She is at odds with Miyu, who wishes to kill Kuro in order to protect Illya.
Rin Tohsaka
Edit
Rin Tohsaka is a magus sent by Kischur Zelretch Schweinorg, together with Luvia, to Japan to collect Class Cards. She differs from her Fate/stay night counterpart in that she is already affiliated with the Association's Clock Tower and Zelretch while still in high school. She is entrusted with Ruby and she is extremely capable in magical girl form, but due to her competitive nature with Luvia, Ruby cancels their contract. Rin then forces Illya, to whom Ruby takes a liking, to act as her "servant" and collect the cards in her place. She is in constant conflict with Luvia over everything, which stems from competing over their crush on Shirou, which first came about upon seeing him stubbornly attempt the high jump. Though normally competent, their fighting often causes them to create various embarrassing blunders, leaving Illya and Miyu with a negative opinion of their skills.
Luviagelita Edelfelt
Edit
Luviagelita Edelfelt is another magus sent by Zeltretch to collect the Class Cards. She is given Sapphire, allowing her to transform into a magical girl. Despite being ordered to work together with Rin, their rivalry causes her to treat collecting the cards like a contest. This makes Sapphire reject their contract, which leads her to have Miyu act as a proxy in her rivalry against Rin. She is indiscriminate in using her wealth, erecting a mansion across the street from Einzbern house in a single day, where she and Miyu are currently living. She is a constant visitor to Japan, which allowed her form a crush on Shirou after seeing him stubbornly attempting to complete the high jump. This eventually formed the rivalry with Rin, as they both constantly competed for Shirou's affection.
Bazett Fraga McRemitz
Edit
Bazett Fraga McRemitz is a First-Rank Combat Specialist: Sealing Designation Enforcer from the Church. The mission to collect the Class Cards was originally given to her and had easily defeated Lancer and Archer before she was relieved of the mission by Zelretch. She arrives in Japan shortly after the incident with Kuro is resolved. She attacks the Edelfelt Mansion and defeats Luvia and August effortlessly and would have killed them if Rin had not interfered. She takes the Rider, Caster, Berserker and Assassin Cards from the mansion and is confronted by Kuro and Illya. She defeats the former after a short battle by throwing the Broken Phantasm Kuro fired back at her. Ruby warns Illya against fighting Bazett but Illya refuses to back down, stating that she will not forgive Bazett for hurting her friends. At first, Illya is overpowered by Bazett but uses magic shields to hold her arms in place while she attacks. Bazett breaks free from the binds and defeats Illya, commenting that if the bindings had been doubled, she would have lost. She takes the Lancer Card from Illya and is attacked by Kuro who regained consciousness, dropping all the cards she had taken. Illya attempts to take back the cards but is stopped by Bazett who defeated Kuro again just as she reaches the nearest card. Bazett orders her to release the card buy Illya refuses. As Bazett prepared to crush her hand, Miyu attacks her from behind, slightly injuring her. Bazett gets slightly frustrated, saying that enemies kept appearing one after another. Illya gives the Card she held on to to Miyu, revealed to be the Rider Card, and Miyu uses it to transform, stating that she will protect Illya.
At the start, Miyu overpowers Bazett with Rider's superior speed. Miyu asks Bazett what happened to Luvia, Rin and August and Bazett replies that they were all buried under the rubble of the destroyed mansion, angering Miyu and causing her to remove her blindfold and use the Mystic Eyes of Petrification, which Bazett comments is Jewel Class. Miyu then uses Rider's strongest Noble Phantasm, Bellerophon. Bazett, seeing her chance, uses Fragarach, defeating Miyu and ending her transformation. She then takes both the Saber and Rider Card from Miyu and prepares to take the Archer Card from Kuro. Kuro despairs, seeing no way out of this predicament but fights after seeing Illya's determination and is defeated for a third time. Illya attacks Bazett from below and uses Include on one of the Cards in Bazett's pocket but is struck down. However, this Illya turns out to be a decoy by Ruby using Assassin's power and the real Illya is behind her. Seeing the rune for the same seal used on Kuro on Bazett's neck, planted there by Rin, Illya tries to touch it and activate the rune, but her body is paralysed by the pain from the injuries Bazett inflicted on her. At this point, Luvia shoots a Gandr at Bazett from within an underground escape route and causes her to fall backwards right into Illya's open hand. The seal activates and Bazett falls back, asking what Illya did. When she does not answer, she attacks again but is stopped by Miyu. Rin arrives and lies about the effect of the seal, claiming that it was a death seal, and that Bazett can no longer use Fragarach, but Bazett brushes it off, saying that all she had to do was inflict non-fatal damage on them and that pain can be ignored. Rin pulls out a parchment and shows it to Bazett, telling her of the existence of an 8th Class Card, shocking everyone. Bazett decides to retreat, giving three Cards back to Illya.
Gilgamesh
Edit
Gilgamesh is the 8th class card which was discovered by Rin after she was investigating on the Fuyuki's Earth Pulses. His card was located at the centre of the earth pulses, and had been absorbing energy during the whole period. When Illya and her friends encounter Gilgamesh, he was covered in malignant black fog and apparently has no will. In this form, with the black fog all around the mirrored world, he is able to summon any of his noble phantasms through the black fog. He uses this to accomplished a sneak attack on Bazett, heavily wounding her. Furthermore, this form's Gilgamesh is able to conjure out a shield so strong that despite Kuro tracing Excalibur and shooting it out as a broken phantasm, it made no visible damage.
After using Ea and escaping from the mirrored world, Gilgamesh flies to the Fuyuki mountains where the heart of earth pulses is located. Trying to complete a ritual, and despite Illya's desperate attempt to stop the ritual, it was completed. This ritual separates Gilgamesh to 2 forms, one is the child version of him, and the other being a gigantic black being that has access to most of Gilgamesh's noble phantasms.
The child Gilgamesh refers to the black being as his other half, the half that wants to win the Holy Grail War. Despite having no intentions to win, he allows himself to merge partly with the black being as he recognize Illya is a worthy adversary after Illya combined both sticks and become Kaleido Liner Zwei.
He was ultimately defeated after a clash of strength between Illya's Kaleido Liner Zwei and his Enuma Elish.
Minor characters
Edit
Shirou Emiya - Shirou is Illya's brother, and a normal high schooler with no knowledge of magic. He is much more carefree than his Fate/stay night counterpart, and he has the general trait of accidentally running into perverted situations, which makes Rin compare him to an eroge protagonist in reference to Fate/stay night. Illya, Rin, Luvia, and Sakura are openly attracted to him, though he doesn't show any interest to Rin and Luvia's disappointment. Shirou tends to be treated poorly by the people around him, though he admits that he's gotten used to being at the bottom rung of the ladder. He was adopted by Kiritsugu about ten years ago, similar to his Fate/Stay Night origins.
Sella and Leysritt - Sella and Leysritt are the maids of the Einzbern household and Illya and Shirou's general caretakers. Sella is very serious and prone to overreacting to minor problems, while Leysritt is more carefree. They wear normal clothing most of the time, but after seeing Miyu in a maid uniform, Sella states that "she has abandoned her duties" and starts wearing the uniform again for a short period of time. They are aware of magic and the power sealed within Illya.
Kiritsugu Emiya and Irisviel von Einzbern - Kiritsugu and Irisviel are Illya and Shirou's parents, who are alive unlike their Fate/stay night counterparts. They are constantly traveling abroad, and at one point Irisviel states that she is fighting to "preserve their daily lives." Irisviel is very close with Illya and is aware of the power sealed inside of her. Often times she comes off as overly carefree and ditzy, though she does have moments of being very wise and serious. It is revealed in 2wei that she is from a long line of magi who she left shortly after Illya was born and she has enough skill to knock out Kuro with a single blow. She has haphazard driving skills as displayed in Fate/Zero. Kiritsugu has yet to appear directly in the series, though Shirou expresses the wish for him to return, mostly because he feels downtrodden by the overwhelming female presence in his household.
Caren Ortensia - Caren takes on the role of the school nurse in Illya's school. She is currently observing the situation with Illya, Miyu, and Kuro, calling Illya, "necessary", Miyu, "accidental", and Kuro, a "miraculous existence." She displays absolutely no interest in the events, and she is rather carefree about her job as a nurse. She is later revealed to be the Church's representative in the affair related to the Class Cards, working as background support as well as supervisor. It is also revealed that she chose to work as a school nurse as it always her to indulge in her interest, which is to observe the sufferings of children close up.
Kischur Zelretch Schweinorg - Zelretch has more of a presence in this time line than in others. He is the creator of of Ruby and Sapphire, and he gives them to Rin and Luvia and orders them to collect the Class Cards. He later orders them to use the prana supply from Kaleidosticks to stabilize the local ley line.
Kirei Kotomine - Kotomine appears in the parallel world where he, unlike his counterpart, found more of a meaning to his life by owning a ramen shop that only makes mapo tofu. He brings Ilya and the starving Tanaka to his shop to eat his exceptionally spicy mapo tofu.
Others - Sakura Matou, who is seemingly not related to Rin, appears briefly to help Shirou after he is injured. Issei Ryuudou appears briefly during the first chapter. Taiga Fujimura teaches Illya's middle school class.
The series takes place in an unnamed city with a resemblance to Misaki City set in an alternate timeline of Fate/stay night. Shirou and Illya live a peaceful life as brother and sister, without knowledge of magic, under the care of Sella and Leysritt, while their parents are abroad. The Mage's Association is the same, but the Grail War is non-existent, and it is instead replaced by various cards containing malicious fragments of Heroic Spirits. Various aspects of the setting and events are a parody of a typical Magical Girl series, and Illya usually points it out. Many panels of the series are based off of different Fate/stay night and Tsukihime CGs.
Concepts
Edit
Class Cards
Edit
These are the same cards that appeared in Fate/Stay Night game and anime as a generic visual representation of Servant classes. There are seven cards, one card per Servant class and they contain Servants from the 5th Grail War.
In this timeline, they appeared without warning in the city the story takes place in. Mage's Association managed to aquire two of them (Archer and Lancer cards), but their analysis yielded no information about their origin, purpose or magical theory behind them. Only thing that was discovered was that each card contained a fragment of a Heroic Spirit and with proper ritual it was possible to draw on the power of the specific Heroic Spirit. Originally, it was believed that this only granted the access to the Noble Phantasm of a specific Heroic Spirit contained in the card, but it was later discovered by Illya that it was possible for a Magical Girl to become the medium for the Heroic Spirit, granting her all the skills, knowledge and Noble Phantasms attached to that heroic Spirit. After drawing on the power of the Class Card to use a Noble Phantasm that specific card becomes unusable for the same action for a few hours.
Cards that were left in the wild would accumulate prana and eventually form a body around themselves. These bodies take the appearance of slightly monstrous versions of the Servants from the 5th grail war (the Saber card, for instance, takes the form of Saber Alter), but without any personality and extremely aggressive. These bodies had access to the abilities and Noble Phantasms of the Servants they represent and had to be destroyed to reach the Class Card.
Kaleidosticks
Edit
Two sentient wands that can turn their owner into Magical Girls. They were given to Rin and Luvia by Zelretch to aid them in dealing with Class Cards.
First stick, Ruby, is identical in appearance to the one used in Fate/hollow ataraxia by Rin, with a five-pointed star inside a winged ring on its "head", and small cross on the other end. Second stick, Sapphire, has a six-pointed star on its head, and what looks like a rope ending on its other end. In addition, Sapphire's "wings" resemble a ribbon or Butterfly wings, giving it's head an appearance of a brooch. Both stick will be reduced to only their heads when they are not used by Magical Girls. In this forms, they can freely levitate and use their wings to gesticulate. Ruby refers to Sapphire as her "younger sister", and is shown to exhibit a protective attitude towards her.
The ritual to sign a contract between a Kaleidostick and its user is fairly simple and includes a small amount of user's blood to be given to Kaleidostick followed by willingly grasping the handle of the stick. As Kaleidostick themselves choose their masters, ritual won't work without their consent, just as the contract can only be terminated from their side. Once the contract has been established, sticks will transform their masters into Magical Girls and provide them with unlimited amount of prana (although at a limited rate) by using Second Magic to connect with alternate realities, similar to how Jeweled Sword works. Transformation and prana supply will be canceled if Kaleidostick is seperated from it's user for more than 50 meters or longer than 30 seconds.
Magical Girls can use this prana to perform high-level Magecraft without formal knowledge of magical theory, such as flying, raising magical and physical shields and enhancing their own physical abilities. It was stated that a Magical Girl's imagination is the only limiting factor in utilizing the prana provided by the Kaleidostick – Illya was able to fly without much effort because she had an image "Magical Girls can fly" in her mind, while Miyu was unable to ignore physical laws, and was only able to fly by imagining a "foothold" and strengthening the air below her feet to form one.
Kaleidostick have shown remarkable amount of endurance, being able to withstand a direct sword slash from Saber and a crushing attack from Berserker (although any accompanying prana had to be blocked by a raised shield, otherwise it would hit their wielder).
Also, Kaleidosticks were shown to have some additional abilities ("24 secret abilities", as Ruby states) that include an ability to imitate a cellphone when communicating with each other (completed with an ability to establish a videolink and project the video feed on a wall) and an ability to make predictions of future based on statistical extrapolation and print them out. However, these abilities were used solely for comical effect.
Mirror World
Edit
A group name for a series of pocket spaces that were created by the Class cards. They contains landscape that mirrors the one in the real world, but with no living things present, and with damage done to it not affecting the real world. Their size was originally a few kilometers in radius, but as more cards were collected, they started shrinking until the last one was the size of single building. Their name comes from the analogy that if you put two mirror opposing each other, they would reflect each other infinite number of times, and each pocket space is but a single of such reflections, a mirror image of the world.
Each Class Card card was believed to be contained in a separate space, although it was shown that two cards could share a single space.
Mirror World could only be accessed by Kaleidosticks with a formed contract by opening a "Mirror Road" via a spell. After its formation a Mirror Road could immediately transfer several humans to and from Mirror World before closing.
References
Edit