Noble Phantasm
First Folio
Japanese name:
ファースト・フォリオ
Title:
When the Curtain Rises, the Applause Shall Be As Ten Thousand Thunders
Japanese title:
開演の刻は来たれり、此処に万雷の喝采を
Transliteration:
Kaien no Koku wa Kitareri, Koko ni Banrai no Kassai wo
Owner:
Caster of Red
Type:
Anti-Unit[1]
Rank:
B[1]
Range:
1-30[1]
Maximum number of targets:
1 person[1]
First Folio: When the Curtain Rises, the Applause Shall Be As Ten Thousand Thunders (開演の刻は来たれり、此処に万雷の喝采を, Kaien no Koku wa Kitareri, Koko ni Banrai no Kassai wo?) is Shakespeare's Noble Phantasm. It is a work that he was not able to write in life, and it is something that required a Command Spell so that he would not use it to write a tragedy about his Master, Shirou Kotomine. On its own, it cannot accomplish much, but Shirou believes that it can control the Greater Grail if combined with his own Noble Phantasms, Left Hand - Xanadu Matrix and Right Hand - Evil Eater.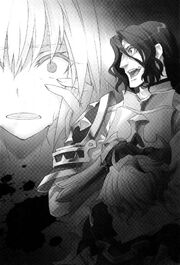 The primary effect of First Folio is to, "show a story," to someone by, "setting a stage," where he will recreate places, events, and people from that person's life. The main purpose of this Noble Phantasm is to destroy the minds of his opponents by showing them images of their pasts while Shakespeare narrates their faults to them leaving them both mentally and emotionally scarred. On its own, Shakespeare is only able to replicate individuals as he did when attempting to escape from Berserker of Black whereby he created a replica of her creator that treated her with kindness rather than the revulsion he felt toward her in life which threw her into an uncontrollable rage. With this level of power, the replica follows a script that Shakespeare specifies and is incapable of thinking or acting independently. When empowered by Assassin of Red's Hanging Gardens, he is able to replicate Jeanne d'Arc's entire life to her including a replica of Gilles de Rais performing the many atrocities he had committed in life after the death of Jeanne. This replica of Gilles has some degree of independence and is capable of interacting with Jeanne and thinking on its own as the real Gilles would have done.[2]
Development
Edit
The original design for Fate/complete material IV is a tome that can alter or falsify the outcome of a phenomenon occurring within sight for a limited number of instances. While functionally useless in the face of an enemy that outclasses him in every attribute, it has a chance of inflicting death upon otherwise defeatable opponents if skillfully deployed. It is activated with the incantation "NON SANZ DROICT" ("Not Without Right"—the motto on Shakespeare's coat of arms).[3]

References
Edit
↑ 1.0 1.1 1.2 1.3

[] Fate/Apocrypha material - STATUS: Caster of Red, p.042-043

Class: Caster
Master: Shirou Kotomine
True name: Shakespeare
Gender: Male
Height/Weight: 180cm/75kg
Alignment: True Neutral

Strength: E
Endurance: E
Agility: D
Magic: C++
Luck: B
Noble Phantasm: C+

Class Skills
■ Territory Creation: C
Can establish a territory advantageous to oneself as a magus. However he does not make a workshop but rather a "study," where he spins stories.

■ Tool Creation: -
Because of the skill Enchant, this skill is lost.

Personal Skills
■ Enchant: A
Concept endowment.
Able to add powerful functions to other's important items. Basically an ability which strengths the Master's fighting abilities. He himself is the audience, spectating the battle, irritating his master by inquiring about the master's every state of mind.

■ Self-Preservation: A
He cannot fight, however in exchange, however as long as his Master is safe he can escape from almost all crises. In short, he won't fight. Nevertheless he prefers high risk, high return tactics.

Noble Phantasm
■ First Folio: When the Curtain Rises, the Applause Shall Be As Ten Thousand Thunders
Rank: B
Type: Anti-Unit Noble Phantasm
Range: 1~30
Maximum Number of Targets: 1 Person
The ultimate play that Shakespeare invokes. Depending on the circumstances, when invoked, the effects may vary.
In regards to the target's life, it replays the scenes that mentally damages the target the most. In Shakespeare's words, it inflicts despair.
A theater Noble Phantasm meant for Heroic Spirits' spirits. Also, from curtain rising to curtain call, the target cannot receive or deal physical damage.

CLASS キャスター
マスター:シロウ・コトミネ
真名:シェイクスピア
性別:男性
身長・体重:180cm/75kg
属性:中立・中庸

筋力:E
耐力:E
敏捷:D
魔力:C++
幸運:B
宝具:C+

クラス別能力:
■ 陣地作成:C
魔術師として、自らに有利な陣地を作り上げる。
だが彼が作るのは工房ではなく、物語を紡ぐ"書斎"である。

■ 道具作成:-
道具作成スキルは、スキル『エンチャント』によって失われている。

固有スキル
■ エンチャント:A
概念付与。
他者や他者の持つ大切な物品に、強力な機能を付与する。
基本的にはマスターを戦わせるための強化能力。
彼自身は観客として戦闘を見物したり、心境をいちいち聞いたりしてマスターを苛立たせる。

■ 自己保存:B
自身はまるで戦闘力がない代わりに、マスターが無事な限りは殆どの危機から逃れることができる。
つまり、本人は全然戦わない。
そのくせハイリスク・ハイリターンな戦術ばかりを好む。

宝具
■ 開演の刻は来たれり、此処に万雷の喝采を
ランク:B
種別:対人宝具
レンジ:1~30
最大捕捉:1人
シェイクスピアが発動する究極劇。発動した状況によってその効果は異なる。
対象の人生において、精神的にもっとも打撃を加えられる場面を再現し、シェイクスピアの言葉によって、絶望を加えられる。
英雄たちの心を折るための演劇宝具。また劇が開始すると閉幕するまでは対象には一切肉体的損害が与えられず、与えることもできない。

↑ http://forums.nrvnqsr.com/showthread.php/3173-Fate-Apocrypha-Free-Range-Spoiler-Thread/page590?highlight=folio
↑

[] Fate/complete material IV: Extra material - Fate/Apocrypha - Shakespeare, p.322-323

Shakespeare, the Playwright
He is a legendary playwright of England -- gentlemanly and soft-spoken. Placing the importance of the Story above all else, he will lie and cheat and by any means conduct himself that he might witness the unfolding of a grand tale, beautiful beyond compare. Consequently, he tends to distance himself from mentality of the "participant," taking instead the perspective of an abstract, "Authorial" third person. His regard for others differs by individual, dependent on their qualification as a special existence, or "protagonist" -- he interacts with "normal humans" only in a shallow, dismissive manner; and expresses an extreme interest in "protagonists." In slight narcissism, he frequently drops such self-authored quotes as, "Things bad begun make strong themselves by ill." He's taken a liking to certain terminology from modern fiction, such as "Death-Flagging." Incidentally, there was an undocumented period of seven years in Shakespeare's lifetime ...



Class: Caster

Source: Historical fact

Region: United Kingdom

Alignment: True Neutral

Sex: Male

Height: 180cm

Weight: 75kg

Armament: Book



Illustrations: Chinatsu Kurahana
Creator: Shoji Gatoh

Legend
He is a poet and playwright (1564-1616) from the Elizabethan England. He is representative of authors of the western world, and still has a large influence over modern literature. He wrote too many masterpieces to list, but his four greatest tragedies rising above all others are "Othello", "Macbeth", "Hamlet" and "King Lear". His father was an affluent man in Stratford, but it is uncertain if Shakespeare received a higher education. There are many mysteries in his career, such as a gap of seven years. In his early days as a playwright, his productions revolved around comedy, then historical drama, before he changed his style for magnificent tragedy. At the same time, he also played as an actor in the underground, and he was the target of slander and derision from influential people.

Status


STR: E

CON: E

AGI: D

MGI: C++

LCK: B

Noble Phantasm: C+



Skills


The appendage of improved attributes and functionality to others their precious articles. Typically used to reinforce the battle capabilities of the Servant's Master, such that the Servant may act as an impartial observer and carefully document the Master's psychological state.



Though he possesses no combat capabilities, so long as he preserves his Master's safety to the lowest possible degree, he maintains the skill to escape from nearly all harm -- meaning that he never engages any opponents himself. The Servant favours a "high risk, high return" tactic, where "returns" is related to the fruits of his observation.

Noble Phantasm


The Globe: King's Men - Strength: Weak


Shakespeare's theatrical company, which was patronized by King James I. A Noble Phantasm that permits the Servant to accurately assume the aspect of another individual -- passing scrutiny while disguised even if he interacts with those to whom the personage he portrays is well-known. Used for purposes of social engineering.



First Folio: When the Curtain Rises, the Applause Shall Be As Ten Thousand Thunders - Strength: Strong


A tome that may -- for a limited number of instances -- alter or falsify the outcome of a phenomenon occurring within sight. Though this Noble Phantasm is functionally useless in the face of an enemy that outclasses the Servant in every attribute, with skillful deployment, it has a chance of inflicting death upon otherwise defeatable opponents. Activated with the incantation "NON SANZ DROICT" ("Not Without Right" -- the motto on Shakespeare's coat of arms.

劇作家
シェイクスピア
英国の伝説的な劇作家。物腰は柔らかで紳士的。物語至上主義を掲げており、ペテンやイカサマをしてでも最高の物語を目撃したいと思っている。そのため当事者感覚が薄く、視点が作家的。相手を値踏みし、平凡な人間は冷淡に扱い、逆に非凡な人物には不遜な質問を繰り返す。"死亡フラグ"などの現代風物語的言い回しが好み。ややナルシストで「罪から出た所行は、ただ罪によってのみ強力になる」など、セリフに自作を引用する。



クラス:キャスター

出典:史実

地域:イギリス

属性:中立・中庸

性別:男

身長:180cm

体重:75kg

武装:本



イラスト:倉花千夏
設定制作:賀東招二

伝説
エリザベス朝時代のイギリスの劇作家、詩人(1564年-1616年)。西洋世界を代表する作家であり、現代のあらゆる文芸作品に影響を与える。代表作は多すぎて書ききれないが、強いて挙げるなら四大悲劇と呼ばれる『オセロー』、『マクベス』、『ハムレット』、『リア王』がある。父親はストラトフォードの有力者だが、シェイクスピアが高等教育を受けたかどうかは諸説ある。他にも経歴に7年の空白があるなど、謎が多い。劇作家として初期は喜劇を中心に創作し、後に史劇、壮大な悲劇へとスタイルを変えていった。当時は胡散臭い職業とされていた役者としても活動しており、権威ある人々からは中傷や冷笑を受けていたらしい。

筋力値


筋力:E

耐久:E

敏捷:D

魔力:C++

幸運:B

宝具:C+



固有スキル


他者や他者の持つ大切な物品に、強力な機能を付与する。基本的にはマスターを戦わせるための強化能力。彼自身は観客として戦闘を見物したり、心境をいちいち聞いたりしてマスターを苛立たせる。



自身はまるで戦闘力がない代わりに、マスターが無事な限りは殆どの危機から逃れることができる。つまり、本人は全然戦わない。そのくせハイリスク・ハイリターンな戦術ばかりを好む。

宝具


ジェームズ一世が提唱したシェイクスピアの劇団。出現した役者が自在に姿を変え、対象を謀る。相手のよく知る人物を演じることもできるが、魔術の心得がある者は抵抗を試みる機会がある。



開演の刻は来たれり、此処に万雷の喝采を(First Folio) - 威力:大


結果を改ざんする本。目の前で起きた事象を、一定回数までやり直せる。何度戦っても敵わない相手には無力だが、倒せる可能性がある相手には有効。「NON SANZ DROICT(無権に非ず)」の詠唱がいる。