Ad blocker interference detected!
Wikia is a free-to-use site that makes money from advertising. We have a modified experience for viewers using ad blockers

Wikia is not accessible if you've made further modifications. Remove the custom ad blocker rule(s) and the page will load as expected.
Gáe Dearg: Crimson Rose of Exorcism (破魔の紅薔薇, Hama no Benibara?) is a two meter long spear that renders magical enhancements and projections useless by severing all ties with magical energy. It was passed down to Diarmuid Ua Duibhne from his father, and he normally keeps it wrapped in a talisman cloth to seal its abilities and keep it from revealing his identity. Unlike most other Noble Phantasms, the abilities of the spear are passive in nature. It does not require its name to be called upon in order to be utilized, allowing it to instantly affect whatever it strikes.[2]
The spear will pierce directly through any projection made of magical energy, such as Saber's summoned armor. Bounded fields, such as Invisible Air, will have small fissures created that slowly chip away at them with each strike, any weapon that is magically enhanced, such as those enhanced by Knight of Honor, will have its enhancements and ability boosts rendered useless when struck by the spear, and any item that acts as a magical energy source, such as Prelati's Spellbook, will have all connections severed to its recipients.
The nullification is not strong enough to cancel or break the source of the magecraft, making it unable to sever completed magecraft such as contracts exchanged in the past or curses in the way that Rule Breaker completely nullifies them. The effects only last while the tip of Gae Dearg is in contact with the object, which allows it to function as normal after the spear is lifted away. While it is not a weapon one can pride on its destructive power, it can be considered a threatening "anti-Noble Phantasm" and "Noble Phantasm killer" to those that find pride in the power of the armaments, forcing them to defend only by physical means.[1][3]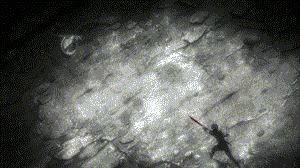 References
Edit
↑ 1.0 1.1 1.2 1.3 1.4

[] Fate/Zero material - Servant Status: Lancer, p.016-017

Class: Lancer
Master: Kayneth El-Melloi Archibald
True Name: Diarmuid Ua Duibhne
Gender: Male
Height/Weight: 184cm/85kg
Alignment: Lawful Neutral

Strength: B
Endurance: C
Agility: A+
Mana: D
Luck: E
Noble Phantasm: B

Class Skills
■ Magic Resistance: B
 
Personal Skills
■ Eye of the Mind (True): B

■ Love Spot: C

Noble Phantasm
■ Gáe Dearg: Crimson Rose of Exorcism
Rank: B
Type: Anti-Unit Noble Phantasm
Range: 2~4
Maximum number of targets: 1 Person

■ Gae Buidhe: Yellow Rose of Mortality
Rank: B
Type: Anti-Unit Noble Phantasm
Range: 2~3
Maximum number of targets: 1 Person

CLASS ランサー
マスター:ケイネス・エルメロイ・アーチボルト
真名:ディルムッド・オディナ
性別:男性
身長・体重:184cm/85kg
属性:秩序・中庸

筋力:B
耐力:C
敏捷:A+
魔力:D
幸運:E
宝具:B

クラス別能力
■ 対魔力:B
魔術発動における詠唱が三節以下のものを無効化する。
大魔術、儀礼呪法等を以ってしても、傷つけるのは難しい。

保有スキル
■ 心眼(真):B
修行。鍛錬によって培った洞察力。
窮地において、その場で残された活路を導き出す戦闘論理。

■ 愛の黒子:C
魔力を帶びた黒子による異性の魅惑。
ディルムッドと対峙した女性は彼に対する強烈な恋愛感情を懐く。
対魔力スキルで回避可能。

宝具
■ 破魔の紅薔薇
ランク:B 
種別:対人宝具 
レンジ:2~4 
最大捕捉:1人
————魔力による防御を無効化する長槍。
魔力によって編まれた防具はこの槍の攻撃に対し効果を持たず、また武具に施された魔術的な強化、能力付加もゲイ・ジャルグと打ち合う場合には一切発揮されなくなる。
事実上、物理手段によってしか防御できない《宝具殺し》の槍。
ただし、過去に交わされた契約や呪い、すでに完了した魔術の効果を覆すことはできない。

■ 必滅の黄薔薇
ランク:B
種別:対人宝具
レンジ:2~3
最大捕捉:1人
————回復不能の傷を負わせる呪いの槍。
この槍によるダメージはHPの上限そのが削減されるため、いかなる治癒魔術、再生能力をもってしても『傷を負った状態』にまでしか回復することができない。
ディスぺルは不可能で、呪いを破棄するためにはゲイ・ボウを破壊するか、使い手であるディルムッドを滅ぼすしかない。

↑

[] Fate/Zero - Volume 4: Gáe Dearg: Crimson Rose of Exorcism

Gáe Dearg: Crimson Rose of Exorcism

破魔の紅薔薇
英霊デイルムッド・オディナが養父であるドルイドのアンガスより贈られた魔槍。ジャルグとは赤色の意。あらゆる魔法の護りを打ち破る効果を持つ。
フィン王からの依頼で"海の三勇士"がけしかけた"不滅の猛毒犬"たちとの戦いや、フィン王の乳母の魔女が駆る"空飛ぶ挽き臼"の迎撃において、その力を遺憾なく発揮した。

↑

[] Fate/Zero material - Weapons: Gae Dearg Gae Buidhe, p.122-123