Sir Galahad (サー・ガラハッド, Sā Garahaddo?) is one of the Knights of the Round Table.
Background
Edit
Galahad was a later addition to the Round Table, especially famed for his escapades in the search for the Holy Grail.[1] He was a "saint who was the only one to obtain the Holy Grail, just to return it to heavens."[2]
Appearance
Edit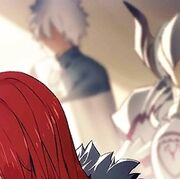 Galahad's father, Lancelot, comments that Mash is wearing her hair in a similar style to him.[citation needed]

Personality
Edit
Fate/Grand Order
Edit
Galahad was the second, and mostly failed, attempt to summon servants by Chaldea Security Organization. He was summoned within Mash, but disgusted by Chaldea's various inhumane experiment. Realizing Mashu will immediately die if he leaves, he instead chose to hibernate. When Chaldea exploded, he formed the Demi-Servant contract with her. Mashu obtained his fighting experience, skills, and Noble Phantasm, but lacks even knowledge of who is fused with her until later in the story. After granting her his skills and Noble Phantasm Galahad faded away.
Other appearances
Edit
He was briefly mentioned in the original novel of Fate/Zero when Saber fought against Berserker. As Berserker revealed his true identity, Saber was tormented on how she led her kingdom. She thought of her knights and wondered if they had left this world with resentment and unwillingness. Saber claims that Galahad had lost his life in the line of duty.[3]
Abilities
Edit
Galahad possesses the Noble Phantasm Lord Camelot, and his only confirmed skill so far is Mana Defense, a defensive counterpart to Mana Burst that Mash is able to use through the Demi-Servant skill Possession Inheritance.
While there is little mention of his martial skills, Bedivere notes it is not his combat prowess being most outstanding, but his mentality.
References
Edit
↑

[] Fate/side material - Encyclopedia: Sir Bedivere [Person's name], p.061 [T]

Sir Bedivere [Person's name].
The knight who tended the final moments of King Arthur.
He was the last remaining knight who returned the holy sword back to the lake according to the King's orders.
Lancelot, Percival, Galahad were some of the popular knights of King Arthur's who embarked on the quest for the Holy Grail, but they were actually junior knights who joined later for the quest.
The earliest and most famous knights who swore allegiance to King Arthur included Ser Kay, Ser Gawain, and Ser Bedivere. They had histories even older than King Arthur's.
Ser Bedivere's name was thought to be derived from the ancient War God of the Celts, Bedwyr.
By the way, Ser Bedivere was not aware that Artoria was a girl.

サー・ベディヴィエール【人名】
アーサー王の最期を看取った騎士。
王の命に従い、聖剣を湖に返却した最後の騎士。
アーサー王の騎士と言えば聖杯探索のランスロット、パーシヴァル、ガラハットが頭に浮かぶが、彼らはもともと聖杯探索の為に用意された新騎士である。
アーサー王より古い歴史を持ち、アーサー王に従う 最古参の騎士で最も有名なのがサー・ケイ、サー・ガウェイン、そしてこのサー・ベディヴィエールである。
ケルトの古い戦神ベドウィールがモデルとされる。
関係ないのであるが、サーはアルトリアが女の子だと気付いておりませんでしたとサー。

↑ Fate/Zero - Act 16 Part 7 -03:52:18, p.343-344
Ad blocker interference detected!
Wikia is a free-to-use site that makes money from advertising. We have a modified experience for viewers using ad blockers

Wikia is not accessible if you've made further modifications. Remove the custom ad blocker rule(s) and the page will load as expected.