List of minor characters in the Fate series
Talk

6
619pages on
this wiki
This is a list of minor characters appearing in the Fate series, including Fate/stay night, Fate/hollow ataraxia, Fate/Zero, and other related stories.
Gil Brigade
Edit
The Gil Brigade are a group of children who follow the child version of Gilgamesh in Hollow Ataraxia. They consist of Jirou, the "Bland kid", Mimi, the one girl of the group who talks to Lancer while he is fishing, Imahisa, who makes fun of Lancer's cheap-looking fishing rod and for only being able to catch octopus, Kouta, who wants to toss Lancer some fish, and Kanta, who was unable to read Gilgamesh's manga because he wasn't done with it.
Glen and Martha Mackenzie
Edit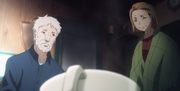 Glen Mackenzie (グレン・マッケンジー, ?) and Martha Mackenzie (マーサ・マッケンジー, ?) are an elderly Canadian couple who live in Japan. Glen is a 72 year old man, originally from Australia. Their son, daughter-in-law, and grandson were unable to adapt to Japan and have returned to Canada.[1]
They provide lodgings for Waver Velvet (who has made them believe he is their grandson) and Rider.
Though near the end, despite Waver's spell being under his effect, Glen was able to figure out that Waver was not his grandson, by asking him a question that contradicted with the memories he had of his actual grandson, but was still happy to have him around and didn't mind if Waver continued to do so. After the Fourth Heaven's Feel , Glen and Martha gave Waver permission to stay in Japan with them for a while, it is implied that Glen is aware of Rider's death since Waver mentioned how both he and Rider were involved with a life threatening situation when both Glen and Waver were alone on the roof.

Golden Fuyuki-kun
Edit
Golden Fuyuki-kun (ごーるでん冬木くん, ?) is a parody version of Gilgamesh featured in the TMitter 2010 April Fools' Day joke. He is a mascot character that scares children.

Guinevere
Edit
Guinevere (ギネヴィア, ?) is the wife of King Arthur and the lover of Lancelot. Though the King was secretly a woman, it was necessary that a noble and virtuous queen be beside the ideal king who would save their ravaged, war-torn country. The King needed a wife according the the ideals of the populace, and a single woman's life was insignificant compared to such a grandiose ideal. Though a marriage between two women could never be consummated, it was a necessary sacrifice to protect the country and the greater good.[2]
She attracted Lancelot's attention through her sorrow, having discarded everything and consigned herself to becoming not a "woman", or even a "human." She was nothing but a mechanical part called a "queen" that supported the king ruling the kingdom. Lancelot was granted his first audience with her in the court, and that was enough to make him swear in his heart to do anything for her, even give up his life. They became closer, and though she had finally discovered that it was his very thoughts that had been tormenting her, she was too late and had already fallen in love.
Love was the greatest taboo for someone who had given up her happiness as a woman, and that love was the root of their downfall. It was an impermissible romance, and although there should have been a path for them to continue to the end, their roles did not allow for it. The perfect knight served the perfect king in the utmost capacity, but there was still her, the tormented and ignored woman who could only weep every day. Their affair was eventually brought forth by people wishing to shatter the King's prestige, and she had been given the death sentence.
The events brought her great sorrow, becoming more ragged each day as she silently cried. She was ashamed beyond measure, blaming and questioning her own actions. She was assaulted by words like "unchaste wife" and "traitorous queen", holding herself as a sinner shouldering all the guilt and blame in the world. They did not know the truth about her marriage, so they simply surrounded her and reprimanded her all at once. Arthur never blamed her, as it was her fault for hiding her gender. Guinevere was the one who had to shoulder the burden, but it did not matter when faced publicly with the affair.
Lancelot was forced to betray his King to save her, causing her to fall into a deep self-deprecation for having misguided the "perfect knight." He acknowledges that the only thing he did for her was make her cry forevermore.
Kaede Makidera
Edit
Kaede Makidera (蒔寺 楓, Makidera Kaede?)is a beautiful but loud and obnoxious sprinter. A member of Class 2-A's famed track girl trio. She is the track team's star sprinter, and she wishes people would call her the "Black Panther of Homura" while her actual nickname is just "Maki".
She is a friend of Rin Tohsaka and she's scheming at making her as her best friend, and she sees Ayako Mitsuduri as a rival. Her hobby is collecting wind chimes, and she loves working with glass. Perhaps because her tastes intersect with Rin's on that point, the two often go around visiting antique shops together on their days off and the two often go window-shopping together.[3]
She is energetic, likes competition, and tries to lead the members of their trio. She can't really stand failures. She is not academically brilliant and has poor marks at school. In the Fate/school life spinoff, she is depicted as receiving high marks only in History class.

Kane Himuro
Edit
Kane Himuro (氷室 鐘, Himuro Kane?) is a student at Homurahara School. She is a friend of Yukika Saegusa and Kaede Makidera, they are known as Class 2-A's famed track girl trio and she generally plays the straight man of the group. She is the track team's high-jumping ace. If you're wondering whether or not she hates having such an old-fashioned name as "Kane", she's actually really fond of it. It seems she actually wants to paint pictures, but was strong-armed into joining the track team by Kaede.[4]
She is considerate and intelligent. She is the brains of the trio. She is quiet, reserved, and doesn't speak that much as well. She is Minori's best friend and has a passion for gossip, especially if it involves those around her. She stars in her own spin-off series, Fate/school life, which displays her in a much more comical light along with her friends.

Kotone (コトネ, Kotone?) is a second grade female student that attends Yatsushirodai Elementary School (八代台小学校, Yatsushirodai Shougakkou?), just outside Fuyuki City. She is a close friend and classmate of Rin Tohsaka during Rin's stay with her maternal grandparents during the events of Fate/Zero. Rin feels very proud of the trust and respect Kotone has for her. She feels it is good opportunity to put her family creed into action by standing up for Kotone, such as when she is bullied by the boys of their class or when the librarian forces work onto her. Kotone eventually vanishes from school much like many other children of the area. She is taken by Ryuunosuke Uryuu and Caster for use in their various human projects and sacrifices. Rin realizes the disappearances are related to Holy Grail War in some way, and feels that she is the only one able to help her.
Rin ventures into the city to search for her alone. It is implied that Kotone meets the same gruesome fate as most of Ryuunosuke and Caster's other victims during the novel. Rin begins to despair that the hope of finding her alive is slim, and eventually even thinks that she should have aimed to find her remains in the first place. She is never referenced again afterward. The anime version of the events play out differently, as Rin manages to follow Ryuunosuke to a old building where he is keeping a number of children. She finds Kotone among them, and she manages to save them all by shattering the magecraft that was holding them in a trance. Kotone returns to school afterward with the other victims. She was originally named Satsuki in the first draft until it was remembered that Satsuki Yumizuka has that name.[5]

Minori Mitsuduri
Edit
Minori Mitsuduri (美綴実典, Mitsuduri Minori?) is the younger brother of Ayako Mitsuduri, a Homurahara student and a member of the Archery Club. He has a crush on Sakura Matou, and perceives Shirou Emiya as his rival. He becomes the captain of the Archery Club after Sakura graduated.
Minori is somehow shy, but he might be also a bit aggressive, especially with people he doesn't really like or trust (like Shirou for instance). He does not show any particular affection to his sister, although he greatly loves and respects her.

Norikata Emiya
Edit
Norikata Emiya (衛宮 矩賢, Emiya Norikata?) is the father of Kiritsugu and fourth head of the Emiya family. He is a genius who rose to the rank of receiving a Sealing Designation even though he is only the fourth generation, a relatively shallow generation compared to more esteemed families. He managed to evade the enforcers for twenty years despite being actively hunted the entire duration of time, but his wife was slain by the enforcers shortly after Kiritsugu's birth. He eventually settled and hid on a small southern island, Alimango Island, with Kiritsugu while working on a potion to make the drinker into a Dead Apostle, so that he may continue his work for as long as he needs with the immortality. He had Shirley working as his assistant, and due to her overeagerness, she drank one of his experimental potions. After the outbreak of the Dead on the island, he is assassinated by his son before he can escape and resume his research elsewhere.
He researched Time Manipulation, manipulation inside the body or possibly small cause-and-effect, in his quest to reach the Root as had his ancestors. The Emiya's magecraft works by accelerating or slowing the flow of time inside a Reality Marble free from the world's interference. Thorough investigation lead him to the realization that a Bounded Field that was minimized until resistance was almost zero could allow the the flow of time to be accelerated without limit. He believed that reaching the Root was possible, right before observing the universe's end. While the theory was promising, such an experiment would have required hundreds of years to finish, leading him to resolve the issue of life span by exploring methods to become a Dead Apostle.[7]

Raiga Fujimura
Edit
Nasuverse character
Raiga Fujimura
Japanese name:
藤村雷画
Franchise:
Fate
Appears in:
Fate/stay night (mentioned)
Character type:
Human
Gender:
Male
Bloodline:
N/A
Raiga Fujimura (藤村雷画, Fujimura Raiga?) is the boss of a yakuza group operating in Fuyuki City, and is the grandfather of Taiga Fujimura. He was an old friend of Kiritsugu Emiya, and as a favor, manages Kiritsugu's estate after his death in place of Shirou Emiya. He enjoys sumo wrestling and hunting, and he will often give Shirou spending money for accompanying him to such events.[8] Though Shirou sees his profession as a problem, he tends to simply ignore it. Though he has a energetic and scary personality, Shirou believes he is not a bad person, as he shows eg. when he pays Shirou a large sum for tuning up his motorcycle.

Reikan Ryuudou
Edit
Reikan Ryuudou (柳洞 零観, Ryuudou Reikan?) is Issei's older brother and a judo specialist. His personality is similar to that of Fate/zero's Rider and he is more broadminded than his brother. There have been times when he's asked Taiga for a date and then ended up in the hospital thanks to her father's subordinates.
Reikan is a very responsible person. Issei tries to act in the same manner and follows him as a role model. Reikan is very fond of martial arts, training frequently with Souichirou, and takes his role and his duties very seriously. He dislikes having a woman, Caster, living in the temple, but he does not dislike her personally.

Yukika Saegusa
Edit
Yukika Saegusa (三枝 由紀香, Saegusa Yukika?) is the gentle manager of the Track Team, warmly loved by the majority of her class. She is a female student of Second year Class A in Homurahara Academy. She is the mascot girl of the Class 2-A's famed track girl trio. Originally she supposed to join the Cooking Club, but she became the manager of the Cross-country Club at Makidera's insistence. Just like her appearance, she is extremely bad at sports.
Yukika is a shy, patient, and mature girl. Although she lived in poverty, her heart shone brighter than the most lustrous silk. Consequently, her smile healed those around her. While she isn't a honor student, she respects and she looked up to her classmate Rin Tohsaka in awe. She had several younger brothers of various ages. She's very affectionate towards her younger brothers and she spends a lot of her free time looking after them.[9]
She is one of the few people able to see Assassin at the Ryudo Temple gate, and strikes up a conversation with him in Fate/hollow ataraxia.

References
Edit