Gilgamesh (Fate/Extra CCC)
Talk

4
447pages on
this wiki
Nasuverse character
Gilgamesh
Japanese name:
ギルガメッシュ
Franchise:
Fate
Appears in:
Fate/Extra CCC
Voice actor:
Tomokazu Seki
Character type:
Servant (Master: Hakuno Kishinami)
Gender:
Male
Birthday:
Unknown
Height:
182cm
Weight:
68kg
Three sizes:
B94/W73/H93
Hair color:
Blond
Eye color:
Red
Home:
Uruk
Secret Garden:
Gilgamesh (ギルガメッシュ, Girugamesshu?) is one of the four playable Servants available to Hakuno Kishinami in Fate/Extra CCC. He is an alternate version of his counterpart that appears in Fate/stay night. Unlike the counterpart who is summoned under the Archer class, he claims that he does not fall under any of the Servant classes, so he is referred to only as Gilgamesh.
Background
Edit
Main article: History
Gilgamesh is unable to exist on the Near Side of the Moon Cell due to his strength, so he is only able to exist within the Far Side. He simply passes away the time sleeping due to nothing being able to exist there, but his physical body awakens with BB's restructuring of the Far Side.[1]
Personality
Edit
Gilgamesh's personality is heavily influenced by the era into which he is summoned. The world, his property, of Fate/stay night was sullied by the consumption society of the early 2000s, so he was in a worse mood overall. He has taken a liking to the virtual world of 2032, so his personality is more stable and closer to how it was during life. Arco Wada says he reminds her of Gilgamesh in Fate/hollow ataraxia.[2] He still displays his normal self-centered traits, but Nasu wished to show that there is more to his character than that.[3]
Gilgamesh holds no romantic feelings for his Master, and he even goes as far to ask the female version "Who is the man you want to be held by?" for entertainment. He believes that there can be nothing else between a man and a woman. He restricts it to the Student Council members, but he will be annoyed if he is chosen instead. He takes it as a given that he is already the obvious choice, so it is useless in staving off boredom. He says it was unavoidable due to being exposed to his aura at such proximity and forgives her, but also completely rejects her, mentioning that she is four thousand years too early for him. He prefers "a noble maiden", a virgin", and "a flower that blooms in the plain" was his type during his childhood.[4]
Development
Edit
Kinoko Nasu felt that, while pondering what class to place Gilgamesh in, he didn't require a class because "there's no need to constrain [Gil] like that anymore." The original test version he played of the game made the character extremely "broken" gameplay-wise, causing him to be described as "hax mode" on the Servant selection screen. He doesn't know if that will be the final design choice, or if they will adjust the power balance.[5]
Can You Chat with the King of Heroes?
Edit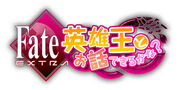 Can You Chat with the King of Heroes? (, ?) is a game on the Fate/Extra CCC site that involves speaking with Gilgamesh. The player is an unknown presence that has caused the spirit particles to become restless and disturb Gilgamesh's peace in the Chimeric Lunar Sea in the Far Side of the Moon Cell. After being awoken, he mentions that the area should be the territory of nil, meaning that none should be able to trespass. The player has choices to pick different dialogue options to attempt to converse with him, but, depending on his mood, he may simply repeatedly kill the nuisance instead.
He does not acknowledge the player at first, simply calling them a noise and killing them for three days. They resurrect and return each time, so he eventually acknowledges their apparent desire to be killed by him and decides to play along with them. Finally acknowledging them as a "mongrel", he attempts to have them establish a better connection, but they fail, leaving him to do it himself and kill them in the process. He begins to enjoy the process of killing and letting them revive, but the player's lack of knowledge of him angers him.
After finally learning about him, he is pleased that the player has "learned their place." If he is called the King of Knights, he is angered, but also says it has a resonance about it that makes him want to be introduced to the one who holds the title. Their daily talks continue, bringing up the Holy Grail War and having the player humiliate themselves trying to appease him. He tells the player to serve him tea as a favor of finding a task for them, but there is a disruption in the Moon Cell the next day after he prepares his golden tea set.
He attempt to have them resume the task the next day, but cuts the conversation short after realizing that the player is not a magus. He takes an interest in the happenings with the player, noting that such a thing is normally impossible. He tries to establish a connection, but he can only test the receptive capacity and kill the player. After they resurrect, he notes that they are connected even though the player's soul cannot be etherized. The connection between them starts to break, causing him to realize the cause of the situation.
After finding out about the Far Side being restructured, he reveals that the eighteen days of transmissions only took less than a microsecond from the Moon Cell's perspective. That restructuring is responsible for the player interacting with him, feeling human corruption and appetition from the malignant information invading the area. The final day arrives, and Gilgamesh almost draws Enkidu on the player while musing over the possibility of their immortality stemming from being a god. He praises their earnestness, despite their denseness, by recognizing them as one of his subjects.
He becomes able to forsee events yet to pass due to the scattering of spirit particles by the Moon Cell as the Far Side goes through cycles through disintegration and reconstruction. He sees the end of the player being swallowed into nothingness and vanishing without a trace. He says that they are not a magus, but the desire to withstand the deep may allow their voice to reach him on the Far Side of the Moon.
Fate/Extra CCC
Edit
Unlike the other Servants that travel with Hakuno to the Far Side after having contracted with them in the Holy Grail War, Gilgamesh cannot travel to the Near Side to participate and resides only within the Far Side. Hakuno had been contracted with a Berserker-class Servant beforehand, but the contract was severed somehow before emerging on the Far Side and encountering Gilgamesh.
Gilgamesh's ending features Hakuno returning to the Near Side of the Moon to take part in the Holy Grail War of Fate/Extra, forgetting the preceding events with Gilgamesh and being unable to recall the Servant they have contracted. They find Gilgamesh sitting nude in their room, remembering the Far Side and filled with surprise at his existence because he was supposed to be limited only to the Far Side. He simply says "I broke that rule." It then proceeds to the deletion of Hakuno's data at the end of the Holy Grail War, but Gilgamesh instead insults the Moon Cell, takes Hakuno, and decides to head out for "any planet with intelligent life and an emphasis on consumption and progress." They end up on a planet 1,500 light years away from Earth.
Abilities
Edit
Gilgamesh is different from regular Heroic Spirits in that he is not confined to a single class. Due to the long time he spent sleeping, he "returned to level one." Gilgamesh displays the use of Gate of Babylon, and along with raining down swords, he draws a number of different weapons in close combat, including a swords similar in shape to Enki, a golden axe, and a black and gold drill-shaped weapon. He also has use of Ea and Enkidu.[6] [7]
References
Edit
External links
Edit