Phantasmal Species (幻想種, Gensō-shu?) is the common term used to refer to all non-human creatures that are found in legends and fantasy.[1][2]
They are born from the thoughts of humans or when outside reasons cause certain life-forms to transform, but they can only survive in fantasy. Then, if it is believed that the subject of a Mystery "exists," the World permits its existence and definite affirmation of said belief is not required. There are also existences desired by the world, but not by humans, and because of this they have gradually gone into hiding and dwindled in numbers. Rather than a classification for a separate ranking for beasts, it encompasses everything from demi-humans, such as fairies and giants, to monsters, such as dragons and oni. They differ from Daemons, as they are active creatures rather than passive existences. Similarly to how magi gain power through the accumulation of knowledge, those of the Phantasmal Species become stronger through the accumulation of time. Modern Magecraft is the sum of five hundred years of study, whereas the Phantasmal Species date back to the Age of Gods. Magi that only have a mystical lineage that spans five hundred years cannot hope to match or reproduce mysteries that have accumulated thousands of years and have an existence that is on par with the five modern Magics. They embody mysteries simply by existing and it is said to be a miracle if one is simply observed.
Magical Beasts
Edit
Many of the Phantasmal Species fall into the category of Magical Beasts (魔獣, Majū?, alternatively, "Demonic Beasts"), which is the common denomination for all creatures that do not fit in the ordinary biological classification for living beings and those that do not fall within the normal ecosystem. The term "beast" is a thaumaturgical term, and it does not necessarily mean quadrupedal mammals. They are true deviations from biology that cannot be explained by immature research or sudden mutations. They can be ranked into three categories, which change as the creatures age and increase in power towards becoming higher existences. The lowest rank is Monstrous Beasts (魔獣, Akujū?, Demon Beasts), which then change into Phantasmal Beasts (幻獣, Genjū?), and finally become classified as Divine Beasts (神獣, Kamijū?).[3][4]
Phantasmal Beasts of the Millennium-Rank (千年クラスの幻獣・聖獣, Chitose Kurasu no Genjū Seijū?) and Divine Beasts are equal to Magic, making them unable to even be harmed by mysteries on the level of magecraft. Rider's Pegasus, which has grown from a Monstrous Beast to a Phantasmal Beast, has even greater resistance than Saber, who can easily negate Caster's magecraft from the Age of Gods. The longer the creatures live, the further away they grow from the rest of the world. Out of the current creatures that still exist in the present era, only those whose ages are measured in centuries, rather than millennia, still remain.
Most remaining Magical Beasts are Chimeras formed from mixing different species that have existed since the Age of Gods. They live on currently undeveloped lands that cannot be reached by mankind. Those on the level of Phantasmal Beasts that existed in the past have almost all migrated to a different world presented as the "Reverse Side of the World". Divine Beasts such as Moby Dick and Typhon are more on the level of "super weapons" than actual living creatures.[5] Members of the The Twenty-seven Dead Apostle Ancestors, like Primate Murder, a white dog born with the sole purpose of killing humans, and the Forest of Einnashe, a sentient forest that matured to the level of a phantasm specie by absorbing the blood of a Dead Apostle, also count among the Magical Beasts.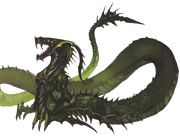 Bašmu (バシュム, Bashumu?), also known as Bashmu, is a large poisonous horned snake with two forelegs. It is one of the eleven demons birthed by the monster of Babylonia legend, Tiamat. It is a species of Divine Beast, the top of all Phantasmal Species.[6]
Semiramis can summon them within her Hanging Gardens of Babylon, through her Sikera Ušum Noble Phantasm. But even Semiramis wouldn't be able to summon something so powerful in that rushed situation, so she only summoned its top-half.[6]

Bull of Heaven
Edit
Chimera (キメラ, Kimera?, Chimaera) are creatures of the Monstrous Beast rank that make up the majority of the Magical Beasts still left within the world. They are formed from mixing different species that have existed since the Age of Gods, and they live on currently undeveloped lands that cannot be reached by mankind.
Synthetic Beast (合成獣, Gōseijū?) is a process that artificially creates chimera. It is controlled by its master in the "Zoology" animal department of the Mage's Association. The Wolf was created with the purpose of being used catalyst to summon a Servant in the False Holy Grail War. In the Seventh Labyrinth of Caubac Alcatraz, there is a magical mechanism that changes humans into Chimera monster.
Demon Boar
Edit
Demon Boar (魔猪, Ma Inoshishi?) is a Monstrous Beast type of Phantasmal Species. It is the reincarnation of Diarmuid Ua Duibhne half younger brother by a different father.[7] When Diarmuid and Fionn mac Cumhaill went hunting together. Diarmuid received a deep wound from a wild boar's fangs. It is said that it eats meat, eats armor, and even greedily devouring Runes. This is reckless death itself. Not to mention heroes, even the Dragon kind suffers an embarrassing defeat. Let alone, the likes of a spear-user who was harbouring doubts. In the forest of massacre, the regrets of heroes echoes today as well.[8]
The Calydonian Boar is a Monstrous Beast that Artemis let loose upon the earth. It looks like a wild boar, but that is merely because the lifeform that was used as its basis just happened to be a boar.[9] Dispatched as divine punishment by the angry goddess when the king of the city-state of Calydon forgot offerings to her in a harvest festival, it was a large and brutal beast that completely destroyed the crops of Calydon. During the Calydonian Boar Hunt, it rampaged without pause, killing many Greek heroes who came from all over the country.[10] The hero Meleager, in love with Atalanta, was the one who finished it off, but surrendered the merit to Atalanta and brought great discord to the country in doing such.
Divine Bull
Edit
Divine Bull (神牛, Kami Ushi?), also called God Bull: Air-walking Thunder Bull (飛蹄雷牛, Hi Hidzume Kaminari Ushi?), is the name for the creatures of the Divine Beast rank that pull Gordius Wheel. Before the seduction of Europa, the supreme god of thunder, Zeus, changed his shape into that of a bull. Due to that, what manifested as the driving force of the chariot dedicated to Zeus were Divine Beasts with a connection to him. Due to the chariot being claimed by Rider before it could be offered to Zeus, they became part of his Noble Phantasm, and he refers to them as the "Children of Zeus."[11]
Dragon Kind
Edit
The Gorgon (ゴルゴン, Gorugon?) is Medusa's form as the legendary one-eyed man-eating monster after she started to kill and devour humans. Becoming an icon of terror, her appearance was distorted, and as wishes initially formed the Gorgon sisters, they also turned her into the atrocious Gorgon of legend. Even as a Heroic Spirit and Divine Spirit, she still has the rank of "Monster - Magical Beast", making her existence that of "an anti-hero closer to a monster." As a result, the rank of her Divinity decreased to the lowest value of E-. As compensation, she received the ability of Monsters and Magical Beasts, Monstrous Strength, which would bring her closer to the form of the Gorgon the more it was used.[3] After her death, her role as a Gorgon would be decreasing mankind's numbers.
Harpies (妖鳥, Yōchō?) are avarice-filled flying beasts who are known for possessing cruel habits and a cowardly nature, unable to keep from being easily led astray by their appetite. While not suited to be used as soldiers, Semiramis combines them with her Dragon Tooth Warriors to create flying warriors.
Hippogriff
Edit
Hydra (ヒュドラー, Hyudorā?) are serpents with nine heads. Heracles is said to have battled an immortal hydra which would grow back its heads no matter how many times they were cut down. He utilized Nine Lives to simultaneously annihilate one hundred heads with a bow in order to slay it. They breathe a potent poison, and their entire bodies are filled with it. Simply standing near an adult one will make a human's lungs begin to rot. Even a deceased juvenile is great enough to harm someone with direct contact, and though not enough to kill a Servant, could still prove harmful to one. Being poisoned was not enough to kill a Divine Spirit like Chiron, but the constant pain was enough to make him give up his Divinity and immortality to cease his torment.[12]
Rocco Belfaban owns a juvenile Hydra preserved in formalin, a small snake with its head split in nine. It is a one-of-a-kind item in the entire world according to Kairi Sisigou, and even one-third of its selling price would surpass his house's combined estate. He is able to process it into a potent poison for use in the Great Holy Grail War.[12]
Kelpie (ケルピー, Kerupī?), also known as Each-uisge (アハ・イシュケ, Aha-ishuke?) is classified as Monstrous beast rank by Magi. In Gaelic, it is translated as "Water Horse". The man-eating beast which was a water demon, is said to devour the flesh of girls. It is a beast that appeared in a part Britain's northern islands. It has an appearance resembled a large pale horse and it's tail was shaped like a fish's fin. A water demon which strode and ran freely on the water's surface. The Monstrous beast can change its four-legged form, into a winged "Boobrie: Water Bird (水の鳥, Mizu no Tori?)" shape.[13]

Moby Dick
Edit
Moby Dick (モビー‧ディック, Mobī Dikku?) is a Divine Beast, said to be among the most famous of that classification. Its level of power is great enough to call it "more super weaponish" than a living being.[5]
There is an enemy program that appears in the Moon Cell bearing its name, but it is unknown if it is supposed to be the same being. It is a large whale said to possess a great aura of strength, possibly being even more dangerous than Servants in combat.

Pegasus (天馬, Tenba?) are winged horses that are usually part of the Monstrous Beast Rank. They are docile creatures that do not like to fight. The Pegasus summoned by Rider is a special case that has advanced to the Phantasmal Beast Rank due to its age. Her Pegasus was originally given to her from the Greek Sea God Poseidon, and after she was exterminated by Perseus, it is said that Pegasus was born out of the blood dripping from her headless neck. It has been alive since the Age of Gods, and now possesses a defensive power on the same level as a dragon and Magic Resistance far greater than that of Saber. The buffets from a Pegasus's wings are capable of generating massive shock waves, which raze infrastructure and lacerate the bodies of living beings. Due to its naturally kind nature, Rider has to use Bellerophon to force it to fight.
Sphinx (スフィンクス, Sufinkusu?) originate from Egyptian mythology. Rider's Noble Phantasm "The Sphinx of Abu el-Hol" are classified as Divine Beast rank creature.

Typhon (テューポーン, Tyūpōn?) is a Divine Beast, said to be among the most famous of that classification. Its level of power is great enough to call it "more super weaponish" than a living being.[5]
Unicorns (一角馬, Ikkakuba?) are creatures with the power to purify human souls. The Seventh Holy Scripture was made from the horn of a dead unicorn that had turned into a nature spirit. Nrvnqsr Chaos has one stored inside of his Reality Marble as one of his stronger creatures.
Vorpal Bunny
Edit
Vorpal Bunny (殺人兎, Satsujin Usagi?) are creatures part of the Phantasmal beast species.
Demi-Human
Edit
Demi-Human (亜人, Ajin?) is the general term used for the likes of fairies, dwarves, and giants.
Centaurs (ケンタウロス, Kentaurosu?) are creatures with the upper body of a human and the lower body of a horse, they commonly appear in Greek mythology. Usually, centaurs are considered both as great huntsmen who effortlessly use bows and arrows while running with their horse legs and as savage monsters who would steal anything and everything. It seems Chiron alone is regarded as a "sage" that stands out as an exception among them.[14]
Fairies (妖精, Yōsei?) are extensions of the planet, nature's sense of touch, that cannot be seen by normal humans, and they lack any sort of human values. There are some fairies born wearing humans' imagination as shells, an example would be the lady of the lake. There are various different types, including those that have the power to interfere with people's memories, and others that are known to be able of crafting Noble Phantasm-level artifacts, with Arondight, Avalon, Excalibur, Gáe Buidhe serving as examples. Such artifacts are engraved with Fairy letters (妖精文字, Yōsei Moji?), one of the lost languages, to show they were not crafted by human hands and belong to those of another world. There are Human-Eating Fairies (食人妖精, Shokujin Yōsei?) in the Seventh Labyrinth of Caubac Alcatraz, they are Familiars around 20-30 centimeters in height.
Fairies are usually entities that cannot be seen by normal humans, however those who evolve into a magnitude where they can be perceived by people become Elementals and elemental-class incarnation becomes possible. True Ancestors who are, classified as a type of large fairy, would fall into the category of an incarnated elemental. The Foundation of fairies and Elementals are of a Mystery that cannot be reached through magecraft.
The fairies in Kara no Kyoukai are not true fairies, but rather lower-class spirits shaped after the image of woodland fairies. They are much weaker in terms of raw power, but wield a portion of the original fairies' powers due to wearing fairy-like shells.[15]

Not much are known about Giants (巨人, Kyojin?). David defeating the Philistine giant Goliath. Beowulf slayed Grendel. Astoflo captured and paraded the giant Caligorante.
Succubus (サキュバス, Sakyubasu?) are female demons who can drain a man's semen in order to increase their magical energy and to retain their eternal youth. They also have the abilities to regenerate themselves, to manipulate dreams, and to enhance their strength. Len, who was originally a familiar, acquired the ability of a succubus to drain people of their magical energy by manipuliating their dreams. Her more selfish and outspoken TATARI version, White Len, also possesses this ability. There are also descendants like Natalia Kaminski from the original succubi species.
Werewolves (ウェアウルフ, Weaurufu?) are introduced in Mahou Tsukai no Yoru. They are ordinarily classified as Magical Beasts, but the silver and gold varieties are classified as Phantasmal Beasts. They are descended from a single golden werewolf, but their society has been in decline from the modern age with the absence of new golden werewolves. There currently only seems to exist one village whose leader is silver. They live in the mountains of Northern Europe away from civilization, and it is rare for their females to get pregnant. The village came upon Lugh Beowulf, who had the appearance of a golden werewolf, and became extremely excited that he would bring about their revival. It eventually turned out that he was not a werewolf at all, but a Nature Spirit, which led to him being feared and ostracized. The werewolves eventually sold him to Touko Aozaki.
Transcendent Kind
Edit
Transcendent Kind (超越種, Chōetsu-shu?, "Transcendent Species") refers specifically to terminals separated and given form from the will of the World as a defense against the resource-plundering actions of humans. Examples of such include Elementals, Divine Spirits, Oni Kind, True Ancestors, and Dragon Kind. Despite being anti-human in origin, the Counter Force of Alaya does not target these supernatural entities, as they are extensions of the world and mediators of nature before being enemies of humanity.
In a broader meaning, Transcendent Kind refers to sentient species whose very existence occurs on a different scale from humanity. The Dead Apostles qualify as "Transcendent Kind" under this definition. Strictly speaking, however, the narrow definition explained above is more accurate; and per its criterion, Dead Apostles would merely be "self-described" as Transcendents.[16]
Unclassified
Edit
Blood Worms
Edit
Blood Worms (吸血虫, Kyūketsu Chū?) are the creatures that have come to make up the body of Zouken Matou in his attempt to prolong his life. His existence is essentially a conglomerate of Crest Worms with a special appetite for human flesh and blood that combine themselves to take a human form. Despite the blood-sucking habits, he is not considered to be an actual vampire that the Church would hunt.
Curruid (クリード, Kurīdo?) was a phantasmal beast as majestic as Watatsumi, with a roar that could bring forth tornadoes. It was a great sea monster lurking in the distant sea. The demon spear "Gáe Bolg" was carved from the remains of Curruid's skull. Their also exists an armour, which uses the skeleton of this sea monster.[17]

References
Edit
↑

[] FATE - Day 10

――― the Phantasmal Species (幻想種, gensou-shu?).
As the wording implies, the term refers to those existences that persist (生存する, seizon-suru?, lit. "survive") only within Fantasy (幻想, gensou?).
Those Demi-Humans (亜人, ajin?) so called as Faeries (妖精, yousei?) or Giants (巨人, kyojin?);
those Demonic Beasts (魔獣, majyuu?) so called as Oni (鬼, Oni?) or Dragons (竜, Ryuu?).
They whose mode of being (在り方, arikata?) is inherently a "Mystery" (神秘, shinpi?) are merely in the act of "existing" manifest as existences that surpass Magecraft.
There exists a Principle (理, kotowari?) that a Mystery is extinguished in the face of a Mystery of greater magnitude.
So as Magecraft permits the accumulation of power in the mode of knowledge,
the Phantasmal Species accrue strength by the very measure of their lifespan (寿命, jyumyou?).
Taken to its limits by the assistance of Magecraft, the human corpus can persist for no more than five hundred years.
To they who have survived since distant antedeluvia (太古, taiko?), a Mystery on the order of half a millennium in magnitude is unworthy as competition.
However, the circumstance wherein Humanity and the Phantasmal Species inhabit same World is a matter of the past.
Those of the Phantasmal Species that are long-lived grow to some extent distant from this World.
At present, the Phantasmal Species that as yet remain within the World are those existences whose standing may be expressed in units of a century.

―――幻想種。
それは文字通り、幻想の中にのみ生存するモノを指す。
妖精や巨人と言われる亜人、
鬼や竜と言われる魔獣。
その在り方そのものが『神秘』である彼らは、それだけで魔術を凌駕する存在とされる。
神秘は、より強い神秘にうち消されるのが理(ことわり)だ。
魔術が知識として力を蓄えてきたように、
幻想種はその長い寿命で力を蓄えている。
人の身で魔術を極めようと、そんなものはせいぜい五百年。
遙かな太古より生きてきた彼らにとって、五百年程度の神秘など争うに値しない。
だが人と幻想種が同じ世界にいたのは、過去の話だ。
長く生きた幻想種であればあるほど、この世界から遠ざかっていく。
現在、世界に留まっている幻想種など百年単位のモノでしかない。

↑

[] Zadan II - Official Chat Log

Phantasmal species.
Within our works, this is a general term for those creatures that appear within legends and myths.
They are those existences that deviate from their original form by the impact of factors alien to their ecology; those existences borne of human ideation (想念, sounen?); and those existences that ascend to a higher order as a consequence of longevity.
Incidentally, it is typically only those creatures that hold standing as Demonic Beasts (魔獣, Majyuu?, translated sometimes as "Monstrous Beasts") or below that are used as Familiars (使い魔, Tsukai-Ma?). The Ranks go in the order of Animal (野獣, yajyuu?, lit. "wild beast") → Demonic Beast (魔獣, ?) → Phantasmal Beast (幻獣, genjyuu?) → Holy Beast (聖獣, Seijyuu?).
Phantasmal and Holy Beasts of the Millennium Class (千年クラス, sennen kurasu?) fundamentally outmatch the strength of Mysteries (神秘, shinpi?) on the order of Magecraft; the Mysteries inherent to said creatures are of a magnitude equivalent to that represented within True Magic.

幻想種
作品内における、伝説・神話で登場する生物の総称。
外的要因により生態系が変貌したモノ、ヒトの想念より生み出されたモノ、長寿により上の段階にあがったモノとがいる。
ちなみに通常使い魔として扱えるのは魔獣までとされているとか。ランクとしては野獣→魔獣→幻獣→聖獣というもの。
千年クラスの幻獣・聖獣のたぐいには魔術程度の神秘では太刀打ちできず、その神秘性から魔法と同格とされている

↑ 3.0 3.1

[] Fate/complete material III: World Material - Theory of Magic - Magecraft: Magical Beasts, p.046

Magical Beasts
An umbrella term that encompasses all beasts that do not fall within the normal ecosystem. In this context, "beast" is a thaumaturgical term, and does not necessarily mean quadrupedal mammals. Magical Beasts cannot be explained by immature research or sudden mutations. They are true deviations from biology. Roughly Magical Beasts can be classified into Monstrous Beasts -> Phantasmal Beasts -> Divine Beasts in ascending order towards higher existence.
Most Magical Beasts have existed since the Age of Gods, and are Chimeras formed from mixing different species. They live on currently undeveloped lands that cannot be reached by mankind. Furthermore, Phantasmal Beasts that have existed in the past have almost all migrated to a different world presented as the "Inside of the World".
Although classified as a Monstrous Beast, the Pegasus that Rider mounted in the story is an existence closer to that of a Phantasmal Beast due to surviving over a very long period of time. Also worth mentioning is that, Phantasmal Beasts that have survived over thousands of years are on the same tier as True Magic, thus rendering mysteries on the level of sorcery completely ineffective against them.


The Pinnacle of Phantasmal Species – Dragons


Dragons, or Magical Beasts similar to Dragons, have members in all classes of Magical Beasts (Monstrous, Phantasmal, and Divine Beasts). Dragons are always thought to be the greatest species within their corresponding classes. Because there are dragons of the Monstrous, Phantasmal, and Divine classes, they have been involved with mankind since before the Age of Gods. They have also left many legends in the field of thaumaturgy.



A Heroic Spirit with a Rank in Monster ∙ Magical Beast


Because Rider's true identity is Medusa, she possesses a rank of Monster ∙ Magical Beast. As a result, the rank of her Divinity decreased to the lowest value of E-. As compensation, she received the ability of Monsters and Magical Beasts, Monstrous Strength.

Medusa
Rider is more of a Divine Spirit than a Heroic Spirit. Yet, it is better to call her "an anti-hero closer to a monster" instead of a Divine Spirit. Because she possesses a rank as a monster, Rider is very incompatible with Servants who fought off monsters in their tales.

↑

[] Fate/side material - Encyclopedia: Magical Beast [Others], p.073 [T]

Magical Beast [Others]
In the world of Fate/stay night, a general term for beasts which do not correspond to normal ecosystems.
They are divided into three ranks: monstrous, mythical, and divine.
The vast majority of monstrous beasts are crossbreeds (chimera) living in still-uncivilized regions, but it seems that those of mythical rank and above have shifted to the far side of the world.
Though the Pegasus that appears in the story is a monstrous beast, its long life puts it at the level of a mythical beast. Ordinary magi are completely unable to compete with something of this rank.
Also, beings that take after dragons are considered to be superior, regardless of classification. Since dragons are endowed with the characteristics of several species, it appears that even consorting with humans was not uncommon.

魔獣【その他】
「Fate」世界における、通常の生態係に該当しない獣の総称。
彼らにもランクがあり、魔獣、幻獣、神獣と分類される。
魔獣の多くは掛け合わせ(キメラ)であり.いまだ未開の地に生息しているが、幻獣はその特性上、世界 の裏側にシフトしてしまったらしい。
本編で登場するライダーの天馬は魔獣だが、長く蓄 えた年月により幻獣の域に達している。幻獣ランクのモノには、並大抵の魔術師では歯が立たない。
また、竜を模したモノは分類に関係なく最優種とされる。竜種は三類の属性を備えている為、人と交わる事も多かったようだ。

↑ 5.0 5.1 5.2

[] Fate/complete material III: World material - FAQ with Nasu: Miscellaneous, p.136


Q: There's three ranks for magic beasts, but what's the most famous of the Divine Beasts, the greatest of those?

Q: There's three ranks for magic beasts, but what's the most famous of the Divine Beasts, the greatest of those? Dragons are special beings with the alignments of the three types, but are there any currently existing dragons that can interfere with the real world in the world of Fate?

A: Moby Dick and Typhon? Divine beasts like those are more super weaponish than living beings I suppose.

Q:魔獣には3ランク存在しますが、最上級と思われる神獣で有名なものには何がいるのでしょうか?竜には3種の属性を備えている特殊な存在のようですが、「Fate」世界には現実世界に干渉可能な、現存する竜はいるのでしょうか?

A:モビー‧ディック(白鯨)とかテュポン(ギリシャ神話の暴風)とか?このあたりの神獣はもう生き物というより超兵器みたいなものなんじゃないでしょうか。

↑ 6.0 6.1

[] Fate/Apocrypha material - Encyclopedia: Bašmu [Summon Creature], p.179 [T]

Bašmu [Summon Creature]
The giant poisonous snake summoned by Semiramis, Assassin of Red, with the power of "Sikera Ušum: Arrogant King's Alcohol". It is one of the eleven demons birthed by the monster of Babylonian legend, Tiamat. It is a species of Divine Beast, the top of all Phantasmal Species, but even Semiramis wouldn't be able to summon something so powerful in that rushed situation, so she only summoned its top-half.
If Shishigou hadn't used a Command Spell on Mordred, she would have immediately died the instant Bašmu opened its mouth and released its poisonous breath.

↑

[] Fate/Grand Order - Lancer Profile [T]

Diarmuid Ua Duibhne - Lancer

Illustrator and Voice actor
Illustrator: Mata
Voice Actor: Hikaru Midorikawa

Parameters
Strength: B
Endurance: C
Agility: A+
Mana: D
Luck: E
Noble Phantasm: B

Personal Skills
Eye of the Mind (True): B
Love Spot: C
Knightly Tactics: B

Class Skills
Magic Resistance: B

Noble Phantasm
Gáe Dearg & Gáe Buidhe: Yellow Rose of Mortality, Crimson Rose of Exorcism
Rank: B→B+
Type: Anti-Unit Noble Phantasm

Profile
Celt mythology. Under the command of the leader Fionn, he was a prominent knight of the Knights of Fianna and the owner of a beautiful face. Possessing a dark mole in his cheek conferred by a fairy, it carried a magical power that made the hearts of young maidens flutter.

Level 1 Bond
Height/Weight: 184cm・85kg
Source: Celtic mythology, Knights of Fianna
Region: Ireland
Alignment: Lawful Neutral  Gender: Male
A knight who spent his lifetime questioning about love, loyalty and pride.

Level 2 Bond
"Red Rose of Exorcism"
Rank: B  Type: Anti-Unit Noble Phantasm
A magic spear described as a "Noble Phantasm-slaying Noble Phantasm".
Negates magical power-like effects on the target that its edge has touched. Basically, it is a Noble Phantasm that possesses an ability for rendering magical defenses powerless.

Level 3 Bond
After making Grainne, a princess that was invited as a bride-candidate for his lord Fionn, fall in love with him, he ended up having to elope and run around all over Ireland as a result of being imposed a geis of "take me along and run away" by her.

Level 4 Bond
It has been said that, even while at large, Diarmuid sticked to his fidelity to Fionn and did not lay a finger on Grainne.
Eventually, after reconciling with Fionn, although he was allowed to openly unite with Grainne, their happiness did not last long.

Level 5 Bond
After receiving a fatal wound from a wild boar that was the reincarnation of his younger brother by a different father, Diarmuid sought the help of Fionn, who possessed the magical power of healing). But due still holding a grudge over the matter with Grainne, Fionn decided to let him die.

Interlude
He has no wish to entrust the Holy Grail with. To be given a second battlefield where he can fulfill his pride as a knight; to Diarmuid that is both his dearest wish and greatest blessing. Pursuing nothing but a bright military honor, free of troubles, Diarmuid participates in this holy war.

ディルムッド・オディナ - ランサー

イラストレーター・声優
ILLUST:また
CV:緑川光

パラメータ
筋力:B
耐力:C
敏捷:A+
魔力:D
幸運:E
宝具:B

保有スキル
心眼(真) B
愛の黒子 C
騎士の武略 B

クラススキル
対魔力 B

宝具
破魔の紅薔薇、必滅の黄薔薇
ランク:B→B+
種別:対人宝具

キャラクター詳細
ケルトの神話。フィオナ騎士団の団長フィンの麾下において、指折りの騎士であり、美貌の持ち主だった。頬に妖精からおくられたほくろがあり、乙女たちの心をときめかす魔力を持つ。

アンロック条件: 絆レベルを1にすると開放
身長/体重:184cm・85kg
出典:ケルト神話、フィオナ騎士団
地域:アイルランド
属性:秩序・中庸  性別:男性
生涯を通じて愛と忠義と誇りを問われ続けた騎士

アンロック条件: 絆レベルを2にすると開放
『破魔の紅薔薇』
ランク:B  種別:対人宝具
「宝具殺しの宝具」と呼ばれる魔槍。
刃が触れた対象の魔力的効果を打ち消す。基本的には、魔術的防御を無効化させるための能力を持った宝具。

アンロック条件: 絆レベルを3にすると開放
主君フィンの花嫁候補として迎えられたグラーニャという姫から一目惚れされ、彼女に「自分を連れて逃げること」をゲッシュとして課せられた結果、駆け落ちしてアイルランド中を逃亡する羽目になる。

アンロック条件: 絆レベルを4にすると開放
ディルムッドは逃亡中もフィンへの忠節を貫き、グラーニャには指一本触れなかったという。
結局、フィンと和解した後には、晴れてグラーニャと結ばれたものの、その幸福も長くは続かなかった。

アンロック条件: 絆レベルを5にすると開放
異父弟の生まれ変わりである猪によって致命傷を負わされたディルムッドは、癒しの魔力を持つフィンに助けを求めるが、グラーニャの件を根に持っていたフィンは彼を見殺しにする。

アンロック条件:「薔薇の双槍」をクリアすると開放
彼が聖杯に託す望みはない。その騎士としての誇りを全うしうる二度目の戦場を与えられることが、ディルムッドにとっては最大の祝福であり悲願である。葛藤なき晴れやかな武勇の誉れのみを求めて、ディルムッドは聖戦に参加する。

↑

[] Fate/Grand Order - Demon Boar [T]

Magic Boar
Eating meat, eating armor, and even greedily devouring runes.
This is reckless death itself.
Not to mention heroes, even the dragon kind suffers an embarrassing defeat.
Let alone, the likes of a spear-user who was harboring doubts.

In the forest of massacre, the regrets of heroes echoes today as well.

魔猪
肉を食み、鎧を食み、ルーンすら貪り食う。
これなるは猪突する死そのもの。
勇者はおろか竜種ですら不覚をとろう。
いわんや、迷いを抱いた槍使いなぞ。

鏖殺の森に、今日も勇者の悔恨が木霊する。

↑

[] Fate/Apocrypha material - Encyclopedia: Boar of Divine Punishment [Noble Phantasm], p.154 [T]

Boar of Divine Punishment [Noble Phantasm]
Agrius Metamorphosis. The pelt of the Calydonian Boar, a Monstrous Beast which the virgin Goddess Artemis let loose upon the earth. It looks like a wild boar, but that is merely because the lifeform that was used as its basis just happened to be a boar. Just as depicted in the novels, if the pelt is worn by a person, they will become a Monstrous Human rather than a Monstrous Beast.
It grants power equivalent to that of A rank Mad Enhancement and grants an A rank Transformation skill, bestowing various characteristics depending on the environment. In exchange, the wearer loses their reason and, depending on the situation, becomes unable to discern and identify even their Master. It is a Noble Phantasm whose use pretty much equals self-destruction, and its use has never been confirmed in any of the subspecies Holy Grail Wars.
However, even the author himself couldn't help having doubts about how it transformed into bird wings for Atalanta, fused with her bow and shot arrows weaved out of prana. Was it supposed to be like the T virus or something? (TL Note: The last line is a Resident Evil reference.)

↑

[] Fate/complete material IV: Extra material - Fate/Apocrypha - Atalanta, p.312-313

Atalanta, the Chaste Huntress
Born in the natural paradise Arcadia, she speaks in an old fashion. She was abandoned in the mountains immediately after birth, and survived by being nurtured by a female bear, sacred beast of the goddess Artemis. She has the same egotism and view on life and death as a wild animal, so it is natural to her to steal food to live. However, she will help any child left behind as much as she can, as gratitude for the care she received herself. Her wish to the Holy Grail is for a world where every child can be raised with love.



Class:Archer

Source:Greek mythology

Location:Europe

Alignment:Neutral Evil

Gender:Female

Height:166cm

Weight:57cm

Armament: Bow



Illustrations: Genji Asai
Creator: Myougaya Jinroku

Legend
Though she was born as the princess of Arcadia, Atalanta was abandoned in the mountain, but she survived thanks to divine protection from Artemis. In gratitude, she is a fervent follower of Artemis. She grows into an excellent huntress, and accompanies the Argonauts. She is most known for the hunt of the Calydonian boar. She then returned to her birth land, but her father, who never had a son, commanded her to get married. As she had pledged a vow of virginity to the goddess, she proclaimed "I will only marry one who can beat me in a footrace. Those who lose will be killed." She tore through a great number of challengers, but at last, she lost when she was tricked into picking up irresistible golden apples thrown in front of her, and she had to break her vow.

Status


STR: D

CON: E

AGI: A

MGI: B

LCK: C

Noble Phantasm: C



Skills


Can move while jumping over all kinds of obstacles on the field, including enemies.
"Arcadia, my far-away homeland, I shall jump stone by stone across the steep mountain range that lead to you."



Aesthetics of the Last Spurt


Can anticipate the enemy by letting him take the initiative and then confirming his actions. Even in footraces, she always made her opponent run ahead.
"Go ahead. I shall pass in front of you afterward like a squall."



Draws the enemy near by displaying a treasured item.
"Look, this is the fruit of fate. This glorious treasure once sparked the burning of Troy. Come closer if you wish for it."

Noble Phantasm


The Disputed Spoils of War


A boar's pelt (with head attached) attained as booty of the Calydonian Boar Hunt. By releasing magical energy, high-speed traveling long distances in a straight line becomes possible. While moving, characters in the traveled route enter in disorder and start killing each other by mistake. When the king of Calydon forgot the offerings to Artemis in a harvest festival, the angry goddess let this boar loose over the land. The hero of Calydon who loved Atalanta, Meleager, finished it off, but because Atalanta refused his wishes of handing over the achievement, the concerning fate of said achievement brought discord to the country.



The Complaint Message on the Arrow


By sending a letter affixed to an arrow requesting divine protection with the "Celestial Bow" received from the guardian deity Artemis, in the next turn a rain of arrows will downpour and perform an attack on all units.
The letter on the arrow will randomly reach either Artemis or Apollo. If it reaches Artemis then all women will become targets, while if it reaches Apollo all men will be targeted. This Noble Phantasm is associated with the episode in which Artemis and Apollo shot to death all the children of the fertile woman Niobe, because she boasted that she was greater than their mother Leto because "Leto had fewer children".



The Beast of Divine Punishment


The condition in which "The Disputed Spoils of War" is clad over the body comfortably from the head and power of the Calydonian Boar is made one's own possession. Offensive power, defensive power and movement capacity are raised and one's life-force can be recovered about just as much as the damage dealt to the enemy. The wild boar dispatched by Artemis divine punishment was both giant as a mountain and brutal and attempted to completely devour the crops of the city-state Calydon. The power attained through this Noble Phantasm is the Calydonian Boar itself, which was not stopped without making victims even after brave warriors from all over Greece were called.



The Seven Arrows of the Big Dipper


Meteor arrows that rain incessantly from the "seven stars of the Ursa Major" in heavens. 7 consecutive attacks are possible. Only in the first strike the target can be designated arbitrarily, and thereafter the attacks converge at said target. Fundamentally, the target cannot be altered, but if said target dies in middle of the attack, the remaining number of strikes will be divided among different targets on that location at random. The Ursa Major is Callisto, one of the nymphs that serve Artemis who had her figure transformed as divine punishment for breaking the vow of chastity and later was raised to a constellation. Really, Artemis is a goddess with a deep connection to bears.

純潔の狩人
アタランテ
ギリシャ神話の狩人。自然の楽園アルカディアで生まれ、古風な言葉遣いをする。生後すぐ山中へ捨てられたが、女神・アルテミスの聖獣・雌熊に乳を与えられ生き延びた。自分本位で死生観が野生動物レベルの彼女にとって、生きる糧は奪って手に入れるのが当然。だが、恵まれない子どもには、できる限り援助する。これは自分が受けた恩義を子どもたちに返したいから。彼女が聖杯に望むものは、"すべての子どもたちは愛されて育つ世界"である。



クラス:アーチャー

出典:ギリシャ神話

地域:欧州

属性:中立・悪

性別:女

身長:166cm

体重:57kg

武装:弓



イラスト:唖采弦二
設定制作:茗荷屋甚六

伝説
アルカディアの王女として生まれながらも山へ捨てられたアタランテだが、アルテミスの加護で生き延びる。この恩から、彼女はアルテミスの熱烈な信者となる。そして優れた狩人へと成長したアタランテは、アルゴナウタイに同行。またカリュドンの猪狩りでは、一番手柄を立てた。こうして故郷に帰った彼女を待っていたのは、世継ぎのない父王からの婿取りの命である。しかし女神に純潔を誓った彼女は「私と駆け競べをして勝った者にしか嫁がない。敗者は殺す」と宣言。 幾人もの挑戦者を破ったが、最終的には、競走中に彼女が憧れた黄金のリンゴを投げて取りに行かせる策略に負け、純潔に別れを告げたのだった。

筋力値


筋力:D

耐久:E

敏捷:A

魔力:B

幸運:C

宝具:C



固有スキル


敵を含む、フィールド上のあらゆる障害を飛び越えて移動できる。
「遥かなる吾が故郷アルカディア、峻険なる山嶺連なりし彼の地の岩から岩へと、飛び渡り遊びし吾なりき」



敵に先手を取らせ、その行動を確認してから自分が先回りして行動できる。駆け競べでも彼女は必ず相手を先に走らせた。
「先にゆけ。しかるのち吾、疾風となりて汝を抜き去るべし」



宝物を見せつけて、敵を近くへと引き寄せる。
「見よ、これが運命の果実也。ひとたび投げられれば栄華を極めしトロイアをも焼き払うこの賜物。望まば近くに寄って見よ」

宝具


カリュドンの猪狩りの戦利品として得た、猪の毛皮(頭部つき)。 魔力を開放すると、直線的に長距離を高速走行できる。移動中、走行ルートのキャラクターは混乱し、同士討ちを始める。この猪はカリュドン国の王がアルテミスへの収穫祭の供物を忘れた際に、怒った女神が地上に放ったもの。アタランテを愛するカリュドンの英雄・メレアグロスがトドメを刺したが、手柄を譲るという彼の意思をアタランテが辞退したため、その功績のゆくえを巡る不和を国にもたらした。



守護神アルテミスから授かった"天穹の弓"で加護を求める矢文を送ると、次ターンに矢の雨が降り注ぎ、全体攻撃を行う。矢文はアルテミス、アポロンのどちらかにランダムで届く。アルテミスに届いた場合は、その場の女性すべてが標的となり、アポロンに届いた場合は男性が狙われる。この宝具は多産の女性・ニオベが「子どもの数が少ない」とアポロンとアルテミスの母・レトを馬鹿にしたため、 二人がニオベの子らを一人残らず射殺したエピソードにちなむ。



"諍いの戦利品"を頭からすっぽりと身に纏い、カリュドンの猪の力を我が物とした状態。攻撃力、防御力、移動力が上昇し、敵に与えたダメージと同じだけ、自分の生命力を回復することができる。アルテミスの神罰により遣わされた野猪は山のような巨体と凶暴性を兼ね備え、都市国家カリュドンの実りを貪り尽くそうとした。この宝具によって得られる力は、そのギリシャ全土の勇士を招集してなお、犠牲者なしでは止められなかったカリュドンの猪そのものである。



天上の"大熊座の七つ星"から降り注ぐ流星の矢。7連続攻撃が可能。最初の一撃のみ任意で標的を指定し、以降はその標的に攻撃が集中する。基本的に標的は変更できないが、攻撃途中で標的が死亡した場合、残りの攻撃回数はランダムでその場にいる別の標的に振り分けられる。大熊座はアルテミスに仕えるニンフのうち、純潔の誓いを破ったカリストが神罰で姿を変えられ、後に星座に上げられたもの。 つくづくアルテミスは熊との関わりが深い女神である。

↑

[] Fate/Zero - Volume 4: God Bull: Air-walking Thunder Bull

God Bull: Air-walking Thunder Bull
The divine bulls that pull the Gordias Wheel. It is said that before the seduction of Europa, the supreme god of thunder Zeus changed his shape into that of a bull. Therefore, what manifested as the driving force of the chariot dedicated to Zeus, were Divine Beasts with a connection to Zeus.

飛蹄雷牛
ゴルディアスホイールを牽く神牛。雷を司る至高神ゼウスは、かつてエウロペを誘惑する際に牡牛へと姿を変 えたという。よってゼウス神に捧げられた戦車の牽引力として顕現したのは、ゼウスと縁のある聖獣だった。

↑ 12.0 12.1

[] Fate/Apocrypha material - Encyclopedia: Hydra [Magical Beast], p.181 [T]

Hydra [Monstrous Beast]
Among Heracles' Twelve Labors, the monster he exterminated at Lake Lerna was the Hydra, a giant swamp snake said to possess either nine or a hundred heads.
Possessing both a deadly poison said to instantly kill all humans it touches and an abnormally high regeneration capable of immediately regenerating two new heads every time one is cut off, the Hydra is a Monstrous Beast with top class fame even among the other Twelve Labors. Shishigou Kairi accepted a young-born Hydra as prepayment and processed it. At first, he processed it into a knife as a final weapon that could kill even a Servant, but later he used it to make an antidote serum out of wariness towards Semiramis.
Though Mordred blocked herself out from it with her armor, it still wasn't enough to completely block the air itself which was contaminated with the poison. The rank of the Hydra's poison is undoubtedly top A rank. It might even reach A+ rank against heroes of Greek myth.

↑

[] Fate/Apocrypha material - Encyclopedia: Archer of "Black" [Servant], p.159-160 [T]

Archer of "Black" [Servant]
One of the Servants of the Black camp. His true name is Chiron. He is a centaur—a half-human-half-horse race, and he is a famous great sage in Greek myth.
 He has a calm and gentle personality, but though he treats his Master with respect, he won't hold back on advice if it's for the sake of his Master. He never scorns or despises others regardless of whether they are enemy or ally, and he is exceptionally calm among the intense and passionate heroes of Greek myth. He acted as the strategist of the Black camp and continued to support his camp day and night right until he took part in the final battle.
Usually, centaurs are considered both as great huntsmen who effortlessly use bows and arrows while running with their horse legs and as savage monsters who would steal anything and everything. It seems Chiron alone is regarded as a "sage" that stands out as an exception among them.
Chiron was born from Cronus, father of the head god Zeus, and Philyra, the goddess of a certain island. However, because Cronus had copulated with her while she was turned her into a horse, Chiron was born as a half-human-half-horse centaur. (There is also the theory that they were attacked by Cronus' wife Rhea while they were in the middle of copulating and Philyra turned into a stallion in order to run away.) Balking at the idea of giving milk to a monster like Chiron, Philyra changed her form into that of a linden tree.
Though he was never loved by his mother and father, Chiron became a sage that excelled in all forms of knowledge as he grew up. This is not necessarily unrelated to the fact that his mother's name "Philyra" means linden tree. The leaves of linden trees can be used as restoratives, and the tree bark can be used in divination or as written boards.
After becoming an adult, Chiron began to rear the "future heroes" who implored for his tutelage from all over Greece. Besides Heracles and Achilles, the heroes who received his teaching include those like Asclepius, who later became the god of medicine, and Castor, who was sublimated as the Gemini constellation. Jason, the leader of the Argonauts who enticed Medea, is also one of his students.
On a certain day, someone shot a poison arrow at him while trying to stop a dispute between centaurs, and the poison continued to endlessly make him suffer due to his immortality, until he became the Sagittarius constellation by returning his immortality to the gods and finally received salvation. His wish for the Holy Grail while participating in the Holy Grail War is to regain his immortality. To him, it is the only gift he received from his parents.
As a Servant, his stats have received a slight rank down due to giving up his immortality and transforming his legs into those of a human, but even then he boasts of specks high enough for him to be called a first-rate Servant—to an extremely abnormal extent in a certain sense. In the first place, it appears that he taught not only swordsmanship, archery and horse-riding, but also wrestling techniques, so he is relatively experienced in moving with human feet.
With the combined effects of his skills, he can even utilize a pseudo-form of future sight, making him truly all-purpose in his abilities. If he has a weakness, it is that he lacks a decisive trump card. Against the brute force approach that throws away all wisdom or intelligence, his strong points fade away.
He deeply loves how weak and insufficient humans struggle despite their insufficiency and still try to move forward, so even if he was summoned as part of the Red camp, he would have definitely rebelled against them with the resolve to die.
Though if he were to describe it himself, he would merely answer, "This is my arrogance as a teacher, as embarrassing as it is".
In the novels, he was mainly focused on his fight with Achilles outside of his light skirmish with Mordred. After all, Chiron was the only one capable of harming Achilles. That battle was such a great joy to him that he even forgot his true nature as a Servant, but he stood back up as a Servant again at the moment of his death and accurately dealt a fatal wound to Achilles.

↑

[] Kara no Kyoukai Special Pamphlet - Encyclopedia: Faeries [Others], p.041 [T]

Faeries [Others]
Ouji Misaya's Familiars.
Originally, Faeries are considered the nature's sense of touch, something that humans cannot perceive.
However, there are indeed some Faeries who were born wearing humans' imagination as shells.
Ouji Misaya's Familiars are false Faeries. They are formless low-rank Spirits possessing the image of woodland Faeries.
They can indeed wield a portion of the original Faeries' powers due to wearing Faerie-like shells.
The Faerie-disguises are thought to be the creation of Misaya's Master rather than hers.
As an aside, true Faeries at the scale of capable of being perceived by humans are called Elementals. A certain white vampire seemed to be of this class.
One more thing, the Foundation of Faeries and Elementals are of a Mystery that cannot be reached through magecraft.

妖精【ようせい】【その他】
黄路美沙夜が使役《し えき》していた使い魔。
本来、妖精とは自然の触覚として捉えられる概念で、人に知覚できるものではない。
が、そういった人間の想像図を外殻にして生まれてしまう妖精も稀《まれ》に存在する。
黄路美沙夜が使役したモノは、森に棲むとされる一般的な妖精のイメージに、カタチを作れない下級の霊を憑依《ひょうい》させ、妖精に偽装したもの。
妖精としての殻を被ったそれらは、元になった妖精の能力の一部を行使できる。
妖精偽装は黄路美沙夜ではなく彼女の師が行ったと思われる。
余談ではあるが、本物の妖精は人間にも知覚できるほどの規模になると精霊と呼ばれる。某白い吸血鬼はこちらに属するとか。
更に余談ではあるが、妖精・精霊もその基盤は魔術では成しえない神秘である。

↑

[] Fate/Grand Order - Beast of Billows

波濤の獣
わだつみの如き威容、竜巻を呼ぶ咆哮。
その名はクリード。
遠き海に在った偉大なる海獣。
魔槍「ゲイ・ボルク」はこの怪物の頭蓋骨より削り出されたという。