Assassin of Black
Talk

0
499pages on
this wiki
Nasuverse character
Assassin of "Black"

Normal

|

Original Design

Japanese name:
黒のアサシン
Franchise:
Fate
Appears in:
Fate/Apocrypha
Character type:
Servant (Master: Reika Rikudou)
Gender:
Female[1]
Birthday:
Unknown[2]
Height:
150cm[1][2]
Weight:
45kg[1][2]
Three sizes:
B69/W49/H71[2]
Blood type:
Unknown[2]
Place of Birth:
United Kingdom, England[1]
Hair color:
White
Eye color:
Silver
Armament:
Knives, Black Mist[1]
This article is about the Fate/Apocrypha Servant. For the Servant summoned in Fate/strange fake, see Berserker.
Assassin of "Black" ("黒"のアサシン, "Kuro" no Asashin?) is the Assassin-class Servant of Reika Rikudou as part of the Black Faction in the Great Holy Grail War of Fate/Apocrypha.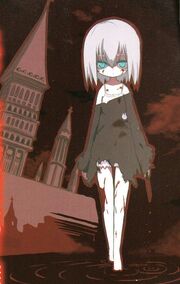 Assassin's identity is Jack the Ripper, Legendary Serial Killer (伝説の連続殺人鬼 ジャック・ザ・リッパー, Densetsu no Shiriaru Kirā Jakku za Rippā?). She is the perpetrator of a series of gory murders in 19th Century England.[1] She grew up without ever having a home, and spent her time living in the streets. She was extremely thin, and lived outside even during cold weather. She only has memories of the alleyways shrouded in mist and stench. The areas where she slept were not places of rest, but rather nests covered in waste and feces where filthy rats ran about. She was in constant danger of being attacked at night while she slept, and upon waking up on the morning, someone may have easily died during the night. She constantly dealt with pitch black smog so bad that she often couldn't breath properly or even open her eyes.
She eventually reached the point where her mind could no longer deal with the conditions. Upon randomly finding prostitutes, she would impose her image of a mother onto them. While better off than her, they were still crushed by their daily lives, having been worn down to existences that simply struggled to live day by day. While suffering from poverty and wondering whether they would die from starvation or disease, they simply told her to leave. Aware that she would be rejected, she hung her head, held back the tears, and wandered the streets once more without change. If she came into contact with her "Mother" again, she would slowly approach within the mist, and after saying "I'm sorry", she would slit their throats. As they were in anguish, she began to dissect them while in tears. After obtaining a part of the woman, she would press it against her face and cry while remembering the warmth of her mother's womb.
While she is thought to be a legendary serial killer who knew of dissection and slipped into the darkness of night to quietly perform his work, the true form of Jack the Ripper is just a pitiful girl. It is believed that all of her victims were assailed when unguarded, and they were all found with organs removed in a somewhat skilled fashion. Her lamentations never reached anyone, and it is unknown how she eventually faded away after the murders. No one knows if she was killed, committed suicide, or simply passed away naturally. She will likely perpetually reign as an eternal mystery and eternal darkness carved into the history of England. While her identity was never discovered, her knives were left behind after her death and later obtained by Sagara Hyouma.
Personality
Edit
She is a young girl who embodies contradiction itself, combining the dual natures of "day" and "night." She displays a childish manner of speech, but she is truly quick of thought. Rationality dominates her behavior, but there are many inherent weaknesses to her psyche. Her personality is both pure and cruel, and she is inclined to repay cruelty with cruelty and benevolence with benevolence. Her psyche is inherently broken, and mistreatment toward her may result in irreversible deterioration. She uses first person plural pronouns, such as "us" and "we", to address herself, and often lamented the fact that all of the voices she heard on the streets would never mourn "them."[1]
Due to her time on the streets, her ultimate wish from the Holy Grail is to return to the safe and comfortable warmth inside her mother. This desperate wish was the driving motivation behind the murders. While dissecting the women she labeled as her "mother", she would constantly apologize that she wants to "go back" while crying and rubbing a part dissected from the woman against her face. Rather than continue on the cold streets, she wished to return where it was warm.
If summoned by a female Master, she will begin to refer to them as "Mother." When she addresses them, they hear a strange sound, as though she is pronouncing both "Master" and "Mother" at the same time. She is extremely affectionate and childlike towards her Mother, but cruel and ruthless towards others. While she fawns over her wounded Mother, Reika Rikudou, she easily turns cold and maims her proper Master, Sagara Hyouma, with ease before returning to her concerned filled expressions towards Reika. After casually devouring him, she turns childishly bashful and asks Reika to pat her head. Despite becoming easily flustered by Reika's question a moment earlier, she can just as easily casually rip out and eat the hearts of loan sharks without any expression.
Reika feels that the Servant's disposition sometimes matching that of the Master is true in their case. She, who does not truly feel alive, and Jack, for whom the word "alive" may not even be applicable, met due to fate. She is surprised by the notion of having a home to return after having lived on the streets her entire life. Remembering her desperate struggle for survival, she cannot help but feel that "going home" is an occasion that has nothing to do with her. While Servants do not require food to survive, Reika tells her that she is going to cook dinner for her. While she is initially unresponsive to the idea, once Reika tells her it is a reward for her work, she smiles happily and dances around in joy.
Development
Edit
She was designed by Yuichiro Higashide and illustrated by Sanada Taketo for the original canceled online game project.[1]
Fate/Apocrypha Act1: Unbirth is a prototype story that does not relate to the events of Fate/Apocrypha.
Fate/Apocrypha Act1: Unbirth
Edit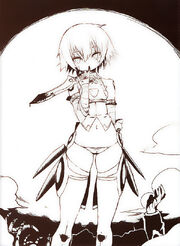 Sagara Hyouma, a magus, wishes to summon Jack the Ripper as a Servant, but he fails to do so even with her six knives as the catalyst. He concludes that he needs to create the conditions where the blades were practically used in order to establish a better connection. He quickly decides to use Rikudou Reika, a prostitute he is living with, as a sacrifice. In his attempt summon Jack by killing her, her wish to live is what brings her into the world. While Sagara is the proper Master with Command Spells, she quickly shows that she has concluded that Reika is her Master instead. Before he can tell her to commit suicide after realizing something is wrong with the situation, she incapacitates him by cutting off his jaw and the hand with the Command Spells. She uses her skills to stitch up both their wounds while Reika is unconscious.
She explains the nature of the Holy Grail War to Reika upon arriving at her apartment. She is able to transfer the Command Spells from Sagara's hand to Reika, but she is not a magus or a proper Master. This requires that she devour souls in place of being unable to restore prana from her Master. She uses Sagara at Reika's suggestion, and they decide to participate in the War together. Jack's memories appear in Reika's dream during that night, and she sees Jack cutting open a woman to return to where it was warm. They target a loan shark company full of "bad people" the next day in order to gather energy for Jack. She uses the Mist to kill them all, and then they return home for a meal afterward.
Fate/Apocrypha
Edit
It was revealed by Darnic Prestone Yggdmillennia that Jack the Ripper was originally intended to be summoned in London, however it belongs to the Mage's Association territory so they chosen a different location in Japan to summon her near a leyline which was compatible with her.
Several days has passed since the murder case in Japan which Assassin was involved, Reika and Assassin traveled to the capital city of Romania, Bucharest. While walking she was attacked by two men who wanted to steal her money and body. However to the stalkers' surprise, Reika ordered Assassin to kill only one of the men while the other man tried to escape. Assassin materialized herself and stopped the man by grabbing him. While the man struggles, he continuously stabs Assassin with his knife, though Assassin only finds the stabs annoying. Reika told Assassin that she needed the man to reveal his comrade's location. The man easily betrayed his comrade, he revealed the location by pointing it out on a map. Reika then told Assasin she can eat him and Assassin craved out and devoured his heart. Later the media reported that the whole gang in the bar was slaughtered, with the headlines 'The Return of Jack the Ripper?'. Despite this, the police believed that it was caused by internal struggle amongst the criminal groups.
Abilities
Edit
Her weapons include four strangely-shaped knives, two butcher's knives, and a black, bloodstained scalpel. Compared to other Servants who have garnered legends over centuries and millennia, she is a young Heroic Spirit of only one hundred twenty years. Even with the fame she garnered that gives her the necessary "monstrosity" befitting of a Heroic Spirit, she cannot hope to match those worshiped as gods and heroes with such little history of her own. She can be called a completely unknown Servant, and she has never participated in the Holy Grail War. This suits Hyouma's plan, as he wishes to avoid the weakness granted to those of the Assassin class. It is normally fixed that only one of the Hassan-i Sabbah can be selected as Assassin, so it is possible to develop countermeasures against them simply by having their identities as Assassin exposed. With a different Heroic Spirit, it is possible for him to best make use of the class. Her Noble Phantasms are The Mist and Maria the Ripper.
She has the qualifications to be summoned as either Assassin or Berserker. She obtains Mad Enhancement when summoned as Berserker, which causes a Rank Down in Luck and Mana and the loss of verbal communication and complex thinking in exchange for reinforcing all other attributes. She is only able to be active at night while summoned as Berserker, and The Mist remains active at all times while targeting all entities possessing prana within range of the ability.[1]
Reika cannot act as Jack's main prana supply due to not being a magus, and while the cost of an Assassin-class Servant is less draining than a Saber or Berserker, she still has to acquire it from other sources. She eats humans souls to replenish herself, feeling considerable hunger when low on energy. Due to her nature as chaotic evil, an existence that preaches chaos in the face of order while carrying out evil deeds, souls of the same nature are more easily digested. Eating evil people is the best for her because it is more polluted and delicious. Hyouma works well for her, especially his quality as a magus. She sucks out all of his blood, leaving him much like a pile of dead leaves with the exception of the hand that had his Commmand Spells. She mainly eats the hearts of her other targets instead of devouring them fully.
She prefers the cover of night to conceal her exposure, and due to her provocative manner of dress, she rarely leaves her abode in daytime. She has the normal Presence Concealment Class Skill granted to the Assassin class, which allows her to almost completely eliminate her presence toward others.[1] This allows her to easily carry Hyouma down the street behind Reika without exposing herself at all. She is even able to elude the senses of Servants, but the ability fails upon the execution of an attack. She has her own unique skill, Murderer of the Misty Night, that compensates for the weakness of Presence Concealment and utilizes both their strengths to allow for a perfect ambush. The skill is associated with her nature as a serial killer rather than that of an Assassin, and it permits a preemptive against all opponents. The skill is unconditionally successful during the night, and if utilized during the daytime, the success is determined by a luck roll.
Her unstable nature grants her a natural protection against mental interference magecraft. Mental Pollution provides a probability that it will be rendered ineffective on its use. Masters of an Evil alignment that perpetrate acts of cruelty towards her can further increase its rank and its capability to defend against magecraft at the cost of possibly causing irreversible damage to her psyche. She has her own ability that affects the minds of others, Information Erasure, which removes any records or memories of her true name, abilities, or appearance following the conclusion of an engagement. It not only targets witnesses of the her fights, but also the opponent and even digital recordings by a closed-circuit camera in broad daylight will be changed. Physical evidence of the engagement is not altered in any way, and her identity may be revealed through logical deduction.[1]
She has a very low rank in Surgical Procedure that uses techniques over one hundred twenty years old.[1] While it is somewhat unreliable simply by its crude appearance upon its application, the procedures manage to attain the intended effect after being boosted somewhat with the application of prana. It can be applied to either Jack or her Master, and it stems from the anatomical knowledge and skills with dissection required to remove the organs of her victims. It allows her to heal Reika's stab wounds. Reika finds that her wounds have been stitched up, but it is done in a crude method looks like the black thread is creeping about haphazardly like an earthworm. While it seems like her wounds may not even be closed properly, the bleeding and pain have completely subsided. The same chaotically done surgical procedure is also able to keep Sagara alive after Jack cuts off both his jaw and one of his hands.
References
Edit
↑ 1.00 1.01 1.02 1.03 1.04 1.05 1.06 1.07 1.08 1.09 1.10 1.11

Fate/complete material IV: Extra material - Fate/Apocrypha - Jack the Ripper, p.326-327

Jack the Ripper, Legendary Serial Killer
The perpetrator of a series of bizarre murders in 19th Century England. A young girl filled with contradictions, possessing properties of both day and night. Her personality is pure, but cruel at the same time. Though her manner of speech is innocent, she is quick of thought. She is rational, but is emotionally weak. She responds cruelly to others' ill will, but is soft against good will. And although she wears revealing clothing, she is shy, and doesn't go out during the day. She yearns strongly for a mother, and if her Master is female, she will insist on calling them "Mother".



Class: Assassin (Berserker)

Source: Historical fact

Region: United Kingdom

Alignment: Chaotic Evil

Sex: Female

Height: 150cm

Weight: 45kg

Armament: Knives, Black Mist



Illustrations: Sanada Taketo
Creator: Yuichiro Higashide

Legends

Status


STR: C

CON: C

AGI: A

MGI: C

LCK: E

Noble Phantasm: C



Skills


Misty Night Murderer - Rank A:


As a murderer rather than an assassin, she can strike before her victim. However, she can only unconditionally take the first strike at night. During the day, a luck roll is required. Jack the Ripper's victims are believed to have all been attacked while off-guard.



Mental Pollution - Rank C:


Has a moderate chance of blocking mental interference-type magecraft. If her Master has an evil alignment, or is cruel to her, this mental pollution gradually rises. Her chances of blocking magecraft will increase, but her already broken spirit will begin to irreversibly corrupt.



Presence Concealment - Rank A+:


A skill that suppresses presence as a Servant, suitable for covert action. If presence were fully suppressed, she would be nearly impossible to detect. However, when prepared to attack, Presence Concealment's rank falls substantially. This weakness is compensated for with "Misty Night Murderer", allowing for a perfect surprise attack.



Information Erasure - Rank B:


At the instant a battle ends, her abilities, true name, appearance, and other information disappear from witnesses' and enemies' memories/records, even if the battle took place in broad daylight, or was recorded on a device such as a camera. To counter this, one must deduce her identity from evidence left at the scene.



Surgical Operation - Rank E:


Can heal her Master or herself using a blood-stained scalpel. It looks risky, but she manages somehow. The techniques are from 120 years in the past, but are improved a little with mana. Jack the Ripper killed victims in ways that would require anatomical knowledge, such as removal of specific organs.



Mad Enhancement - Rank C:


If summoned as a Berserker, she gains this skill. Increases all parameters in rank with the exception of Luck and Mana, but removes the ability to speak or have complex thoughts. As a Berserker, she is only active at night, with "Darkened Misty Metropolis" always active, and will attack anything that possesses mana.

Noble Phantasm


Maria the Ripper: The Holy Mother of Dismemberment


Normally four D-rank knives, but under certain conditions, they are boosted by the grudge of "the 80 thousand children in London's slums, abandoned by prostitute mothers for the sake of their livelihoods, unable to even become prostitutes", with brutal results. There are three conditions. "It is night-time", "the target is a woman (or female)", and "it is misty". When all the conditions are fulfilled and the Noble Phantasm is activated, the target's innards are forced out of their body, and they become a dismembered corpse. When the conditions are not met, it is limited to simple damage, but increases in power with each condition that is fulfilled. As the Noble Phantasm is not an attack from a knife but rather a variety of curse, it can be used at long range. To defend against this Noble Phantasm, resistance against curses is required, rather than physical defence.



The Mist: Darkened Misty Metropolis


A Noble Phantasm that creates a mist-filled barrier. The mist itself, created with mana, is the Noble Phantasm. Although it is a means of keeping people out, a non-magus trapped inside the barrier will die after a few turns. A magus will not die immediately, but will take continuous damage. A Heroic Spirit will not take damage, but their Speed will decrease by one rank. The user of the Noble Phantasm is able to choose who is or is not affected by the fog. As those trapped in the fog lose their sense of direction, an "Instinct" skill ranked B or higher or some kind of magecraft is necessary to escape. The large quantity of soot emitted from the Industrial Revolution onward became a smog of sulphuric acid that caused disaster to London in the 1950s. "Darkened Misty Metropolis" is a Noble Phantasm that reproduces that "mist of death".