List of minor characters in the Tsukihime series
Talk

3
This is a list of minor characters appearing in Tsukihime, Kagetsu Tohya, the Melty Blood series, and other related side stories.
Akemi Yamase
Edit
Akemi Yamase (山瀬明美, Yamase Akemi?) is the sister of Maiko Yamase that appears briefly in Kagetsu Tohya short story Daybreak, itself written from her sisters point of view.
Her presence in the final scene of Daybreak provides her sister the motivation to resist the hunger from chaos beasts in her inherited Reality Marble and gather them all inside her own body for Shiki to kill with his eyes.

Akira Seo
Edit
Akira Seo (瀬尾 晶, Seo Akira?) is an underclassman and friend of Akiha Tohno's at Asagami Private Girls Academy. Her eyes give her minor precognitive powers (although usually not entirely clearly), and she previously appeared on the Tsukihime PLUS-DISC. She met Shiki Tohno in the events of "Alliance of Illusionary Eyes", and they have remained in contact, to Akiha's chagrin.[1]

Brainwashing-Detective
Edit
Brainwashing-Detective (洗脳探偵, Sennō Tantei?) is a parody design of Hisui detailed in Character Material. She came about due to the original release of Tsukihime having a large number of typos that led to some very strange lines. Hisui's lines were affected in particular, which made the line You're the criminal (あなたは犯人です, Anata wa hannin desu?) into You're going to be the criminal (あなたを犯人です, Anata wo hannin desu?). The typos were corrected during the final version, but they remained popular as memes that eventually lead to the character's creation. She does not make any appearances in main works, but she has a brief role in a segment of Carnival Phantasm.
Brainwashing-Detective, also referred to as the "Locked-Room Detective (ロックドルーム・ディティクティブ, Rokkudorūmu・Ditikutibu?), is a famous detective who resolves difficult cases beyond the reach of normal deduction. She resides in a place called Tohno City, which exists in a world of despair wherein the very concept of maids has been destroyed. Silently judging the world with an emotionless countenance, she is a cold, logical preserver of the law whose case resolution rate is 100%, feared both by the perpetrators and victims of crimes. She continues her involvement in criminal investigation because she has judged it the most efficient method of locating her beloved long-lost twin. Incidentally, her true identity is unknown, and she patrols the streets of Tohno City every night for the sake of finding her sister.
The nature of her existence is similar but different from that of a Magical Girl, more accurately existing as a Dark Hero (ダークヒーロー, Dāku Hīrō?) of the night-shadowed metropolis. Her main skills are psychological modification, narrative correction, and confession enforcement, and she pierces to the very heart of incidents with her dark, blue eyes. It could be said that she is a bizarre individual who pursues justice with a crazed intensity, whose odd manner of verbalized deduction, saying things like "motive from alibi (アリバイから動機です, aribai kara dōki desu?)" or "deductive perfection (推理に完璧です, suiri ni kanpeki desu?)", is nevertheless strangely compelling. This is due to her special ability, "Locked-Room Detective", that does not refer to a specialization in locked-room mysteries, but rather her own unique method of deduction.
Locked-Room Detective causes a bizarre phenomenon to occur under the condition that she and one suspect of her choice are confined to a locked room alone. Within minutes, the suspect is induced to make a full confession to the crime, and confirms themselves as the perpetrator. Though her method to her deductive reasoning is presumably amazing and brilliant, none besides herself and the suspect of her choice bear witness to it. Per her cool character, when her the ability is active, her sitting posture takes on an air appropriate to that of an "absolute dictator of logic." [2][3]

Fake Shiki
Edit
Fake Shiki (偽志貴, ?) is a person who sees Shiki Tohno, is enthralled with him, and wishes to take his place. Has the ability to see the records(memories) of one's life upon meeting. Also capable of sharing perceptions to an extent.

Forte (フォルテ, Forute?) is a member of the Mage's Association, the oldest daughter of a magus lineage of many generations. She often takes tasks like protecting Seal-Designed Magi and recovering grimoires. She is sent to investigate the Forest of Einnashe, encountering Satsujinki and being defeated without receiving a scratch on her body. She understands that it is a complete and utter defeat, and she is surprised she even still lives. She asks for his name, but she cannot understand him due to not speaking Japanese. She inscribes his poorly heard name into her memory, and remarks on how his display of ability shows that even Nrvnqsr Chaos had certainly been exterminated before she departs.
Forte is a rare kind of magus who has experienced many gruesome melees, and she has the capacity to face those of the Burial Agency. Although she resembles a blade-wielding swordsman, she utilizes her sword as a magical staff. She favors spells called Aero Strikes (空気打ち, Kūki Uchi?), and using three orficies on the body of the sword to generate sound, making it not fit for slashing, creates a resonant effect to produce an invisible impact on the target several hundred meters away. She has the Wind Element, which she shares with Aoko Aozaki, whom she has encountered several times.[4]

Hanei Misawa
Edit
Hanei Misawa (三澤 羽居, Misawa Hanei?) is one of Akiha Tohno's roommates at her school, Asagami Private Girls Academy, along with Tsukihime Souka. Nicknamed 'Hanepin', she is slow-witted, conscientious, thorough and good at fixing things. She is one of the few characters who can deal with Akiha. She also happens to have the biggest breasts of any character (Major and minor) in Tsukihime.

Ichiko Inui
Edit
Nasuverse character
Ichiko Inui
Japanese name:
乾一子
Franchise:
Tsukihime
Appears in:
Kagetsu Tohya
Character type:
Human
Gender:
Female
Birthday:
October 10
Height:
169cm
Weight:
50kg
Three sizes:
B86/W67/H85
Blood type:
A
Hair color:
Red
Eye color:
Purple
Bloodline:
N/A
Ichiko Inui (乾一子, Inui Ichiko?) is the older sister of Arihiko Inui. Known to be a heavy smoker. She works at night, and sleeps in the day, demanding that her younger brother keep quiet. No one knows what her job actually is, and Arihiko has wondered about it for many years. Arihiko considers her to be irresponsible and childish, citing her tendency to run around and do as she pleased after their family's death.[5]

Keiko Arima
Edit
Keiko Arima (有間啓子, Arima Keiko?) is Miyako Arima's mother. She and her husband took care of Shiki Tohno during his time away from the Tohno family.

Maiko Yamase
Edit
Maiko Yamase (山瀬舞子, Yamase Maiko?), a young woman with minor role in Tsukihime, and the lead role in the Kagetsu Tohya side story Daybreak. She lived with her parents and younger sister Akemi in Misaki city, whose only appearance in Tsukihime was during the fight scene between Nrvnqsr Chaos, Shiki Tohno, and Arcueid Brunestud. During this short appearance, Yamase was eaten alive by the injured Nrvnqsr. It was her death which helped motivate Shiki to victory.
In Daybreak (alternatively translated as Dawn), Maiko reawakens inside the body of the dead Nrvnqsr several months after her death, which regenerated itself from the fragments used by Arcueid to heal Shiki's injuries. After encountering Ciel and Arcueid, and bidding her sister goodbye and a happy birthday, Yamase is killed by Shiki in much the same manner as the original Nrvnqsr. Her final act is to rescue her sister from the chaotic lives that make up her body, even as Shiki delivers the death blow. Maiko appears to be a case of an inherited Reality Marble, acquiring the Lair of the Beast King, though the reason for this has not been clarified. During the side-story, her head and neck appears as she originally did while she was alive (as the story is narrated from her point of view, her actual appearance is never shown on screen) but the rest of her body is a 'black mass' like Nero, though the outlines are those of a womans. She is capable of adapting her appearance to a limited scope, including taking the appearance of Shiki Tohno. She is also a black belt in an undisclosed form of karate.

Makihisa Tohno
Edit
Makihisa Tohno (遠野 槙久, Tōno Makihisa?) is the father of Akiha Tohno and SHIKI Tohno and the adopted father of Shiki Nanaya (who became Shiki Tohno). He died before the events of Tsukihime.
Makihisa is the one responsible for much of the events of this series, due to his kidnapping of Nanaya Shiki from his family, hiring Kouma Kishima to slaughter the rest of the Nanaya Family, his brutal treatment of Kohaku, and his strict training of Akiha. He, like all of the Tohno family, possesses demonic blood, which caused in him bipolar disorder along with schizophrenia. And although his face was never clearly shown, In the manga, it was evident that during the massacre of the Nanaya's that he had similar abilities to that of SHIKI Tohno, as he could solidify blood from inflicted wounds and use it as a sword-like weapon.
Before the events of the game, he was seemingly murdered by SHIKI. It is his passing, along with the awakening of Roa/SHIKI, that begins the events of the game. During the course of the game much is revealed as to why Shiki was brought into the Tohno family and how Hisui and Kohaku came to be at the mansion.[6]

Master Panda
Edit
Master Panda is a character introduced in Character Material. He wears a panda suit with "Nanatsu-Yoru", the name of Shiki Tohno's knife, written on the back. He taught martial arts to Miyako Arima, and has the same voice with Shiki Nanaya. He later makes an appearance in Carnival Phantasm, as one of the characters sitting in the background. He appears unmasked at the time but is too small to be identified.

Mecha-Shiki
Edit
Mecha-Shiki (メカ志貴, Meka-Shiki?) is a parody character featured in a Drama CD involving Illyasviel von Einzbern and Ruby from Fate/kaleid liner PRISMA☆ILLYA, Hisui, Mech-Hisui, Kohaku, and Akiha Tohno. Like Mech-Hisui, he is a creation of Kohaku. He is voiced by Kenji Nojima.

Narbareck
Edit
Narbareck (ナルバレック, Narubarekku?) is the first member and current technical leader of the Burial Agency. She is very young, but she is powerful enough that she has captured three Dead Apostle Ancestors. She loves killing, most likely getting turned on from it. She is generally shut in the executive room of the Agency as a form of incarceration for that same reason. Word of her infamy has even reached the Mage's Association. She is descended from another Narbareck, the co-founder of the Agency along with Roa, both of them being good friends at the time. Only she and Ciel have seen Merem Solomon's true form, while the rest have only dealt with the priest alter-ego of his left arm. She sent Ciel to destroy the Forest of Einnashe in talk., but Ciel believes that it is likely a test to see if she is worth keeping around without her immortality. She believes Narbareck is simply telling her to die, while Merem says that it's just part of Narbareck's rotten spirit and that she likes Ciel's stubborn personality.[7]

Phantas-Moon
Edit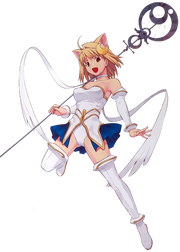 Phantas-Moon is a magical girl parody of Arcueid Brunestud that is detailed in Character Material. She appears as a playable character in the Fate/tiger colosseum series. In Carnival Phantasm, there is a TV show based on her.

Sougen Jinan
Edit
Sougen Jinan (時南宗玄, Jinan Sōgen?), father of Jinan Tokie, is a doctor who's an old friend of Shiki's father, Kiri Nanaya. He also seems to be an acquaintance to Tohno Makihisa. Being a former member of an organization who monitored the Demon Hybrids, he knows a lot about the Demon Blood and Demon-related topics. He's retired now and running an informal infirmary. He has been looking after Shiki as his personal doctor. Understanding where Shiki's anemia comes from, he's been maintaining his health by oriental treatments. Also a teacher of medicine to Kohaku. Melty Blood manga reveals he was the one to teach Miyako Chinese martial arts.[8]

Tokie Jinan
Edit
Tokie Jinan (時南朱鷺恵, Jinan Tokie?), daughter of Jinan Sougen.[9] She knows Shiki Tohno since he regularly visited their office when he lived with the Arima family. She was Shiki's first sexual partner.[10]

Tonami Kugamine
Edit
Tonami Kugamine (久我峰斗波, Kugamine Tonami?) is a man formerly engaged to marry Akiha Tohno, in presumably an arranged marriage by her father, Makihisa. Once Makihisa died, Akiha immediately called off the marriage and evicted Tonami from the Tohno Mansion. It is fairly clear that Akiha does not like him very much at all. But since they have a say in about a third of the Tohno family matters that concern a corporation, even the Tohno household can't afford to mistreat the Kugamines. He seems to have calmed down a bit, after his engagement with Akiha was dissolved, and he even seems to have taken a liking on Shiki, so he cannot treat him harshly.[11]

Tsukasa Shijyou
Edit
Tsukasa Shijyou (四條 司, Shijyou Tsukasa?) is an underclassman at Asagami Private Girls Academy. During the events of A Story for the Evening, she wishes for Akiha to disappear, in accordance with one of the rumored Seven Curses of Asagami, involving postal boxes, and gets nervous when Akiha does not disappear as it means the wish will be reversed to her within a week's time. As a result, she panics, and attempts to kill Akiha to fulfill the wish so as to save her own life, only to be knocked unconscious by Akiha instead.[12]

References
Edit