Lancer (ランサー, Ransā?) is an enemy Servant in the Moon Cell Holy Grail War in Fate/Extra CCC. She is unique in that she switches between four different Masters as a Lancer-class Servant, Rin Tohsaka, Rani VIII, Shinji Matou, and Hakuno Kishinami, and she later acts as the Berserker-class Servant of Meltlilith.[7] She is one of the Servants of the Protagonist of the Grand Order conflicts of Fate/Grand Order under both the Lancer class and Caster class.
Lancer's True Name is Elizabeth Báthory (エリザベート・バートリー, Erizabēto Bātorī?, lit. "Erzsébet Báthory"), the virginal fourteen year old aspect that had yet to become the monster Carmilla like her older aspect. She is given the keyword "Dragon's Daughter" (竜の娘, Ryū no Musume?), related to her nickname "Countess Dracula".
A real person, born in 1560, died in 1614. She was born into the one of the noble families of Hungary, the Bathory family which uses the fang of a dragon as its crest. One of the models for the vampire Carmilla. A wicked woman who bathed in the living blood of more than 600 women in order to preserve her own beauty.
The Bathory house was the family who held the majority of the influence within Eastern Europe, and she increased that, possessing the blood of the house of Habsburg which made for a lineage that would make her a purebred noble. However, whether it is do to the consanguineous marriages within the Bathory line or the effect of their luxuriant living environment, the family contained many insane and cruel individuals. Among her close relatives were a homosexual and a pedophile; a Satanist is hardly worth mentioning.
Elizabeth is not an exception and became quite infamous. In what is now present-day Slovakia, in Čachtice Castle, which resided within her own dominion, she killed more than 600 women and, in order to preserve her beauty, bathed in the blood she wrung from them... She loved those repulsive blood baths. This woman who killed many members of her fiefdom, even at the very end of her life, did not consider this a crime. In those days, there was a trend among the nobility of Hungary to not even consider humans who weren't nobles as "humans" so there were no problems with her murders.[2]
One day she let a maidservant comb the hair she was so proud of. But the comb became caught in her hair, and in a vehement rage, she stabbed the maidservant with a hairpin. The maidservant's blood happened to fall upon the back of her hand, and she noticed that the skin that blood touched was smoother than usual. From now on, to preserve my beauty, I will bathe in the lifeblood of women, she thought—and did so.
Collecting blood became part of her daily routine, and after she changed residences to Čachtice Castle, it reached the point where young women of marriage age were disappearing from the rural villages within her dominion. (Or maybe, everyone came to know what was going on and were sneaking the women out in secret.) She became distressed since she was no longer able to collect blood from the rural villages and so collected the daughters of minor nobles under the pretense of teaching them proper manners or inviting them to banquets. And those daughters, coming together for the banquet, dressed in fancy dresses, completely unaware of what would happen, were struck on the head.
In addition to having their blood drawn, they would have hot irons thrust into their mouths, their entire bodies stabbed with pins, and other kinds of tortures. She would make her servants rip off the skin of their own daughters so she could enjoy the anguished faces of both the parent and the child. On the other hand, in regards to torturing men, tales of her enjoying killing them would not be surprising.[2]
To Elizabeth, killing the common people in droves was a daily life "without any unusual events." If there is anything that could be considered her misfortune, it is that there were no people to rebuke her abnormality, to teach her that her deeds were atrocities. Several years after she started taking blood, her cruel acts came to extend even to the daughters of the aristocracy and she finally received the indictment that her character deserved. The year was 1611. At the trial conducted in the actual person's absence, she was given a guilty verdict and imprisoned within one of the rooms of Čachtice Castle.
And the people completely sealed her, who was already feared as a demon, away. The people whisper. To see her figure is frightening. To hear her voice is frightening. Simply bringing to mind the memories which had lost her, the memories from which they had removed her, is frightening. The father who brought her into this world. Elizabeth's relatives. Her compatriots in aristocratic society, as if to hide their own feelings of guilt, concealed her prison with stone. The room that Elizabeth used in her final days... her prison in the basement of the castle contained nothing but a small slit to allow food to be passed to her. And, in that room without an exit or windows, that room which was plastered up from the outside, she continued to ask, "Why?" until her final moments.
"Why? Why?" "I didn't do anything bad."
They say that her voice could be heard through the stone that imprisoned her, but it's is also said that due to the soldiers finding it annoying, the transom was sealed, and she could no longer be heard. After that, there was no one who saw her firsthand while she was alive. August 21, 1614, the soldiers notice the smell of rotting food, confirm that her life had ended.
From thereon, she became legend as the Blood Countess.[4]
Appearance
Edit
Personality
Edit
Her personality is considered to be similar to Luviagelita Edelfelt.[8] She self proclaims herself as an idol and her demonic singing makes her both a rival for Saber in both name and reality. Elizabeth makes a habit of referring to Hakuno, depending on their gender, as either a "little squirrel" if they are female or as a "pig" if they are male when speaking to them.
Caster describes her as personification of narcissism and an unsightly woman with an unsightly appearance, upbringing, ideology, disposition, and senses. Though she appears prideful, it is not directed towards anyone. Others do not see the truth behind it, but she is a "laughingstock" who, in treating humans as pigs, is doing nothing but holding her head high in front of a bunch of pigs. She does not understand love, so she is the "most unmanageable monster of this world", and although she takes pride in her beauty, she can be called rotten like trash within.[9]
Prior to her imprisonment in the ice capsule program constructed by Rin and Rani, Lancer displayed her immense claustrophobia and autophobia due to the traumas of her past punishment for her crimes, being locked away all alone in small chambers. She screams for Hakuno to slay her as she would rather die them be imprison in isolation again.
Fate/Extra CCC
Edit
Elizabeth Bathory was originally summoned by Run Ru as a Lancer-class Servant but after BB assassinated Run Ru, Lancer willingly collaborate with BB.
In Chapter 1, Lancer first appears as Rin's Servant however after their defeat Lancer abandons Rin.
In Chapter 2 - Girls laboratory, Lancer becomes Rani's Servant, only to be defeated again and is seemingly deleted.
Elizabeth returns alive as the next sentinel however she changed class into Berserker in Chapter 5 with Shinji as her new master. When Shinji was attacked by Meltlilith, Meltilith becomes Berserker's new master. After Hakuno defeated her, she is sealed away by Rin and Rani. Lancer screams for Hakuno to kill her as she could not bear the thought of being locked away again.
Elizabeth becomes Lancer again and makes her final appearance in Chapter 7 when she becomes Hakuno's temporary Servant to help them fight their Servant's zero model. Afterwards, she leaves Hakuno to become an idol.
Fate/Grand Order
Edit
She is called Eli-chan (エリちゃん, Eri-chan?) in Fate/GUDAGUDA Order.
Fate/Extella
Edit
She returns, but this time as a selectable playable character for Hakuno Kishinami.  She's in Tamamo no Mae's party along with Tamamo no Mae, Karna, and Lu Bu Fengxian.
Other appearances
Edit
She is featured in Fate/EXTRA Gone Wild! Casko!? where she is seen without horns and is wearing the female Tsukumihara Academy uniform.
In Back Alley Satsuki, she is a gold heroine of dragon to protect the fifth temple and she is known as the CCC48 Red Lancer (CCC48 赤ランサー, CCC48 Aka Ransā?).

Abilities
Edit
Lancer also has the capacity to be summoned under the Berserker class, and she switches to it during the events of the story. Her Mad Enhancement is very low, allowing her to retain her reason. There is not much benefit to the skill, turning her Strength and Endurance into a state that is more "don't care about pain" than anything else. She instead has Mental Disorder, a state of the mind falling ill and a mental "super armor" ability. Rather than the common madness added to a Berserker, she becomes incapable of feeling the pain of others and unable to sense the mood in the surroundings.
She displays two different Noble Phantasms, Kilenc Sárkány and Báthory Erzsébet. The first is utilized under the Lancer class, while the second is utilized under the Berserker class. She continues to utilize Bathory Erzsebet as the Protagonist's Servant. Her Territory Creation allows her to build up a prison-castle and that is mainly used in confining girls. According to the records, the master of the castle would capture five virgins a day, execute three for the sake of bathing in blood, and torture to death one as if a pet. She gave the last remaining the right of challenging various fates:
"As it is, I'll be killed"
"Plan a escape, but be killed after being betrayed by my comrades"
"Be caught by the palace guards and killed"
"Falling from the castle and having an accidental death"
"…barely escaping alive and prosecuting the demon".
Fate's odds of "successfully escaping" are 1/1000.
She displays excellent Torture Techniques, granted plus modifiers when using utensils of torture. She has a wide range of methods, including locking captured humans in an Iron Maiden and squeezing their blood, tormenting and driving them mad with finger-breakers or restraining devices. At times she will bite at fingers, arms, nape of necks or breasts and even go as far as biting them off. Her Charisma, the coercion as a member of the ruling class, is granted on rank up against women due to a special transmission aid. Though she loves to torture men through torture utensils, she displays an unusual fastidiousness towards men and rarely comes into contact with them directly.[2][4]
Mixed Blood
Edit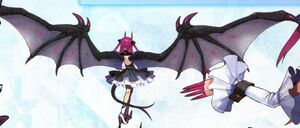 Lancer has been demonized by the Innocent Monster (無辜の怪物, Muko no Kaibutsu?, localized as "Seraphic Monstrosity") skill that uses the image produced from one's deeds in life to distort their past and way of being, which ends up transforming their abilities and appearance. Her form is due to the deeds she practiced in life, unlike Vlad III, another who holds the same skill, being looked down upon as a monster after death due to the work of a novelist. Though she looks like a demon, her horns and tail are those of a dragon, and though her fangs look like those of a vampire, they are also those of a dragon. Her lungs have been turned into a spirit world, attaining tremendous lung capacity and a Dragon Breath attack through the means of ultrasonic waves. Despite being the ability of the strongest of the Phantasmal Species, she seems to be forcing herself because its power is low.[2]
The form is not a forgery caused solely through the means of Innocent Monster, but rather brought about from the dragon's blood mixed within her. The source is crest of the Báthory family, a shield coat of arms patterned after a red fang that represented the dragon's gallantry, vigorousness, and the brutality of never letting the enemy live. It grants her Magic Resistance (対魔力, Tai Maryoku?, localized as "Anti-Magic") of the same grade as King Arthur, another with dragon blood. She has a reverse scale like that of a Chinese dragon around the area of her coccyx. After having it seen, she becomes red-faced due to embarrassment, has a panic attack, approaches the person who looked, and presents them with the two choices of "Will you be killed by me? or Will you marry me?"[4]
References
Edit
↑ 1.00 1.01 1.02 1.03 1.04 1.05 1.06 1.07 1.08 1.09 1.10 1.11 1.12 1.13 1.14 1.15 1.16

[] Fate/EXTRA material - SERVANT Parameter and Skills: SERVANT LANCER, p.020

SERVANT LANCER


Master: Rin, Rani

Identity: Erzebet Bathory

Gender: Female

Height, Weight: 154cm/44kg

Alignment:Chaotic Evil

Strength: C

Endurance: D

Agility: A

Mana: E

Luck: B

Noble Phantasm: D



Class Skills
■ Territory Creation: C

■ Battle Continuation: B

Personal skills
■ Torture Technology: A

■ Charisma: C

Noble Phantasm
■ Kilenc Sárkány: Dragon Cry Thundering Voice
Rank: D
Type: Anti-Unit
Range: 3 ~ 30
Maximum number of targets: Five hundred people

ランサー


マスター:凛、ラニ

真名:エリザベート・バートリー

性別:女性

身長・体重:154cm/44kg

属性:渾沌・悪

筋力:C

耐久:D

敏捷:A

魔力:E

幸運:B

宝具:D



クラス別筋力
■ 陣地作成: C
監獄城を作り上げ、少女たちを監禁すし、

■ 戦闘続行: B


保有スキル
■ 拷問技術: A
ランクAに該当。卓越した拷問技術。
拷問器具を使ったダメージにプラス補正がかかる。

■ カリスマ:C
支配階級としての威圧を示す。
特殊な伝承補佐により、女性に対してワンランクアップ。

宝具
■ 竜鳴雷声
ランク:D
種別:対人宝具
レンジ:3~30
最大補足:五百人
ハンガリーに古くから伝わる天候の精霊にして、雷鳴のドラゴンの威風を宝具としてコンバートしたもの。
サカーニィとはこのドラゴンの名である。
音と振動を増幅し、その共鳴によって風雨を呼ぶとされる。
本来の機能は、持つ者の声に宿る威厳やカリスマ、癒しの波動、聞くだけで心を砕く悪意、または単に声量を9の9倍にまで増幅する。
聴く者の体ばかりか心まで破壊・蹂躪する、魔の歌声である。

↑ 2.00 2.01 2.02 2.03 2.04 2.05 2.06 2.07 2.08 2.09 2.10 2.11 2.12

[] Fate/Extra CCC - Lancer Matrix

Class: Lancer
Name: Elizabeth Bathory
Master: Tousaka Rin, Rani VIII, Matou Shinji
Noble Phantasm: Kilenc Sárkány (Dragon Cry Thunder Voice)
Keyword: Daughter of dragons, torture technique
Strength: C, Endurance: D, Agility: E, Magic: A, Luck: B
Territory Creation: B, Dragon Breath: E, Charisma: C

Kewords

01 - Kilenc Sárkány: Dragon Cry Thunder Voice
The dignity of a thunder dragon, considered a weather spirit in Hungary since long ago, converted into a Noble Phantasm. Sárkány is that dragon's name.
It amplifies sound and vibrations and, via that resonance, can call forth wind and rain. Its true function is to amplify the inherent majesty and charisma, the soothing waves, the spite that crushes just be being heard, or simply just the volume of its owner's voice nine-by-nine times. The singing voice of a demon that destroys and tramples not just the body of those who hear it but the heart as well.

02 - Daughter of Dragons
This Servant is incarnated as a demon due to the skill "Innocent Monster." Though her horns and tail appear to be those of a demon, they are actually those of a dragon. It seems those protruding fangs are not a mark of her being a vampire but a mark of her being a dragon.
"Innocent Monster" is a skill that, based on the image produced by their actions during their lives, twists one's past and way of life, transforming one's abilities and appearance. Vlad III, who holds the same skill, was held in contempt as a monster based on a certain novelist's work, but she received this treatment based upon her deeds while alive.

03 - Torture Techniques
Equivalent to rank A. Torture techniques par excellence.
When using torture instruments, she receives a damage bonus. In her case, she would shut the people she captured into iron maidens in order to wring the blood from them, drive them crazy with devices that would remove their fingers or implements that would bind their bodies, and on occasion, she would struck by and follow through with the idea to gnaw and bite off their fingers or arms, the napes of their necks, or nipples. Her cruel deeds are wide-ranging.

01 - 竜鳴雷声
ハンガリーに古くから伝わる天候の精霊にして、雷鳴のドラゴンの威風を宝具としてコンバートしたもの。
サカーニィとはこのドラゴンの名である。

音と振動を増幅し、その共鳴によって風雨を呼ぶとされる。
本来の機能は、持つ者の声に宿る威厳やカリスマ、癒しの波動、聞くだけで心を砕く悪意、または単に声量を9の9倍にまで増幅する。
聴く者の体ばかりか心まで破壊・蹂躪する、魔の歌声である。

02 - 竜の娘
このサーヴァントはスキル『無辜の怪物』によって魔人化している。
悪魔のように見えるが、その角と尻尾は竜のもの。
八重歯は吸血鬼の牙ではなくドラゴンの牙らしい。

『無辜の怪物』とは生前の行いから生じたイメージによって、過去や在り方をねじ曲げられ能力・姿が変貌してしまうスキルである。
同じスキルを物ヴラド三世はその死後、小説かの創作によって怪物におとしめられたが、彼女は生前の行いからこのような扱いを受けたようだ。

03 - 拷問技術
ランクAに該当。卓越した拷問技術。

拷問器具を使ったダメージにプラス補正がかかる。
このサーヴァントの場合、捕まえた人間をアイアンメイデンに閉じ込めて血を絞ったり、指折り器や拘束器具で苦しめて狂わせたり、時には思いついたように指や腕、首筋、乳房に噛みついてそれを食いちぎったりと、その残虐行為は多岐にわたる。

Skills

01 - Territory Creation [B]
Constructs a prison-castle and confines girls therein. According to the record, the lady of this castle would capture five virgins a day, execute three of them to bathe in their blood, and treat one as a pet so as to kill them with relish.
The final one remaining was given the right to challenge her fate, the possibilities including: "Stay and be killed," "Be betrayed by the people I planned my escape with and be killed," "Be captured by the castle guards and be killed," "Fall from the castle and die by accident," "Barely escape with my life and bring the demon to justice."
As a side note, the chances of achieving the fate where one "escapes successfully" is 1/1000.

02 - Dragon Breath [E]
The torrent of mana that dragons, the strongest of the Phantasmal Species, can release. Even though she's been turned into a dragon by the skill "Innocent Monster," she seems to be straining herself on some level so the power is low.

03 - Charisma [C]
Exemplifies her ability to coerce others based on her position as a member of the ruling class. Due to special circumstances in her legend, it goes up a rank against women. In regards to interaction with men, she is unusually fastidious; though she loves with touch them with implements, direct contact is rare.

01 - 陣地作成 [B]
監獄城を作り上げ、少女たちを監禁する。
記録によると、この城の主は、一日に五人の処女を捕まえ、三人を血浴みのため処刑し、一人をペットとしてなぶり殺した。
残る最後の一人には「このまま殺される」「脱出を企てるが仲間に裏切られて殺される」「衛兵に捕まって殺される」「城から落ちて事故死する」「……命からがら脱出し、悪魔を告発する」という運命への挑戦権が与えられた。

ちなみに「脱出できる」運命の出目は1/1000である。

02 - 竜の息吹 [E]
最強の幻想種である竜が放つマナの奔流。
スキル『無辜の怪物』でドラゴン化しているものの、どこか無理をしてるのか威力は低い。

03 - カリスマ [C]
支配階級としての威圧を示す。
特殊な伝承補佐により、女性に対してワンランクアップ。
男性に対しては妙に潔癖なところがあり、器具越しに触ることは大好きだが、直接触れる事は滅多にない。

Setting

01 - Bathtub of Blood
A bathtub of blood: One day, she let a maidservant comb the hair she was so proud of. But the comb became caught in her hair, and in a vehement rage, she stabbed the maidservant with a hairpin. The maidservant's blood happened to fall upon the back of her hand, and she noticed that the skin that blood touched was smoother than usual.
From then on, she decided to bathe in the lifeblood of women to preserve her beauty - or so it is believed.
Collecting blood became part of her daily routine, and after she changed residences to Čachtice Castle, it reached the point where young women of marriage age had disappeared altogether from the rural villages within her dominion. (Or perhaps everyone came to know what was going on and hid their daughters indoors.)
Finding it difficult to collect blood from within her territory any longer, she collected the daughters of minor nobles under the pretense of teaching them proper manners or inviting them to banquets. It is said that many of those daughters were decapitated at these banquets, still in their fancy dresses, before they knew what was happening.
In addition to drawing blood, she is said to have thrust hot irons into their mouths, stabbed their entire bodies with pins, and other kinds of tortures. She would make her servants rip off the skin of their own daughters so she could enjoy the anguished faces of both the parent and the child.
On the other hand, tales of her torturing or killing men for pleasure are strangely absent.

02 - Personal Background I
Personal Background I: A real person, born in 1560, died in 1614. She was born into one of the noble families of Hungary, the Bathory family which used the fang of a dragon as its crest.
One of the models for the vampire Camilla. A wicked woman who is believed to have bathed in the lifeblood of more than 600 women in order to preserve her own beauty.
The Bathory house was the family who held the majority of the influence within Eastern Europe, and on top of that, she also possessed the blood of the house of Habsburg which made for a lineage that would make her a purebred noble.
However, whether it is do to the consanguineous marriages within the Bathory line or the effect of their luxuriant living environment, the family contained many insane and cruel individuals. Homosexuals, pedophiles and Satanists were not uncommon among her relatives.
Elizabeth was not an exception and became quite infamous. In Čachtice Castle, which lay in her territory in what is now present-day Slovakia, she is believed to have killed more than 600 women and, in order to preserve her beauty, enjoyed bathing in the blood she wrung from them... a repulsive bloodbath.
Though she killed many members of her fiefdom, she was not charged with any crime until the end of her days. In those days, there was apparently a trend among the nobility of Hungary to not even consider humans who weren't nobles as "humans." Her murders did not cause any problems.
...Yes. Not until a single girl returned alive from her prison-castle and rushed to the Vatican.

01 - 血の浴槽
ある日のこと。
彼女は自慢の髪を侍女にすかせていた。
しかし櫛が髪に引っかかり、猛烈な怒りを感じた彼女はヘアピンで侍女を突き刺した。

偶然にも侍女の血は手の甲にかかり、その血をぬぐった皮膚が常よりも
滑らかとなっている事に彼女は気づいた。

以来、彼女は己の美貌を保つため、女性の生き血を浴びる事を思いついた―――とされる。

採血は日常となり、彼女がチェイテ城へと居を移した後、領地内の農村には
年頃の娘がいなくなってしまった程である。
(あるいはもう、誰もが事情を知っているので娘を隠して出さなくなったとも)

領地内からの採血が困難になった彼女は、行儀見習いや宴会といつわって下級の貴族の娘たちを集めた。
招待された貴族の娘たちの多くは、宴席の席上で着飾ったドレス姿のまま、
何も知らぬ内に首をはねられたという。

その他、採血の他にも焼きごてを口に突っ込んだり、全身にピンを刺すなどの拷問の他、
召使いに自分の娘の皮を剥がせてその親子の苦悶の表情を楽しんだとされている。

反面、彼女が男性を拷問にかけたり、殺したりして楽しんだという伝説は不思議とない。

02 - 人物背景Ⅰ
実在の人物。1560年生、1614年没。
ハンガリーの名家、ドラゴンの歯を紋章とするバートリ家に生まれる。

吸血鬼カーミラのモデルのひとり。
600人以上の娘の生き血を浴び、己の美貌を保とうとした悪女とされる。

           ◆

バートリ家は東欧圏のほとんどに勢力を持つ名家で、彼女はそれに加えてハプスブルグの血も引いており、
まさに貴族のサラブレッドとも言える血筋だった。

しかしバートリ家は近親婚や鬱蒼とした生活環境の影響からか狂気と残忍さに彩られた者が多く、
彼女の近親者にも同性愛者や幼児性愛者、悪魔崇拝者などが少なくなかった。

エリザベートも例外ではなく、また、有名であった。
彼女は現在のスロバキアにあった自領のチェイテ城にて、600人以上の娘たちを殺し、
己の美貌を保つためにその搾り取った血で湯浴み……おぞましいブラッドバスを好んだという。

多くの領民を殺めた彼女だが、その最期の時まで罪に問われる事はなかった。
当時のハンガリー貴族には貴族以外の人間をそもそも"人間"とは考えない傾向があったようで、
彼女の殺人は何の問題にもならなかったからである。

 ―――そう。
   彼女の監獄城から一人の娘が生還し、
   法王庁に駆け込むまでは、まだ。

↑ 3.00 3.01 3.02 3.03 3.04 3.05 3.06 3.07 3.08 3.09 3.10 3.11 3.12 3.13 3.14 3.15

[] Fate/EXTRA material - SERVANT Parameter and Skills: SERVANT BERSERKER, p.021

SERVANT BERSERKER


Master: Meltlilith

Identity: Erzebet Bathory

Gender: Female

Height, Weight: 154cm/44kg

Alignment:

Strength: A

Endurance: A

Agility: B

Mana: D

Luck: C

Noble Phantasm: E-



Class Skills






Personal skills






Noble Phantasm


Bathory Erzsebet: Fresh Blood Demoness


Rank: E-
Type: Anti-Unit
Range: 3 ~ 60
Maximum number of targets: Thousand people

バーサーカー


マスター:メルトリリス

真名:エリザベート・バートリー

性別:女性

身長・体重:154cm/44kg

属性:狂化・暴走

筋力:A

耐久:A

敏捷:B

魔力:D

幸運:C

宝具:E-



クラス別筋力
■ 狂化:E-
凶暴化する事で能力をアップさせる。
……が、理性を残しているのでその恩恵はほとんどない。
筋力と耐久がより"痛みを知らない"に留まっている。

■ 対魔力:A
実は本当に竜の血ま混じっていた。
本人も気づいていない隱しスキル。stay nightにおけるセイバー級の対魔力を有する。

保有スキル
■ 精神異常:A
精神を病んでいる。他人の痛みを感じず、周囲の空気を読めなくなっている。
精神的なスーパーアーマー能力。

■ 無辜の怪物:A
竜の混血として魔人化している。
竜にはそれぞれ属性を生かした息吹があり、エリザベートのドラゴンブレスは超音波に属する。

宝具
■ 鮮血魔嬢
ランク:E-
種別:対人宝具
レンジ:3~30
最大補足:千人
エリザベートがその生涯に渡り君臨した居城を召喚し、己を際立たせる舞台(ステージ)とする宝具。

↑ 4.00 4.01 4.02 4.03 4.04 4.05 4.06 4.07 4.08 4.09 4.10

[] Fate/Extra CCC - Berserker Matrix

Class: Berserker
Name: Elizabeth Bathory
Master: Meltlilith
Noble Phantasm: Báthory Erzsébet (Demoness of Fresh Blood)
Keyword: Dragon's reverse scale, supersonic
Strength: A, Endurance: A, Agility: B, Magic: D, Luck: C
Mad Enhancement: E-, Mental Disorder: A, Magic Resistance: A

Keywords

01 - Báthory Erzsébet: Demoness of Fresh Blood
A Noble Phantasm that summons the castle that Elizabeth lived in and ruled over in her lifetime and turns into into a stage where she is prominent. The worst and most disgusting Noble Phantasm that Elizabeth, who began to dream of being the ultimate idol after becoming a Servant, possesses.
The castle's name is the prison-castle Čachtice. As the demonic castle where hundreds of girls were tortured to death, as the place where Elizabeth soaked in a blood bath full of the living blood of those girls, it maintains the largest amount of magical energy and charm.
The tune where the musical talent that... one or two on Earth would dispute and this castle which is a stage modded with giant amps are combined, truly this is hell on Earth.
A collaboration with the Golden Theater cannot be allowed.

02 - Dragon's Reverse Scale
In the west, dragons are "monsters," but in China, DRAGONS are a god-like existence. If dragons are the strongest of the Phantasmal Species, then DRAGONS are invincible... They are creatures who have no need to fight.
But even those DRAGONS have a defect. When the scale under their chin is touched, the DRAGON will fly into a rage and devastate the earth with their rampaging power.
In this way, even perfect beings have disappointing parts. Elizabeth is no exception to this tradition, and the scale is on a part of her body (near the tailbone). If it is seen, she will become red-faced with embarrassment, and after she is done panicking, she will approach to person who say it with two choices: "Will you be killed by me?" or "Will you marry me?"

03 - Supersonic
Due to her skill "Innocent Monster," Elizabeth has been incarnated as a dragon demon of mixed blood.
Dragons have the strongest weapon which makes use of all their attributes: Dragon Breath. If a red dragon, fire; if a blue dragon, electricity; if a black dragon, acid. Their breath has a wide area of effect.
...According to a certain rulebook, the breath's damage value is the same as their physical damage. That physical damage has long since surpassed humans, but when you think of it being spread equally among the members of an entire army, for a single dragon to destroy an entire country seems reasonable.
Elizabeth's Dragon Breath is made up of ultrasonic waves. Since she has been incarnated as a demon, her lungs have become converted spiritual worlds so a terrifying lung capacity has become hers. With the amplification provided by her Noble Phantasm, Elizabeth's voice could be called a noise that could resound through a portion of the Tokyo Dome and destroy it.
This is the moment that Saber's rival, in both name and reality, is born.

01 - 鮮血魔嬢
エリザベートがその生涯に渡り君臨した居城を召喚し、己を際立たせる舞台とする宝具。
サーヴァント化した後、究極の偶像を夢見るようになったエリザベートが得た最低最悪の宝具である。

城の名は監獄城チエイテ。
何百人という少女たちを拷問の末殺害した魔城であり、エリザベートは少女たちの生血で満たした血の浴槽につかる事で巨大な魔力と魅力を維持している。

地球上で、一、二を争う……な歌の才能と、城をそのまま巨大アンプに改造したステージが合わさった一曲は、まさにこの世の地獄と言える。

黄金劇場とのコラボだけは許してはいけない。

02 - 竜の逆鱗
西洋の竜は"魔"とされるが、中華における龍は神的存在とされている。
竜が最強の幻想種なら、龍は無敵……戦う必要すらない存在だ。

しかし、そんな龍にも難所がある。
アゴの下の鱗を触れると龍は猛り、荒ぶる力で地上をなぎ払うのだとか。

このように、完全なる存在にも残念な部分はある。
エリザベートもその例にもれず、体の一部(尾てい骨あたり)に鱗があるらしい。
見られると本人は恥ずかしさのあまり赤面、パニックの後に、見た者に「自分に殺されるか」か「自分と婚姻するか」の二択を迫るという。

03 - スーパーソニック
エリザベートはスキル『無辜の怪物』によって竜の混血として魔人化している。

龍にはそれぞれ属性を生かした最強の武器、竜の息吹が存在する。
赤竜なら炎を、青竜なら雷を、黒竜なら酸を、その息吹として広範囲に散布するのだ。

……とあるルールブックでは、そのダメージ数値はドラゴンの体力数値と同じとされる。
人間を遥かに超越した体力数値のダメージが全軍に満遍なく行き渡る事を考えると、ラゴン一頭に国が滅ぼされるのも無理からぬ話だろう。

エリザベートのドラゴンブレスは超音波に属する。
彼女は魔人化した事で肺そのものを異界化させ、凄まじいまでの肺活量を我ものとした。
宝具を通じて増幅されるエリザベートのボイスは東京ドーム一個分に響き渡り、これを倒壊させる騒音とまで言われている

名実ともにセイバーのライバル誕生の瞬間であった。

Skills

01 - Mad Enhancement [E]
A skill that transforms one into a brute and raises one's abilities.
...But as Elizabeth still possesses her reasoning abilities, the benefits from this are very low. Rather than effecting her abilities or endurance, it's simply made it so that she "does not feel pain."

02 - Mental Disorder [A]
The mind has fallen ill. It is not the Mad Enhancement that Berserkers usually possess. Being unable to feel the pain of others or read the mood of one's surroundings. Has the ability of mental super armor.

03 - Magic Resistance [A]
A hidden skill that even the person herself is unaware of.
It was believed that she was a fabrication created through "Innocent Monster," but the blood of dragons truly is mixed with her own.
She is endowed with a Magic Resistance of the same caliber as the Saber of Fate/stay night.
It source is the Bathory family's coat of arms. That family's coat of arms was a shield-shape based on red fang, symbolizing the dragon's bravery, strength, cruelty in never leaving an enemy alive.

01 - 狂化 [E-]
凶暴化する事で能力をアップさせるスキル。

……が、エリザベートは理性を残しているのでその恩恵はほとんどない。
 筋力と耐久がより"痛みを知らない"状態になっただけである。

02 - 精神異常 [A]
精神を病んでいる。
通常のバーサーカーに付加された狂化ではない。
他人の痛みを感じず、周囲の空気を読めなくなっている。
精神的なスーパーアーマー能力。

03 - 対魔力 [A]
本人も気づいていない隱しスキル。

『無辜の怪物』によるねつ造と思いきや、実は本当に竜の血ま混じっていた。

Fate/stay nightにおけるセイバー級の対魔力を有する。

その出典はバートリ家の紋章から。
かの家の紋章は紅い牙を象った盾状の紋章で、ドラゴンの勇敢さと力強さ、そして敵を生かしてはおかぬ残忍さを象っていた。

Setting

01 - Headache Sufferer
Headache sufferer: When she was alive, she was an infamous, abnormal murderer, but when you compare her's with the cruel hobbies of people like her, her characteristic is that she is wide-ranging.
In the case of the majority of serial killers, those who enjoy killing people have murder as their foundation, those who enjoy pain have pain as their foundation, those who eat people have cannibalism as their foundation; they set up their own tendency in cruel hobbies. But she is not consistent. Disturbingly, she is believed to have enjoyed all of the above.
But on the other hand, she is lacking the abnormal conduct that serial killers in recent years have displayed, such as raping and killing, taking a part of the body to form a collection, and using people as ingredients in food.
According to one theory, she suffered from horrible headaches. It is said that she was released from these headaches only when she abusing others.
Of course, the authenticity of this cannot be confirmed.
Though Elizabeth is noted only for her abnormality in this way, she also left behind good deeds. At the age of 15, she married her husband, Ferenc II and protected their dominion in his stead during the war, as he had a tendency to be absent.
The two got along extremely well as husband and wife, and records indicate that Elizabeth invested funds into allowing domestic students to study abroad and assisting returning students in their studies, as well as planning the promotion of the arts and sciences within the country.
There were rumors that she was interested in black magic, but it seems that this was actually the use of medicinal herbs to make something akin to what is known in the present day as a facial mask.
Even the episode where she killed more than 600 women and the trial in absentia are theorized by some to be mostly false, derived from folklore and the Hungarian Habsburgs' plan to expel her from their circles.
However, even with that, it cannot be said that all her actions were false charges. Even if the torture devices and cruelty drama are folklore, that she enjoyed killing people is clear from the circumstantial evidence.

02 - Personal Background II
Personal background II: To Elizabeth, killing the common people in droves was her "ordinary" daily life. If there is anything that could be considered her misfortune, it is that there were no people to rebuke her abnormality, to teach her that her deeds were atrocities.
Several years after she started taking blood, her cruel acts came to extend even to the daughters of the aristocracy and she finally received the indictment that her character deserved.
The year was 1611. At the trial conducted in the actual person's absence, she was given a guilty verdict and imprisoned within one of the rooms of Čachtice Castle.
And just like that, the people completely sealed her, who was already feared as a demon, away.
The people whispered. To see her figure was frightening. To hear her voice was frightening. Simply bringing to mind the memories of losing their daughters, the memories of giving her their daughters of their own volition, was frightening.
The fathers who gave away their daughters. Elizabeth's relatives. Her compatriots in aristocratic society, as if to hide their own feelings of guilt, concealed her prison with stone.
The room that Elizabeth used in her final days... her prison in the basement of the castle contained nothing but a small slit to allow food to be passed to her. And, in that room with an exit or windows, that room which was plastered up from the outside, she continued to ask, "Why?" until her final moments.
"Why? Why?" "I didn't do anything bad."
They say that her voice could be heard through the stone that imprisoned her, but it's is also said that due to the soldiers finding it annoying, the transom was sealed, and she could no longer be heard.
After that, there was no one who saw her firsthand while she was alive. August 21, 1614, the soldiers noticed the smell of rotting food, confirming that her life had ended.
From thereon, she became legend as the Blood Countess.

01 - 頭痛持ち
生前の彼女は世界でも有数の異常殺人者だが、同種の残虐趣味に比べて特徴的なのは
その傾向が多岐に渡ることである。

シリアルキラーたちは多くの場合、殺人を楽しむ者は殺人を基本に、
苦痛を楽しむ者は苦痛を基本に、食人を楽しむ者は食人を基本にして、
その残虐趣味の傾向を組み立てる。
だが彼女には一貫性がない。
恐ろしいことに、それらを全般的に楽しんだとされる。

だがその反面、犯し殺したり、人体の一部をコレクションしたり、
人間を料理するなどと言った、近年のシリアルキラーに見られる異常行動はほとんどない。

一説によると彼女はたいへんな頭痛持ちであり、他人を虐待している時だけ
頭痛から解放されたとも言われている。

無論、真偽の程は定かではない。

このように異常性だけ特筆されるエリザベートだが、善行も残されている。
彼女は15歳で夫フランツ2世と結婚し、戦争で留守がちな彼に代わって領地を守っていた。

二人の夫婦仲は非常に良く、エリザベートは特に国内の学生の留学支援や、
逆に帰国した学生らの学業支援に多くの財をつぎ込み、国内の技術と学術の振興を図ったと記録に残っている。

           ◆

黒魔術をたしなんでいたと噂されているが、どうもそれは薬草を使った現在で言う
美容パックの一種であったらしい。

600人以上の女性を殺したというエピソードも、欠席裁判などもそのほとんどは伝説とハンガリー内の
ハプスブルグ排斥運動の一環から来た捏造なのでは、とも言われている。

ただし、だからといって彼女の行いすべてがえん罪とは言いきれない。
数々の拷問器具や残虐劇は伝説としても、彼女が殺人を好んだのは状況証拠的に確かである。

02 - 人物背景Ⅱ
エリザベートにとって、庶民を虐殺するのはそれこそ"何の変哲もない"日常だった。
彼女にとって不幸と言えるものがあったとしたら、その異常性をとがめ、
悪逆な行為であると教える人間がいなかった事だろう。

狂気の血液搾取から数年。
エリザベートの残虐行為が貴族の娘にまでおよび、彼女はようやく、人間として正しい告発を受ける事になった。

時に1611年。
当人欠席の上での裁判で有罪判決を受け、彼女はチェイテ城の一室に幽閉された。

そうして。
既に悪魔として恐れられていた彼女を、人々は徹底して封印した。

人々(かれら)は囁く。
その姿を見るのも恐ろしい。
その声を聞くのも恐ろしい。
娘を失った記憶、自分から娘を差し出した記憶を、思い出す事さえ恐ろしい―――

娘を差し出した父。エリザベートの親族。
貴族社会の同胞たち、
彼らは自らの罪悪感を隠すように、彼女の牢獄を石で覆い隠してしまった。

最終的にエリザベートの部屋……城の地下の監獄には食事を差し入れる小さな穴しかなかったという。
その、もはや出口も窓もない、外から塗り込められた部屋で、彼女は最期まで「どうして?」と訴え続けた。

「なぜ? なぜ?」
「私、何も悪いコトはしていないのに」と。

声は石牢越しに聞こえたというが、うるさく思った兵士によって明かり窓を塞がれてからは
聞こえなくなったという。

その後、生きた彼女の姿を直接見た者はいなくなった。
1614年8月21日、食事の腐敗臭に兵士が気づき、絶命が確認。

以後、彼女は血の伯爵夫人として伝説となった。

↑ 5.0 5.1 5.2 5.3 5.4 5.5 5.6 5.7 5.8 5.9

[] Fate/EXTRA material - Character Profile: Erzsebet Bathory LANCER, p.110

Erzsebet Bathory LANCER


Height: 154cm

Weight: 44kg

Blood type: Unknown

Birthday: 17th May

Image colour: Red

Talents: Singing of course!

Likes: :......Pig......?

Dislike: Desertion, treason, talk back

Enemy: AUO

エリザベート=バートリー LANCER


身長:167cm

体重:44kg

血液型:不明

誕生日:5月17日

イメージカラー:紅

特技:もちろん歌よ!

好きな物::……子ブタ……?

嫌いな物:脱走、反逆、口答え

天敵:AUO

↑

[] Fate/Extra CCC - Elizabeth Secret Garden [T]

Profile
Name: Elizabeth "The torture idol of the dragon family, Elizabeth Báthory! I'll break your heart to pieces too!"
Height: 154cm "No, 172cm! What do you think of this incredible supermodel-esque stature? My horns are quite tall."
Weight: 44kg "An idol's age and weight ought to be kept secret, but, hey, do you really want to hear it? No matter what? Well then I suppose I'll have to say…I'm a lovely 44kg."
3Size: B77/W56/H80 "There are, er, various things one can do disguise this. I-I'm not wearing slimming clothes!"
Home: House Báthory "The ancient dragons. The noble bloodline that bears their fangs. The House of Báthory in Hungary. The place that was everything to me."
Birthday: May 17th "Could you leave the presents with my manager?"
Weak Point: If you expose my noble wrath I'll never forgive you "Unfortunately I'll have to cut you up, crush you, wring you dry, and then, you have to marry me!!"
Fetishism: Torture…? "No, that's a duty of the nobility, so that's different. So, then…wh, I, with the opposite sex? I don't know anything about that, but, uh, fingers are certainly lovely aren't they?"
What do you look for in a partner? There are a lot of things, but really… "Starting with a house, they need wealth, work, hobbies…there are a lot of things, but ignoring all that nonsense, it's definitely 'destiny' in the end."
What's your favorite color of underwear? Always what's most fashionable in show business "And a top idol most definitely has stripes!"
How do you spend your free time? Recovering from fatigue with a relaxing bath "It's not that easy, keeping up this beauty."

Romanticism:


Fond of Cooking (Wish to be a Beloved Wife):

Elizabeth's second SG.

Though Elizabeth herself says she likes cooking, this is not a simple fondness for the act of preparing food, like that of the red-mantled Archer. Elizabeth's fondness for cooking comes from a desire to be praised by or to monopolize the person she likes. Essentially it amounts to nothing but a desire to be beloved as a wife. Her skill in cooking is utterly lacking.

We can infer that as the fondness for cooking appears as the apex of Elizabeth's wish to be a wife, she then stresses meals. Or perhaps it's part of her draconic instincts.

<>

Though Elizabeth shares her love of song with Saber and her wish to be a beloved wife with Caster, what lies at the bottom of those wishes is completely different.
To confirm her beloved's love — preparing food as a method keep a husband's attention does not come from an "equal relationship." She would "bestow meals" to her husband as a noble. It's no different from feeding an animal. It contains none of the "romance" she longs for. The controlling disposition hard-wired into her devours even her meagre dreams.

Purity (Inexperienced):

Elizabeth's third SG. We would like to leave just what constitutes "purity" to the reader's imagination.

Servants are revived in the form that represents golden age of their lives. So Elizabeth appears as an unwed daughter of house Báthory, a young girl in love with love…one assumes.

<>

An idol must be pure as snow. Forget romance, the moment she comes to know love her shine is lost. As long as she immerses herself in the idol business, this SG will be eternally indestructible.

↑

[] Fate/EXTRA material - Encyclopedia: Elizabeth [Servant], p.164-166 [T]

Elizabeth [Servant]
Elizabeth shows up in CCC as an if Lancer*see note at end.
The Master who summons her is Run Ru.
It's not clear if she is Run Ru's original Servant, or if she took the place of Black Lancer through the events of CCC (At the branching point a bit after the start of the game).
All we know is that in the time line where BB exists, Run Ru's Servant is not Vlad III, but rather this young girl.
Her true name is that of a historical woman who was a mass serial killer and torturer; Elizabeth Bathory.
As a Servant she is summoned with the body and appearance she had during her golden days, which were the days when she found herself to be most beautiful. Summoned as a Heroic Spirit as she was before her marriage and with her body and character being that of when she was 14. As her 14 year old self she retains only two things. First, her dreams of love and the romance oriented mentality she had before her marriage. Second, memories about the nightmare that was her imprisonment as an evil creature shortly before her death. Because of this, her existence as a Servant is a confusing mix of her time as a young noble lady, and the time she was assaulted by that crazed nightmare.
Wearing a cyber-goth-loli dress, she has immoral devil horns (actually dragon horns), and the protruding fangs of a little devil (actually dragon fangs), and a lance that can double as a microphone stand. Her design doesn't seem to reflect her as a proper Heroic Spirit.
She is a self-appointed "Idol Servant."
Although those around her always see her as being a bit socially awkward, Elizabeth is always serious about perfectly acting as an idol using both mind and body.
She uses the personal pronoun 私 (watashi), and she refers to other people in a derogatory fashion as "pig," "squirrel," "rabbit," and the names of other inferior animals.
Her use of words is generally like that of a noble person, however from time to time she mixes in some slang used by modern high school girls. She says a lot of things that makes it seems like she enjoys tormenting the people around her, but rather than simply being extremely sadistic, she's more of an innocent pure sadist. While BB has fun getting to know the protagonist, Elizabeth doesn't even see her opponents as similarly living beings. (Sadistic behavior is just one way to express love, and her character deviates from the historical version in that she doesn't focus on a "Sadistic desire to kill" but rather "Sadism that's born from love").

Her alignment is chaos and evil.
Outgoing, strong spirited, active.
She values narcissism above all.
High class, yet always with the high horsed idol attitude. She is cruel and cold.
Completely unable to understand the pain of others, she has a mental disorder where only after seeing someone in pain does she recognize "this creature is human."
She may seem sadistic, but to her harming and causing pain to others is no different from breathing.
To Elizabeth, inducing the suffering of humans (who are all lower level creatures than herself) is her duty.
She is an incarnation of nobility, and seriously carries out her responsibility to rule and manage the masses. From this perspective she is very diligent and responsible towards her work.
The problem is that to her, ruling and managing the masses means nothing more than their torture.

              ◆

"I don't give a shit about the Grail and the human race. I wouldn't even care a bit if civilization were completely destroyed. There's only one thing that's important. And that's that I'm more beautiful than anyone else for all of eternity!
You understand, right? Why don't you all go die like the pigs you are? The only thing you could ever be good for is dying so I can bathe in your blood you useless slaves!"

When Elizabeth was alive she was extremely attached to her own beauty, and taking this to the extreme is what brought her to carry out immoral and criminal actions. She would steal away people's daughters, and after plenty of torture, she would slaughter them.
It's said that she bathed in a bath filled to the brim with the blood of young girls as a way to preserve her youth.
To Elizabeth, her own beauty was an undisputed matter of course. In order to preserve her beauty, anything was permitted, no matter how heinous the action may be. Any action carried out to preserve her beauty was just part of the natural way things should be.
Although she is often misunderstood as someone who killed for pleasure, Elizabeth never took pleasure in killing. She was simply driven into a rage by the ugly and inferior bodies of others, and this rage was then beaten into the bodies of her victims.
Trembling in joy and excitement and exclaiming "This is the best!" was something that she only came to know after becoming a Servant, as it is part of her job as a Japan-style idol.
After becoming a Servant, she completely devoted herself to becoming the greatest and strongest idol. Her rival is Red Saber.
Only after Elizabeth became a Servant did she first experience the girlish happiness and fun of having a rival.

One thing to note is that because she had no interest in anything other than her own beauty, sexual knowledge and experience is completely alien to her.
To Elizabeth men are no more than Servants, or a source of money, or sometimes givers of girlish, cute gifts (Although it seems that those who adored her beauty often met a bad end). When it comes down to it men are nothing more than pigs.
On the other hand, as far as Elizabeth in concerned, women are no more than slaves. The women around her were sometimes mothers or lovers, but in the end they were just raw materials to help preserve her beauty. Ultimately, they were like livestock; nothing more than food to sate her appetite.
In CCC the female ego is a main theme, and there we have highlighted "the stubbornness a woman holds about her appearance."
The BBs are focused on the feelings that a girl has for their lover, and the feelings that a perverted devil would direct at the world, but Elizabeth is focused solely on her own happiness. Although Elizabeth is responsible for carrying out cruel physical punishment, she has not once encountered sexual pleasure. This goes to show how pure she is.

Also, like Vlad III, through the skill "Innocent Monster" she is partially transformed into a monster.
Her horns are not the horns of a devil but the horns of a dragon.
Actually part of her body (around her tailbone) is covered in scales. If seen she becomes extremely embarrassed and her face turns bright red, after that the person who saw her scales will face the romantic-comedy like choice of being killed by her or marrying her.
The following is an inside story. Towards the end of CCC Rin talks about how "Lancer's karma is decreasing." However this is not because she has committed any good deeds.
Simply, the actions of Elizabeth (who is working hard for the protagonist) end up saving more people than she killed when she was alive. Her change in karma is due to the judgment of the emotionless Moon Cell. Thus her karma decreases, but at the point when she becomes free, the weight of her sins will remain forever unchanged.

[*TL NOTE: Here if refers to a scenario or character development that is alternate to the main storyline or something that is non-canon. Typically done as fanservice. "What if..."]

エリザベート【サーヴァント】
CCCで登場するifランサー。
召喚マスターはランルーくん。
ランルーくんの元のサーヴァントが彼女だったのか、CCCが起きた事(始まりの昇降口以降の分岐)で黒ランサーに変更されたのかは分からない。
ただ、BBが存在してしまう歴史においては、ランルーくんのサーヴァントはヴラド三世ではなくこの少女となる事だけは確定している。
真名は大量拷問殺人で史実に残る女性、エリザベート・バートリー。
サーヴァントは全盛期の姿で召喚されるため、このエリザベートは彼女にとってもっとも美しかった頃……結婚前の十四歳の肉体と人間性……の英霊として召喚されている。
彼女にあるものは結婚前までの恋を夢見る恋愛脳と、悪魔として投獄され、死に絶える寸前の悪夢の記憶しかない。そのため、貴族令嬢としての在り方と、悪夢に冒された狂気が混同している。
サイバーゴスロリなブリブリのドレス、
背徳的な悪魔の角(実は竜の角)、
小悪魔的の八重歯(実は竜の牙)、
マイクスタンド機能を持つ槍、
と、まともな英霊には見えないデザイン。
自称・アイドルのサーヴァント。
まわりは痛い子を見る眼差しだが、エリザベート自身は本気かつ真剣、全身全霊でアイドルを演じている。
一人称は私。三人称はブタ、リス、ウサギ、等、下等動物になざらえた蔑称。
言葉遣いは貴族めいたものだが、ところどころに現代女子高生めいたスラングがまざる。
相手をいたぶって楽しんでいるような台詞回しが多いが、エリザはドSというより真性かつ純粋無垢なサド。主人公をなじって楽しんでいるのはBBで、エリザベートは相手を同じ生き物として見ていないからだ。
(ドSという言葉は愛情表現の一種で、『殺すための嗜虐』を『愛情からの嗜虐』に切り替えたものと思われる)

性質は混沌・悪。
外向的、強気、能動的。
自己愛こそ最高の価値観とする少女。
高貴だけど高飛車なアイドルで、残忍かつ冷酷。
他人の痛みがまったく分からず、むしろ痛がる他人をみてようやく"この生物は人間だ"と認識できる、精神障害者。
サディスティックに見えるが、彼女にとって『人間を傷つける事』は呼吸をする事と変わらない。
エリザベートにとって、人間(下々のもの)を苦しめる事は義務であり職務だからだ。
彼女は貴族主義の権化でもあるので、民衆を支配・管理する事には真剣にとりくむ。こう見えて、与えられた仕事への責任感が強いのである。
問題なのは、彼女にとって支配・管理とは拷問に他ならない、という事なのだが。

              ◆

「聖杯も人類も私の知ったコトじゃないわ。
文明なんて滅びても一向に構わないし。大事なコトは一つだけ。私だけが永久に、誰よりも美しい女でなくちゃいけないの!
だから───ねえ?みんな、ブタのように死になさい?その血を私に浴びせる程度しか、役に立たない奴隷なんだから!」

生前のエリザベートは自分の美しさに執心し、これを保つためにあらゆる背徳・犯罪行為を行った。
領民たちから娘を取り上げ、これを拷問のすえ惨殺。若さを保つ美容法として、浴槽を少女たちの血で満たしたと言われている。
彼女にとって自身の美しさは『当然』のもの。それを保つための行為は、どのようなものであれ自然だったのだろう。
快楽殺人者として誤解されがちなエリザベートだが、彼女は殺人行為に快楽を感じた事はない。いつも醜く劣化していく体に怒りを覚え、その怒りを領民に叩きつけていた。
彼女が「これ最高!」と悦びにうち震えたのは、サーヴァント化してから知った『日本のアイドル』というジョブである。
以後、彼女は最強のアイドルになるため日夜研讃している。ライバルは赤セイバー。
エリザベートはサーヴァントになって、はじめて『少女らしい喜びとライバル』を見いだした。
一方、自分の美しさにしか関心がなかったため、実のところ性知識や体験にものすごく疎い。
エリザベートにとって『男』とはかしずくもの、貢ぐもの、時に可愛らしいもの(エリザベートの美しさに心酔し、破滅する様が)で、つまるところはブタである。
同時に『女』は奴隷であり、時に母であり恋人であり、自分の美しさを保つ材料。つまるところは食い物である。
CCCでは女性のエゴが描かれるが、その中で『自分の容姿に固執する面』を受け持っている。
BBたちが恋人に向ける感情、
工口魔人が世界に向ける感情だとすると、
エリザベートはひたすら自分だけの幸福を求めている。肉体的に残酷な行為もエリザベート担当だが、性的な喜びに関しては一切触れていない事が、彼女の純潔っぷりを現している。

また、ヴラド三世と同じく、スキル・無皐の怪物によって怪物化が進んでいる。
角も悪魔の角ではなくドラゴンの角だ。
実は体の一部(尾てい骨あたり)に鱗があって、見られると本人は恥ずかしさのあまり赤面、パニックの後に見た者を殺すか結婚するしかないようなラブコメ展開になると誰かが得をする。
ここから裏話。CCC終盤で凛が「ランサーのカルマが減ってる」と話すが、アレは何も善行を行ったからではない。
単に、主人公に協力したエリザベートの行為によって救われた人類の数が、生前の彼女が殺害した人間の数を上回ったからである。感情のないムーンセルらしい判定だ。
なのでカルマが減り、自由になったところでエリザベートが負う罪の重さは永遠に変わらない。

↑

Strange Tail Girl introductory profile