Nasuverse character
Lancer
Japanese name:
ランサー
Also known as:
Divine Spear Li
Demon Fist Master
Franchise:
Fate
Appears in:
Fate/Grand Order
Koha-Ace
Character type:
Servant (Master: Caren Kotomine)
Servant classes:
Gender:
Male
Height:
166cm[1]
Weight:
60kg[1]
Lancer (ランサー, Ransā?) is the Lancer-class Servant of Caren Kotomine in the Strange Tales of the Imperial Holy Grail of Koha-Ace.
Lancer's True Name is Li Shuwen (李書文, Ri Shobun?), a legendary martial artist from China who, despite born in modern times, carved many legends.[2][3] A Chinese martial artist from Yanshan County, Hebei - Cangzhou (1864~1934).[2] Having been born in the deathbed of the Qing Dynasty, Li Shuwen distinguished himself soon after beginning to take lessons in Bājíquán, ascending to the point of being extolled as the strongest in the history of Chinese martial arts.[3] A prominent martial artist in the history of Chinese martial arts, renowned as "a second strike is needless, so long there is one it will suffice". Otherwise he is known as Demon Fist Master (魔拳士, ?) of the Bājíquán.[4] Rather than learning 1,000 techniques, he personified a literal one-hit kill by thoroughly polishing up a single technique.[3]
The progenitor of the Li clan's branch of Bājí, Li Shuwen excelled in the use of spear to the point of being nicknamed "Divine Spear Li" (神槍李, Kamisō Ri?).[4][3] The "Six Harmony Great Spear" that he used was a basic weapon of the Bājí-branch and, if one is to accept this extreme logic, it can be said that the unarmed techniques of the Bājí-branch (the Bājíquán) are nothing but preliminary steps to learn the techniques of this great spear.[4]
It is said he have brought too much hatred due to killing too many opponents and finally had his life ended by being served poison from the victims relatives.[4]
Appearance
Edit
Personality
Edit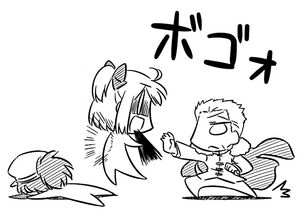 Fate/KOHA-ACE
Edit
Lancer appears alongside his master, Caren. They are the first Master/Servant pair to encounter Berserker as he rampaged through Demon Archer's compound. While initially landing a seemingly mortal blow against Berserker, his armour allowed him to recover from the damage, and activating his Noble Phantasm, Boneless Man, he caught Lancer off guard before being attacked from behind by Sakura Saber.
Abilities
Edit
References
Edit
↑ 1.00 1.01 1.02 1.03 1.04 1.05 1.06 1.07 1.08 1.09 1.10 1.11 1.12 1.13 1.14 1.15 1.16

Koha-Ace Servant Sheets

↑ 2.0 2.1

[] Fate/EXTRA material - Encyclopedia: Assassin [Servant], p.154-155 [T]

Assassin [Servant]
He is an assassin that melts into the shadows. Julius is his Master.
His true name is Li Shuwen.
Li was a prominent Chinese martial artist who lived from 1864 to 1934, and was feared for prowess in battle, "Li Shuwen needs no second strike, as long as he lands one blow it will more than suffice."
He became known as the Demon Fist Master for casually ending the lives of those he defeated in martial art matches. In EXTRA, he stands out from the other Assassin class Heroic Spirits because of his unique skill "Presence Concealment" which he uses to impede the protagonist as an invisible assassin.
While cold-hearted and able to kill without reserve, he is not someone who takes pleasure in killing.

"When I encounter another warrior, one of us will die. A fight is not something that can be taken lightly; it is something upon which both parties have staked their beliefs. Therefore it is not something that should be approached in a casual way. Also, after a fight has begun, it must always result in the death of one combatant."

This is the principle which governs Assassin in Fate/Extra.
He is extremely logical and fair, and it would seem that this is what he believes a fight to be.
His Master, Julius, also makes his living by stealing the lives of others. Their compatibility is good.
Julius was originally a contract killer, and Assassin was originally a professional martial artist, so their opinions clash on a fundamental level. Julius just thinks of killing as all in a day's work, while Assassin greatly enjoyed the prime of his life when he could often fight to the death.
Assassin is not a maniacal killer, but if things come to a fight, he figures he might as well have fun.
Assassin would heartily laugh and say that without such an attitude it would be impossible to truly hone oneself as a warrior. Julius replied seriously "...really?"

              ◆

Li Shuwen belongs to the Assassin class, however only when using a lance can his true ability be drawn out to the fullest.
He is the founder of a branch of Bājíquán named Eight Extremities Gate, and he excelled in the use of spears to the point of being nicknamed Divine Spear Li. The Six Harmony Great Spear that he used is the basic weapon of Eight Extremities Gate, and to speak strongly, it can be said that the unarmed techniques of the Eight Extremities Gate are nothing but the preliminary step to learning the techniques of this great spear.
Simply (but not purely) Li desired nothing more than to increase his own strength. In his later years he came to see the power of his values and way of life as his strength, rather than violence.
He acknowledges that he is a closer to being a professional killer than a martial artist, but this is neither a self-depreciation nor a boast.
Given that he often learned, often fought and often murdered in his previous life, he really does not carry any regrets or grudges.
Since he was summoned as a Servant, he swings his wicked fists as the concealed weapons of his Master Julius without hesitation. For the time being he has taken up the role of Assassin for the sake of compatibility with Julius, though originally his Servant class was supposed to be Lancer. As Lancer he would have probably appeared as a grizzled master, the figure of his later years.

アサシン【サーヴァント】
姿なき暗殺堵。マスターはユリウス。
その真名は李書文。
1864〜1934年に生きた人物で、
「李書文に二の打ち要らず、一つあれば事足りる」
と恐れられた、中国拳法史史上、有数の拳法家。
試合の末、たやすく命を奪うことから「凶拳李」とも呼ばれたという。
ゲーム本編では他のアサシンたちとは一線を画す"気配遮断"を発揮、見えない暗殺者として主人公の前に立ちふさがった。
対手を殺す事に何の抵抗もない冷酷な人だが、殺人鬼や殺人快楽症ではない。

「武を交えるのならどちらかは死ぬ。戦いどは気安いものではなく、互いの信念をかけたもの。故に、おいそれと始めるものではなく、また、始めたからには必ず、一戦にて一人は殺すべし」

それがEXTRAにおけるアサシンの信条である。
彼は極めて合理的かつ公正に、戦いとはそういうものと捉えているのだろう。
マスターであるユリウスも人命を奪う事を生業とする男なので、マスターとの相性はいい。
もっともユリウスは殺し屋でありアサシンは武人なため、根本的なところで話が噛み合わない。
ユリウスは職業として殺しを呑みこみ、
アサシンは武人として殺し合いの日々を良しとしている。
殺人鬼ではないが、いざ戦うのならこれを楽しむ。
そうでなければとても武など極められまい、と豪快に笑うアサシンに、ユリウスは「……そういうものか」と生真面目に返すのだった。

              ◆

李書文はアサシンのクラスではあるが、その戦闘力がもっとも高まるのは槍を扱う時だ。
李氏八極門の祖である李書文は、神槍李とあだ名されるほどに槍に長けた人物だった。
彼の使った六合大槍は、八極門の基本的な武器であり、極論して良いならば八極門の素手の技法(八極拳) のほとんどはこの六合大槍の技法を学ぶための前段階に過ぎないとさえいえる。

単純に(純粋に、ではない)自身の強さのみを求めた李書文だが、晩年は暴力の強さではなく、自身の生き方、信念の強さに武を見いだした。
自身を拳法家というより殺し屋のたぐいと自認しているが、それを卑下する事も、誇る事もない。
生前は善く学び、善く戦い、善く殺めたので、無念や怨念はまったく持っていない。
サーヴァントとして召還されてからは主であるユリウスの暗器として、ためらいなく凶拳を振るった。
今回はユリウスに合わせてアサシンになったが、彼の本領はランサーにある。その時は晩年の、老熟した達人の姿で現れる事だろう。

↑ 3.0 3.1 3.2 3.3

[] Fate/Grand Order - Lancer Profile [T]

Li Shuwen - Lancer

Illustrator and Voice actor
Illustrator: Arco Wada
Voice Actor: Yasui Kunihiko

Parameters
Strength: B
Endurance: A
Agility: D
Mana: C
Luck: C
Noble Phantasm: B

Personal Skills
Chinese Martial Arts: A+++
Sphere Boundary: B
Juezhao: B

Class Skills
Magic Resistance: D

Noble Phantasm
Shen Qiang Wu Er Da: Divine Spear, No Second Strike
Rank: -
Type: Anti-Unit

Profile
Li Shuwen with his heydays body, summoned as a Lancer.
A legendary martial artist from China who, despite born in modern times, carved many legends.
He is of course famous as a master of baji quan, but the exquisiteness of his spear-wielding is to the point of being extolled as "Divine Spear".

Level 1 Bond
Height/Weight: 166cm・60kg
Source: Historical fact
Region: China
Alignment: Neutral Evil  Gender: Male
Even upon being summoned as a Lancer, there is no special changes in his basic performance.

Level 2 Bond


Chinese Martial Arts (Liu He Da Qiang): A+++


A Chinese rationality. A count of how much one has mastered the martial arts that made becoming one with the universe its objective.
The degree of difficulty for learning this is of the highest level and, unlike other Skills, A Rank is finally at a level one can say to have "learned it".
Upon reaching +++, one is a expert among experts.
While summoned as a Lancer, he has mastered the baji quan - including spearmanship.

Level 3 Bond
Having been born in the deathbed of the Qing Dynasty, at Cangzhou, Li Shuwen distinguished himself soon after beginning to take lessons in baji quan, ascending to the point of being extolled as the strongest in the history of Chinese martial arts.

Rather than learning 1,000 techniques, he personified a literal one-hit kill by thoroughly polishing up a single technique.

Level 4 Bond
"Divine Spear Needs No Second Strike"
Rank: -  Type: Anti-Unit
Range: 2~5  Maximum Targets: 1 person
Shen Qiang Wu Er Da.
Similarly to "Tsubame Gaeshi" and "Wu Er Da", a technical skill perfected to the point of being sublimated as a Noble Phantasm.
Its effects are the same as the "Wu Er Da" from when he is an Assassin, but the range was broadened by holding a spear. One can guess that the precision of movements is also no different from when unarmed.

Level 5 Bond
The Classes which Li Shuwen corresponds to are Lancer, Berserker and Assassin.
Furthermore, there are also precedents of Li Shuwen being summoned as an "elder".
The golden age of his body has naturally his younger days as standard, but it is possible to conjecture that his martial arts reached its golden age when he approached old age. Just like a younger Li Shuwen can be summoned as an Assassin, there are also cases of an elder Li Shuwen being summoned as a Lancer.

Interlude


李書文 - ランサー

イラストレーター・声優
ILLUST:ワダアルコ
CV:安井邦彦

パラメータ
筋力:B
耐力:C
敏捷:A
魔力:E
幸運:E
宝具:

保有スキル
中国武術(六合大槍) A+++
圏境 B
絶招 B

クラス別能力
対魔力 D

宝具
神槍无二打
ランク:-
種別:対人宝具

キャラクター詳細
ランサーとして召喚された、肉体が全盛期の李書文。
近代の生まれでありながら、数々の伝説を刻んだ中国の伝説的武術家。
八極拳の使い手としてももちろん名高いが、槍技の精妙さは「神槍」として讃えられたほどの腕前。

アンロック条件:絆レベルを1にすると開放
身長/体重:166cm・60kg
出典:史実
地域:中国
属性:中立・悪   性別:男性
ランサーとして召喚されても基本性能は特に変わりない。

アンロック条件:絆レベルを2にすると開放
○中国武術(六合大槍):A+++
中華の合理。宇宙と一体になる事を目的とした武術をどれだけ極めたかの値。
修得の難易度は最高レベルで、他のスキルと違い、Aでようやく"修得した"と言えるレベル。
+++ともなれば達人の中の達人。
ランサーとして召喚されているが、槍術含めて八極拳を極めている。

アンロック条件:絆レベルを3にすると開放
清朝末期、滄州に生まれた李書文は八極拳を習い始めるとたちまち頭角を表し、拳法史史上でも最強と謳われるまで上り詰めた。
  
千の技を学ぶより一の技を徹底的に磨き上げることで、文字通りの一撃必殺を体現した。

アンロック条件:絆レベルを4にすると開放
『神槍无二打』
ランク:なし   種別:対人宝具
レンジ:2~5   最大補足:1人
しんそうにのうちいらず。
『燕返し』または『无二打』同様に宝具として昇華されるまでに極まった術技。
効果はアサシン召喚時の『无二打』と同じだが、槍を持つ分レンジが幅広い。精密動作性も素手とさして変わらないと推測される。

アンロック条件:絆レベルを5にすると開放
李書文に該当するクラスはランサー、バーサーカー、そしてアサシン。
そして、李書文はまた「老人」として召喚される事例も存在する。
肉体の全盛期は当然、青年時代を基準とするが、彼の武術が全盛期を迎えたのは老境に差し掛かった頃だから、と推測されている。
青年時の李書文がアサシンとして召喚されることもあれば、老人の李書文がランサーとして召喚される例もある。

アンロック条件:「???」をクリアすると開放
???

↑ 4.0 4.1 4.2 4.3

[] Fate/Extra - Assassin Matrix [T]

Class: Assassin
Master: Julius Harway
True Name: Li Shuwen
Noble Phantasm: No Second Strike
Keyword: A second strike isn't needed, Obfuscation
Strength: B, Defense: C, Agility: A, Magic: E, Luck: E
Obfuscation: -, Liuhe Quan: A+++, Concealment: A

Kewords

01 - No Second Strike
Li Shuwen's blows are almost always fatal, whether he throws a hard blow designed to kill or a simple feint to draw his opponent into an attack. A saying that has managed to survive the passing of years is, "For Li Shuwen, a second strike is needless." It is this saying from which his Noble Phantasm get its name.

To be accurate, this isn't a Noble Phantasm in the traditional sense of term. Rather, it is the ultimate expressions of the true power possible by mastering the martial arts. Li Shuwen is considered to be one of the very few to have gained total mastery over his style, and in fact was believed to have transcended the need for physical attacks, instead defeating his opponents by engulfing them in Chi.

There is much debate as to whether Li Shuwen actually uses his Chi to defeat his opponents, although the very few who have managed to survive a confrontation with him report suffering all of the effects associated with this attack, such as obscured senses, heightened state of paranoia, and the feeling that their nervous system was under almost unendurable strain.

02 - A second strike isn't needed
This was the second name given to one of the strongest practitioners of kung fu in Bajiquan history. Considered to be the ultimate master of Bajiquan, it is said that this person was able to take the life of his opponents with a single gentle touch.

03 - Obfuscation
A skill used to completely conceal one's presence.

Although this ability allows the user to become almost completely invisible, the sheer amount of magical energy required almost screams out that some form of thaumaturgy is being used. Should this person's opponent be a skilled magus, their presence would be noticeable in some extrasensory fashion.

There is a way to achieve this state of being without the use of any kind of magical aid and using only the abilities inherent within one's own physical form, but the level of concentration required is far beyond what humans are capable of.

01 - 无二打
李書文の剛打は、牽制やフェイントの為に放ったはずの一撃ですら敵の命を奪うに足るものであった。
「李書文に二の打ち要らず(神槍无二打)」
无二打は、そんな彼の称号がカタチになったものである。

明確に言うと宝具ではなく、武術の真髄。
李書文は達人であり、その勁力が優れているのは言うまでもないが、それ以上に重要なのが相手を「気で呑む」事を実践していたことにあると考えられる。
一説によると、李書文は拳の破壊力だけで相手を倒してはいないらしい。
彼によって絶命せしめられた者たちのほとんどは内臓の破壊ではなく、現在で言うところのショック死状態であったと伝えられる。

「気で呑む」技法は、技法としては固定された名称がなく、わずかに仙道修行の周天行における空周天に酷似した発想があるのみである。
周天行とは気(エネルギー)を心身に巡らせ、それによって全身を活性化した上で気を共鳴・増幅して養っていく鍛錬法の一種。
そのひとつの到達点が全身を気で満たすものであり、また、周囲の空間に自身の気を満たす事にある。

李書文はこの行法によって相手を「気で呑む」、つまり自身の気で満ちた空間を形成することで完全に自分のテリトリーを作っていたのではないか、と考察される。
「気で呑まれた者」は、一部の感覚が眩惑され、緊張状態となり、この状態で相手の神経に直接衝撃を打ち込んだ場合、迷走神経反射によって心臓は停止する。

即ち、ショック死である。

02 - 二の打ち要らず
中国拳法史上、最強の一人と名高い拳法家に贈られた二つ名。
この称号を贈られた拳法家は八極拳の使い手であり、仕合において、どのような軽い手であれ、触れれば相手の命を奪ったという。

03 - 気配遮断
姿を隠して行動するスキル。
その究極として透明化があるが、これは多大な魔力を使用するため"魔術が使われている"気配を残してしまう。
よって、敵対者が優れた術者である場合、
「姿は見えないが何者かが細工をしている」
と感知されてしまうのだ。

魔術にたよらず、自らの体術のみで行う透明化。
それはもはや人間の域とは呼べない魔技である。

Skills

Obfuscation [-]
While a common skill of all Servants of the Assassin Class, the level to which he is able to almost completely obscure his presence goes far above the limits normally associated with this ability.

Liuhe Quan [A+++]
A Chinese meditiative ideal. It is a belief that true mastery of martial arts comes not through training, but acceptance. As this technique is extremely difficult to understand, let alone master, it is only when achieving the rank A that one is thought to have actually begun to learn. Those with ranks exceeding A are considered true masters of the arts.

Concealment [A]
A technique in which one uses their Chi to blend in with the whole of their surroundings. For masters of the ability, it is possible for them to truly become one with the world and have their very forms seem to become invisible.

気配遮断[-]:
アサシンのクラスが持つ共通のスキルだが、このサーヴァントが持つ気配遮断スキルはそれらのどれにも該当しない。

中国武術[A+++]:
中華の合理。宇宙と一体になることを目的とした武術をどれほど極めたかの値。拾得の難易度は最高レベルで、ほかのスキルとは違い、Aでようやく"修得した"と言えるレベル。+++となれば達人中の達人。

圏境[A]:
気を使い、周囲の状況を感知し、また、自らの存在を消失させる技法。極めたものは天地と合一し、その姿を自然に透けこませる事すら可能となる。

Details

01 - Character Background
Li Shuwen (1864-1934)

A Chinese martial arts master from Yanshan County, Hebei-Cangzhou. One of the foremost practitioners of the style of the style known as Bajiquan, he was so powerful that many remarked that with him, "a second strike is needless as long a single blow will suffice."

In addition to his skills in hand-to-hand combat, he was also supremely talented in the use of the spear, so much so that he earned the name "Divine Spear Li." His occasional us of this weapon sometimes causes his opponents to mistakenly classify him as a Lancer. While this wouldn't normally be entirely incorrect, due to his Master's desire for a stealthy Servant capable of killing from the shadows, the traits more associated with the Assassin class have come to the fore.

On a final note, since his ability to become invisible is based on his natural abilities and not on any form of thaumaturgy, he is all but undetectable to the vast majority of magi or anyone dependent on magic.

02 - "Master of the Demonic Fist"
Li Shuwen, Master of the Demon Fist.

One of the few undisputed masters of martial arts, he maintains a delicate balance between the innate goodness and inherent evil found in all men. He fell victim to poison after earning the undying hatred of the countless families of those he had killed.

As a Servant, the balance he maintained in life has slipped slightly, but he still values rationality greatly. While he does not see much difference between good and evil, he will react with disgust and utter contempt for those who stray from rational thinking. And for those who allow what Christians call "The Seven Deadly Sins" to overwhelm their lives, he brings swift and inevitable death.

Although he was known as a deadly fighter throughout his life, in his later years he discovered that true power lay not in the strength of his fists, but in the strength of his convictions. He spent the remainder of his life following valor, not violence.

He freely acknowledge that in his current incarnation he is nothing more than a professional killer, but does so without bitterness or regret. And although he uses his power as Julius directs, could it be that...?

01 - 人物背景:
李書文。1864~1934年。
河北省滄州市塩山県出身の中国武術家。
「二の打ち要らず、一つあれば事足りる」と謳われる、中国拳法史上、有数の拳法家。

李氏八極門の祖である李書文は、"神槍李"とあだ名されるほど槍に長けた人物であったとされている。
彼の使った六合大槍は、八極門の基本的な武器であり、極論して良いならば八極門の素手の技法(八極拳)のほとんどはこの六合大槍の技法を学ぶための前段階に過ぎないとさえいえる。
本来なら彼のクラスはランサーだが、その場合、晩年の姿として現れる。
マスターであるユリウスとの相性から若く猛々しい李書文が望まれ、アサシンとして現れたと思われる。

また、余談ではあるが彼の透明化は圏境による瞑想の極意である。
何の魔術も使わない透明化である為、魔術理論に生きる者たちにとっては"絶対に感知できない"達人の技だ。
……加えて余談ではあるが、かつて地上には李書文同様、何の魔術も使わず人の業のみで分身を自在とした剣士がいたらしい。
その秘剣の名は燕返し。
奇しくも、アサシンのクラスによる魔技であった。

02 - 『魔拳士』
魔拳士・李書文。
基本、義を通す善性だが、悪もまた良しとする武芸者。
あまりに多くの対手を殺めた事で多くの憎しみを買い、最後は毒を盛られて命を終えたという。

              ◆

サーヴァントとしての書文はその道徳性こと一般常識から逸脱していたが、人間性そのものは合理性を重んじる"良識人"である。

正義も悪もそう大差はないが、某(なにがし)の行いが合理に損なっている…無駄が多い…のなら、某(なにがし)に対して露骨な嫌悪を向けるのである。
この某(なにがし)が巨利をむさぼる悪党であった場合、そして某(なにがし)の被害にあっている者からの懇願があった場合、李書文は"縁が出来たな"として某(なにがし)と対峙し、結果として殺害する。

一見、義侠の徒に見える行為だが、中華における義侠とは『情をもって剣を取る』なので、彼の考えは真逆にあたる。李書文の性格、合理性はむしろ現代人のそれに近いものだったようだ。

単純に(純粋に、ではない)強さのみを求めた李書文だが、晩年は暴力の強さではなく、自身の生き方、信念の強さに武を見いだしたと言われる。

自身を拳法家というより殺し屋のたぐいと自認しているが、それを卑下する事も、誇る事もない。
生前は善(よ)く学び、善(よ)く戦い、善(よ)く殺めたので、無念や怨念はまったく持っていない。
サーヴァントとして召還されてからは主であるユリウスの暗器として、ためらいなくその凶拳を振るったが……?
Ad blocker interference detected!
Wikia is a free-to-use site that makes money from advertising. We have a modified experience for viewers using ad blockers

Wikia is not accessible if you've made further modifications. Remove the custom ad blocker rule(s) and the page will load as expected.