List of TYPE-MOON media
Talk

0
447pages on
this wiki
This is a list of TYPE-MOON materials by medium.
Drama CDs
Edit
Anthologies
Edit
Material books
Edit
Main article: List of TYPE-MOON material books
Video games
Edit
Visual Novels
Edit
TYPE-MOON in other media
Edit
428: In a Blockaded Shibuya
Edit
428: In a Blockaded Shibuya (428 〜封鎖された渋谷で〜, Yonniihachi: Fūsa Sareta Shibuya de?) is a Wii gaming featuring a special scenario contributed by Kinoko Nasu and Takashi Takeuchi, who wrote and provided character designs for them respectively. It was subsequently announced by Sega that the scenario would be adapted into an anime titled Canaan.[1]
Arad Senki
Edit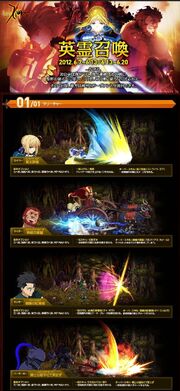 Arad Senki (アラド戦記, Arado Senki?, lit. lit. War Records of Arad) is an online game similar to classic 2D side-scrolling arcade hack and slash games. It features an avatar sets related to Fate/Zero's various Servants and Masters. It also features in-game pets related to the series, and a special Saber costume that even changes the character's voice.

Chevalier Saga Tactics
Edit
Chevalier Saga Tactics is a browser-based strategy title by Imageepoch. In a crossover called "Chevalier Saga Tactics X Fate/EXTRA", it features Saber, Caster, and Archer from Fate/Extra as playable units.[2]

Fantasy Earth: Zero
Edit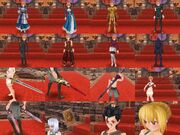 Fantasy Earth: Zero is a Massively multiplayer online game that often features collaborations with other series for character designs, armor, and weapons. They featured a Fate/Zero theme in 2011, allowing players to use coins to spin a Fate roulette wheel that rewarded them with items. Armor included Saber's armor, dress, and suit, Gilgamesh, Lancer, Rider, Berserker, Sola-Ui Nuada-Re Sophia-Ri, and Irisviel von Einzbern. Faces included Saber and Lancer. Weapons included Gae Dearg, Rider's Sword of the Kupriotes, Prelati's Spellbook, Ea, Arondight, and Excalibur.[3]

Lord of Vermillion Re: II
Edit
Lord of Vermilion is an arcade-based collectable card game published by Square-Enix. With Lord of Vermillion Re: II, Aoko Aozaki and Alice Kuonji from Mahou Tsukai no Yoru appear among other guest characters as cards.
Monster Hunter Frontier G
Edit
Monster Hunter Frontier G features a collaboration called 「Fate/stay night」×「MHF-G」. It allows for Saber and Archer's armors and weapons to be utilized.
Nendoroid Generation
Edit
Nendoroid Generation (ねんどろいど じぇねれ~しょん, Nendoroido Jenereshon?) is a PSP RPG based off of Nendoroid figurines. It is a crossover game featuring Fate/stay night, Steins;Gate, Touhou Project, Black Rock Shooter, Haruhi Suzumiya, Magical Girl Lyrical Nanoha, Zero no Tsukaima, and Dog Days. Characters from Fate include Saber, Rin Tohsaka, Sakura Matou, Illyasviel von Einzbern, and Rider.

Nitro Royale: Heroines Duel
Edit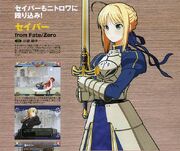 Nitro Royale: Heroines Duel (ニトロ+ロワイヤル -ヒロインズデュエル, ?) is a fighting game released by Nitroplus. It features various characters from Nitroplus visual novels like Demonbane and Saya no Uta. Due to their collaboration with Fate/Zero, Saber appears as a non-playable boss character.

Phantasy Star Portable 2
Edit
Phantasy Star Portable 2 and Phantasy Star Portable 2 Infinity are Action RPGs for the PSP. They features armor and weapons based off of Fate/stay night as downloadable content. The first version included Saber's Knight-King Armor (騎士王の甲冑, ?) and Excalibur and Archer's Akahara Reisou (赤原礼装, ?) and Kansho Bayuka.[4]
Infinity includes Gilgamesh's King of Heroes Armor (英雄王の鎧, ?) and Ea, as a 50% Lightning Sword, and Rin Tohsaka's clothing, Absolute Layer (アブソリュートレイヤー, ?), and Jeweled Sword of Zelretch, as a 50% Light Saber.[5]

Twinkle Crusaders Starlit Brave
Edit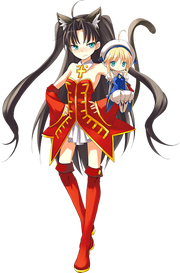 Twinkle Crusaders Starlit Brave (ティンクル☆くるせいだーす Starlit Brave, ?) and Twinkle Crusaders Starlit Brave Xtream!! (ティンクル☆くるせいだーす Starlit Brave Xtream!!, ?) are spin-offs of Twinkle Crusaders that features Magical Girls from various different series as cameos. Rin Tohsaka, as Kaleido-Ruby, and a small familiar version of Saber appear as playable characters.

UNDER NIGHT IN-BIRTH
Edit
UNDER NIGHT IN-BIRTH (アンダーナイト インヴァース, ?) is a fighting game created by French Bread, the creators of the Melty Blood series. Sion Eltnam Atlasia, the main heroine of Melty Blood, makes an appearance as a playable character.

Weiß Schwarz
Edit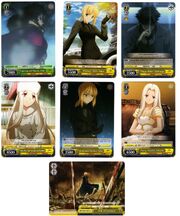 Weiß Schwarz (ヴァイスシュヴァルツ, Vaisu Shuvarutsu?) is a collectible card game created by Bushiroad. The game is separated into Weiß-side and Schwarz-side, German for white and black respectively. The Weiß-side features mostly anime series while the Schwarz-side features mostly visual novels, Japanese RPGs, and similar series. TYPE-MOON related sets of cards include Fate/stay night, Fate/hollow ataraxia, Fate/Zero, and Melty Blood.

Valhalla Knights 3
Edit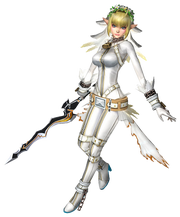 Valhalla Knights 3 is a role-playing-game for the Vita. It feaures Saber's Saber Bride outfit as a free DLC costume.

References
Edit
External links
Edit