Ad blocker interference detected!
Wikia is a free-to-use site that makes money from advertising. We have a modified experience for viewers using ad blockers

Wikia is not accessible if you've made further modifications. Remove the custom ad blocker rule(s) and the page will load as expected.
Magical Amber (マジカルアンバー, ?) is a magical girl parody of Kohaku that is detailed in Character Material. She is used as an "alter-ego" during comedic scenes of Kagetsu Tohya and Melty Blood, and she appears as a playable character in the Fate/tiger colosseum series.
Background
Edit
Appearance
Edit
Personality
Edit
Fate/tiger colosseum Upper
Edit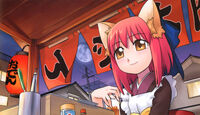 She is a playable character in the Fate/tiger colosseum Upper and she is part of a group called Magical Four Heavenly Kings (マジカル四天王, Majikaru shiten'ō?).

Other Appearance
Edit
Abilities
Edit
Nasu joked about Magical Amber being the strongest character in the Nasuverse.[1]
References
Edit
↑

[] Comptiq 2007-05 issue - Fate Dojo Q & A:
Q: Who's the top three strongest characters?

Q: In Nasu's work (Kara no Kyoukai, Tsukihime, Fate, DDD) Who's the top three strongest characters?

A: Magical Amber, Neco Arc, and Tiger. Well, not really.
Seriously, it's Arcueid, "Ryougi Shiki", and primordial demons.(Not counting Servants)

Q:奈須きのこ作品全部を通して(空の境界、月姫、Fate、DDD)最強キャラトップ3を決めるとしたら誰になりますか?(石川県/聖なるパンダ)

A:マジカルアンバー(ルビーちゃん)。ネコアルク。虎。―――ではなく。
真面目な話なら1.アルクェイド、2."両儀式"、3.原初の悪魔でしょうか。(サーヴァント除く)