Mahou Tsukai no Yoru
Talk

0
447pages on
this wiki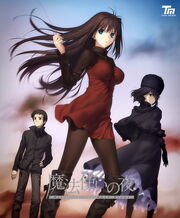 Mahou Tsukai no Yoru
(

魔法使いの夜

,

Mahō Tsukai no Yoru

?

, lit. A Magician's Night)
, officially subtitled as
Witch on the Holy Night
. It features
Aoko Aozaki
as the main character.
Near the end of the Shōwa period, 1989, an old mansion is rumored to be the home of a witch.[1] After moving into the mansion, Aoko Aozaki begins to learn sorcery from a young mage, Alice Kuonji, the rumored witch of the mansion. Unexpectedly, a young boy named Soujuurou Shizuki is drawn to the mansion and comes to reside with them as well.
Characters
Edit
Development
Edit
It began development as a novel written by Kinoko Nasu. In high school, he was inspired by the first episode of Neon Genesis Evangelion and he thought of writing a novel. Nasu wrote roughly 400 pages and he tried to enter it into several writing competitions in 1996 but it was unsuccessful, and the work was merely passed around by his friends. Nasu tried to send the novel to the Fujimi Shobo publisher but he found it difficult to keep it under 350 pages and left the novel unreleased.
After forming TYPE-MOON with Takashi Takeuchi and with the successes of his later visual novel works Tsukihime and Fate/stay night, Takeuchi suggested remaking Mahou Tsukai no Yoru so it could be released before their next planned project Girls' Work. TYPE-MOON announced that it was working on the story as its latest visual novel project, with further details of the project to be published in Type-Moon Ace. Unlike TYPE-MOON's previous games, Mahou Tsukai no Yoru is not an adult game.
Takashi Takeuchi illustrated Aoko, Touko and Alice in the Character Material, though Hirokazu Koyama would be the lead artist in the final product.
The ending theme song to Mahou Tsukai no Yoru is "Hoshi ga Matataku Konna Yoru ni" (星が瞬くこんな夜に?) by Supercell.
Release Date
Edit
It was publicly announced in April 2008 and the game was set to be released sometime in 2009, but after several delays, the game received a September 2010 release date. In September, however, TYPE-MOON announced that the release date has been pushed back to winter 2011, and later to sometime in 2011. A free game demo was made available on December 15, 2011.
It was released on April 12, 2012 and it has since been revealed that there are two sequels in the works.
References
Edit
External links
Edit