Ad blocker interference detected!
Wikia is a free-to-use site that makes money from advertising. We have a modified experience for viewers using ad blockers

Wikia is not accessible if you've made further modifications. Remove the custom ad blocker rule(s) and the page will load as expected.
Meltlilith (メルトリリス, Merutoririsu?) is a High-Servant of BB in Fate/Extra CCC.
Alter Ego S (アルターエゴ S, Arutā Ego S?), whose True Name is Meltlilith, was created by BB as a Heroic Spirit-Complex. Classified as a High-Servant, she was created from BB accessing the Moon Cell's Servant Archive and selecting goddesses compatible with Ego from inside of it. She reproduced their data, and Meltlilith came to existence as a Composite Divinity (複合神性, Fukugō Shinsei?).
She is composed of three goddesses, Artemis, Lotan (リタン, Ritan?), and Saraswati (サラスヴァティー, Sarasuvatī?). The first is the pure virgin goddess Artemis of Greek mythology. She would unfailing shoot through, simultaneously granting disease and death, those who sought to attain the magical power which pulls the tides and causes them to rise, in other words, their link to the moon's movement. The second is the cruciform snake staff which originates from Leviathan, who appears in the Old Testament or maybe Lotan from Ugaritic myths. It is something with the same origin as the staff that Moses used to split the Red Sea, while also acting as a symbol of the sea that that staff split. Its owner will be granted a transformative property like that of water, making it feasible for them to adapt to any situation. Furthermore, their form will be able to change phantasmagorically, and it would even be possible to take the shape of the target of one's envy. The third is the river goddess Saraswati. She holds the ability to control "things that flow," such as natural phenomena, among which is water and wind, music and words, speech, poetry and prose. The timbre that flows from her can excite any emotion in the heart of those who hear it and, moreover, can interfere with the flow of electricity in a computer network.[2]
Appearance
Edit
Meltlilith resembles Sakura Matou and BB but compared to them she has notably slender figure and has indigo hair. Her attire is composed mainly of large cloak with two long sleeves that covered her hands. She accessorizes herself with a blue ribbon, a metal armor on her waist, two belts on her sleeves and one x-shaped on her chest with an emblem. Meltlilith's lower section however, is completely exposed except a code piece which covers her crotch area. Her most prominent features are giant, pointed needles for feet. Her face resembling that of BB is also a trait shared by Sakura Five. She has a Neurological Disorder (神経障害, Shinkei Shōgai?) and in regards to Meltlilith's five senses, her sense of touch has deteriorated. Especially her hands, she's almost completely lost sensation in her fingers and for that reason, she has become proactive in her relationship with the outside world.[2]
Personality
Edit
Meltlilith is the Alter Ego of "End of the pleasure" (快楽の果て, Kairaku no hate?), born out of BB's ego "service requirement" (「奉仕要求」, "hōshi yōkyū"?) and "pleasure" (「快楽」, "kairaku"?). The type of abnormally lovely girl who cannot help but stir up a desire to protect her in men--is what she was, but possibly due to the effect of her skill which allows her to continuously steal her opponent's abilities, she currently possesses a belligerent disposition. Despite how she takes in other people, she doesn't desire understanding or sympathy from them due to the fact that Meltlilith does not understand the feelings of others. Meltlilith does not need other people. She doesn't understand love or dreams. Supposing a situation where she would acquire "LOVE," she would probably dedicate everything to and attend the object of it. To the self-sufficient Meltlilith, the feelings of the object of her affection aren't worth taking into account. She would declare in her oppressive manner that her own feelings are correct. Without any intention of conversing with them (I already love you so much that I don't feel the need for it), without any desire to touch them (that amount of pleasure is already unsatisfactory), she has no intention of telling them that she wants them to love her (that kind of mutual understanding is already unnecessary.) Truly, what a domineering Ego devoted to 'no's and 'not's. Beneath that constant domineering attitude and permanent perch on a high horse, there is not a speck of doubt or hesitation but only overly pure "awakening to love." Meltlilith hasn't noticed. Just what is the true foundation of herself, who is the incarnation of "self-pleasure." What makes up Meltlilith's core is "devotion to the person one has fallen in love with." That she repeatedly raised her level by draining and that she decided to control the Moon Cell is so she can offer supreme pleasure to her loved one. Protecting her loved one → taking her loved one into herself → the herself that she took them into (even if she is completely changed to the point where she doesn't understand herself) will continue to live forever. She has determined that that is the supreme love she will offer to her loved one. Looking at them from Meltlilith's perspective, even BB and Lip are nothing more than "foreign bodies that even I feel that I want to save." However, those feelings are far too closed. To her, who saw only her own feelings as definite, whose connection with the outside world was lacking, "LOVING another person" was itself a fatal bug (defect).
She has a penchant for fighting. It is thought that even her interest in causing others pains ultimately arose "because like this, I'm the only one who cannot feel the existence of other people." This is a digression, but because of the clumsiness of her fingers caused by this, despite her hobby of collecting figures, she cannot immerse herself in assembling Garage kit.[2]
She also loves Hakuno Kishinami regardless of their gender and expresses her love in her own deranged manner. However, if Archer is the female's Servant, she will love him instead.
Fate/Extra CCC
Edit
In Chapter 5, Meltlilith attacked Shinji Matou and became Berserker's new master.
She is the main focus in Chapter 6. 
In CCC route, it is possible to spare Meltlilith by not using SG on her. However, the sentinel is beyond saving as she begins to slowly fade away. Realizing that to be able to love the protagonist (or Archer) is good enough for her, she releases them from the boundary of her heart for them to stop BB. As she is deciding to offer the last of her power to assist Rin and Rani, Kiara prevents her by dissolving her quasi-particles and absorbs her instead. Because of this, Meltlilith, along with Passionlip, BB, and Sakura are able to prevent Kiara from achieving status of True Demon due to their love for the protagonist.
Fate/Extra CCC Fox Tail
Edit
Meltlilith and Passionlip invaded the school and Gawain fought back and things seems at a disadvantage for him. Karna later appears and allies with Gawain to take both Alter Ego. As Passionlip was cut down, Passionlip and Meltlilith combined an attack called "Virgin Razor - Paradise On". Meltlilth attack fails as Gawain's Numeral of the Saint skill was active and Meltlilith was killed by him. She claims her power was restricted and she wasn't able to use her invincibility. As she dies, she wished to meet Hakuno once more.
Other appearances
Edit
In Type-Moon's April Fools' Day 2015, she part of the Imperial Roma talent agency.

Abilities
Edit
Melt Virus (メルトウィルス, Meruto Wirusu?), also known as All Drain (オールドレイン, Ōru Dorein?) is a unique id_es skill that evolved from Absorption (吸収, Kyūshū?) skill. The highest grade of energy drain. Draining, copying, and scaling down are all possible. The drain process has two parts. First the virus poison (honey) that is produced in Meltlilith's body is injected into the target and fuses the Parameters that will be stolen at that time, "experience" (『経験値』, "keikenchi"?), "skills" (『スキル』, "sukiru"?), "capacity" (『容量』, "yōryō"?) etc. After that, she absorbs, converts, and makes a part of herself the parameters that were liquefied by the virus. As long as it as a form, it is possible to drain, regardless of whether it is made of organic matter or inorganic matter, but things without shape... Things such as spiritual nature and skills can be fused, but converting them into "my own things" is difficult, so it seems she can only utilize them as simple nutrients. For this reason, what Meltlilith mainly makes into "my own things" is primarily "experience" and "capacity." Utilizing this ability, Meltlilith plans to augment "my own transcription." She created a transference-type of virus that would melt all the contents of an electronic body and transform them into herself. Initially, she was completely invincible and was level 999. BB removed her invincibility, and her level dropped after absorbing Shinji Matou. Shinji had infected himself with a virus before he was absorbed, which drastically lowered his level and then hers after she absorbed Shinji and his virus.[2]
Sadistic Constitution (加虐待質, Kagyaku Taishitsu?) is a skill that augments one's aggression in battle. It appears to be a positive skill, but the longer its owner stays in battle, the more their abusive disposition will grow, causing them to lose their usual composure. It's possible to say that this is just one step short of the skill that causes Berserkers to go insane. The more one attacks, the stronger one becomes, but on the other hand, one's defensive abilities drop. With the added disadvantage of unconsciously lowering one's chances of escape, it can be said that this is a skill that had bad compatibility with the usually composed Meltlilith.[2]
She has a rank B Riding (騎乗, Kijō?, localized as "Dragoon") ability. As long as it is an animal that exists in reality, even if it is a wild animal, she can ride it. Usually, knight-type Servants, such as Saber or Rider, would have this skill but Meltlilith possesses this skill is something best left to the imagination.[2]
Meltlilith utilizes a fighting style called Crime Ballet (クライム・バレエ, Kuraimu Baree?) that relies on the pointed needles of her legs to inflict damage. The result of Meltlilith, who adores classical ballet, retuning herself: an arrangement of various offensive skills. She came to possess diverse powers by converting already completed stories and stages into skills. However, the lineage of these skills is merely a smokescreen. Crime Ballet points out how Meltlilith has been cheating. In order to make herself invincible, Meltlilith has overwritten a basic rule that the far side of the moon possesses, "the lack of a sense of time" with "the lack of hit detection for Meltlilith." Meltlilith's conduct in selfishly giving herself such a privilege, not by training herself thoroughly, but by altering the rules of the rule, is an exemplary criminal act.[2]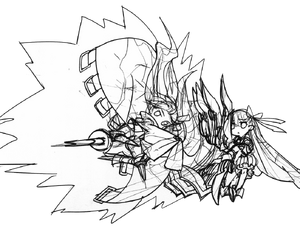 Virgin Razor - Palladion (

ヴァージンレイザー・パラディオン

,

Vājin Reizā - Paradion

?

) - A combination attack with Passionlip. Meltlilith launches as Passionlip throws her towards the enemy.
References
Edit
↑ 1.00 1.01 1.02 1.03 1.04 1.05 1.06 1.07 1.08 1.09 1.10 1.11 1.12 1.13 1.14 1.15 1.16

[] Fate/EXTRA material - SERVANT Parameter and Skills: Alter Ego S, p.023

Alter Ego S


Master: BB

Identity: Meltlilith

Gender: Female

Height, Weight: 190cm/33kg

Alignment:Lawful Good

Strength: A

Endurance: A

Agility: C

Mana: B

Luck: B

Noble Phantasm: A++



Class Skills



Personal Skills


Sadistic Constitution: A

Riding: B



Noble Phantasm


Sarasvati Meltout: Benzaiten's Five-String Biwa


Rank: EX
Type: Anti-World
Range: 1 ~ 999
Maximum number of targets: 1 person

アルターエゴ S


マスター:BB

真名:メルトリリス

性別:女性

身長・体重:190cm/33kg

属性:秩序・善

筋力:E

耐久:C

敏捷:A+

魔力:A

幸運:B

宝具:EX



クラス別筋力
■ メルトウィルス:EX
イデス。スキル『吸収』から進化したチートスキル。
エナジードレインの最上級。ドレインを基本とし、その応用として対象のコピー、スケールダウンなどを可能とする。
カタチさえあれば有機物、無機物、問わずドレインする事が可能だが、カタチのないものを"自分のもの"に変換する事は難しく、単純な養分にする事しかできないようだ。
このため、メルトリリスが"自分のもの"にできるのはおもに『経験値』『容量』がメインとなる。

保有スキル
■ 加虐体質:A
戦闘において、自己の攻撃性にプラス補正がかかるスキル。
プラススキルのように思われがちだが、これを持つ者は戦闘が長引けば長引くほど加虐性を増し、普段の冷静さを失ってしまう。バーサーカー一歩手前の暴走スキルと言える。

■ 騎乗:B
騎乗の才能。
現存する動物なら野生のものであれ乗りこなせる。

宝具
■ 弁財天五弦琵琶
ランク:EX
種別:対界宝具
レンジ:1~999
最大補足:1人
BBがアルターエゴに与えた宝具。本来は対人ではなく対衆、対界宝具。
戦闘や戦士に用いるものではなく、一定の文明を築いた文明圏に用いるもの。
メルトリリスの蜜は肉体だけでなく精神まで甘く溶かす。
この宝具はそのコミュニティーの良識、道徳をとろけさせ、群体のように一体化させてしまう。
そうして身も心も社会もスライム化したものを踏みにじり、吸収するのが本来の力である。非戦闘員に対して絶大な効果を発揮するあたり、メルトリリスのたちの悪さがにじみ出ている。

材料になったものは七福神の一柱であり、宗像三女神、宇賀神などと同一視される女神、弁財天。

↑ 2.00 2.01 2.02 2.03 2.04 2.05 2.06 2.07 2.08 2.09 2.10 2.11 2.12 2.13 2.14 2.15 2.16 2.17 2.18

[] Fate/Extra CCC - Meltlilith Matrix

Class: Alter Ego
Name: Meltlilith
Master: BB
Noble Phantasm: Saraswati Meltout (Benzaiten's Five String Biwa)
Keyword: Crime ballet, composite divinity
Strength: E, Endurance: C, Agility: A+, Magic: A, Luck: B
Constitution of an Abuser: A, Melt Virus: EX, Riding: B

Keywords

01 - Sawarswati Meltout: Benzaiten's Five String Biwa
The Noble Phantasm that BB gave to this Alter Ego.
Originally, it was not an Anti-Unit but an Anti-Group, Anti-World Noble Phantasm. It was not something to be used in combat or by a warrior, but something used by a something in the range of a civilization with an established culture.
Meltlilith's honey sweetly melts not only the body but also the soul. This Noble Phantasm melts the community's good sense and morals and makes it into a single body that resembles a colony.
And so trampling on the body and heart and society that has been turned into slime and absorbing it is its original power.
That it shows an immense effectiveness against non-combatants is Meltlilith's depravity oozing out.
The one used as the ingredient for this is one of the Seven Deities of Good Luck, a goddess of the same rank as the Three Goddesses of Munakata and Ugajin, Benzaiten.
This is the biwa of Benzaiten, who controls "things that flow," such as natural phenomena, among which is water and wind, music and words, speech, poetry and prose, given form as a Noble Phantasm. The source of Benzaiten is the river goddess of Hindu mythology, Saraswati. She was born from the god of creation Brahma, but she was unable to stand the passionate gaze of Brahma, who had come to desire as his consort due to her overwhelming beauty, and desperately ran from him, making her a goddess who is timid when faced with love. Saraswati is a goddess who rules over the arts and education, and as she's come to be worshiped as Benzaiten, she's come to possess the ability to increase property as well.

02 - Crime Ballet
A simple battle style. The result of Meltlilith, who adores classical ballet, retuning herself: an arrangement of various offensive skills. She came to possess diverse powers by converting already completed stories and stages into skills.
Those references are quite diverse. Below is an explanation of them.
"The Name on the Heel is the Cursed Sword Giselle": from the classical ballet "Giselle." Having fallen into despair to being betrayed by her beloved Albrecht, Giselle uses his sword in a frenzied dance, during which she dies. Women who die before marriage become ghosts known as wilis. Giselle becomes one of the wilis, who capture men and dance them to death, but...
"Unforgivable Hilarion": from the classical ballet "Giselle." Hilarion, who deceived Giselle, is caught by the Wilis and comes to pay for this crime. He is not forgiven and without waiting for daybreak, they make him dance in ecstasy until he dies from exhaustion.
"Farewell, Albrecht": from the classical ballet "Giselle." Albrecht is taken prisoner by the wilis but due to one of the wilis saving him, his life is spared. When Albrecht, who was spared from death by exhaustion, raises his face, the form of the girl he most loved disappears like an illusion.
"The Siren Who Burns Entrails": from the classical ballet "The Prodigal Son." A country feudal lord's son, out of admiration for life in the city, runs away. There are many temptations lurking in the city, the most extreme of which is the enchantress, Siren, who corrupts men the wiles she's come to possess from a life of adversity.
However, the lineage of these skills is merely a smokescreen. Crime Ballet points out how Meltlilith has been cheating.
In order to make herself invincible, Meltlilith has overwritten a basic rule that the far side of the moon possesses, "the lack of a sense of time" with "the lack of hit detection for Meltlilith."
Meltlilith's conduct in selfishly giving herself such a privilege, not by training herself thoroughly, but by altering the rules of the rule, is an exemplary criminal act.

03 - Composite Divinity
Alter Egos are High Servants created as complexes of Heroic Spirits.
BB accessed the Moon Cell's Servant Archives, chose goddesses compatible with the Ego from them, and reproduced the data. Alter Egos came into existence as complexes of goddesses.
Meltlilith is made of three goddesses.
The first is the pure virgin goddess Artemis of Greek mythology. She would unfailing shoot through, simultaneously granting disease and death, those who sought to attain the magical power which pulls the tides and causes them to rise, in other words, their link to the moon's movement.
The second is the cruciform snake staff which originates from Leviathan, who appears in the Old Testament or maybe Lotan from Ugaritic myths. It is something with the same origin as the staff that Moses used to split the Red Sea, while also acting as a symbol of the sea that that staff split. Its owner will be granted a transformative property like that of water, making it feasible for them to adapt to any situation. Furthermore, their form will be able to change phantasmagorically, and it would even be possible to take the shape of the target of one's envy.
The third is the river goddess Saraswati. She holds the ability to control "things that flow," such as natural phenomena, among which is water and wind, music and words, speech, poetry and prose. The timbre that flows from her can excite any emotion in the heart of those who hear it and, moreover, can interfere with the flow of electricity in a computer network.

01 - 弁財天五弦琵琶
BBがアルターエゴに与えた宝具。

本来は対人ではなく対象、対界宝具。
戦闘や戦士に用いるものではなく、一定の文明を築いた文明圏に用いるもの。

メルトリリスの蜜は肉体だけでなく精神まで甘く溶かす。
この宝具はそのコミュニティーの良識、道徳をとろけさせ、群体のように一体化させてしまう。

そうして身も心も社会もスライム化したものを踏みにじり、吸収するのが本来の力である。

非戦闘員に対して絶大な効果を発揮するあたり、メルトリリスのたちの悪さがにじみ出ている。

材料になったものは七福神の一柱であり、宗象三女神、宇賀神などと同一される女神、弁財天。

自然現象、中でも水や風、音楽や言葉、弁舌、詩文といった"流れるもの"を操る弁財天の琵琶を宝具としてカタチにしたもの。
弁財天の源流はインド神話の河の女神サラスヴァティーである。
彼女は創造神ブラフマーによって生み出されたが、あまりの美しさに自らの伴侶にと望むブラフマーの熱烈な視線に耐えきれず、必死に逃れようとした経緯がある、愛の臆病な女神である。
サラスヴァティーは芸術や学問を司る女神であり、弁財天として崇拝されるようになってからは財物の増進にも権能を持つようになった

02 - クライム・バレエ
単なるバトルスタイル。
クラシックバレエに傾倒するメルトリリスが自らを再調整した結果、成立した攻撃スキルの数々。
元から完成された物語・舞台をスキルに変換する事で多彩な能力を持つにいたった。

その引用は多岐にわたる。衣かはその解説とする。

『踵の名は魔剣ジゼル』クラシックバレエ「ジゼル」より。
恋したアルブレヒトの裏切りから絶望し、ジゼルは彼の剣を使った狂乱の踊りの中で息絶えた。
結婚を前にして死んだ女はウィリと呼ばれる亡霊になる。
ジゼルは男を捕まえては踊り殺すウィリの一員となるのだが…

『許されぬヒラリオン』クラシックバレエ「ジゼル」より。
ジゼルを騙したヒラリオンはウィリに囚われ、その罪を清算する事になる。彼は許されず、明け方を待たずして踊り狂い、衰弱死した。

『さよならアルブレヒト』クラシックバレエ「ジゼル」より。
ウィリに囚われたアルブレヒトだが、ひとりのウィリの助けにより一命を取り留める。
衰弱死を逸れたアルブレヒトがその顔をあげた時、最愛の少女の姿は幻のように消えていた。

『臓腑を焼くセイレーン』クラシックバレエ「放蕩息子」より。
田舎領主の息子は都会での暮らしに憧れて出奔。
街では多くの誘惑が待っており、その最たるものが百戦錬磨の手管で男を墜落させる妖婦セイレーンだった。

しかし、これらのスキル系統は目くらましにすぎない。
クライムバレエはメルトリリスの行った不正行為を指す。

メルトリリスは自らを無敵にするため、月の裏側における基本ルール『時間感覚の喪失』を『メルトリリスの当たり判定の喪失』に書き換えていた。

自分を鍛え上げるのではなく、世界のルールを変えて特権をほしいままにしたメルトリリスの行為は犯罪行為そのものだ。

03 - 複合神性
アルターエゴは英霊複合体として創造されたハイ・サーヴァントである。

BBはムーンセルのサーヴァントアーカイブにアクセスし、その中からエゴと適合する女神を選び、データを再現。
アルターエゴを女神の複合体として成立させた。

メルトリリスに組みこまれた女神は三体。

一神目はギリシアにおける純潔の処女女神アルテミス。
潮の満ち引き、すなわち月の運行と連動しており、その魔力を受けて狙った者を必ず射抜くと同時に、疫病と死をもたらす。

二神目は旧約聖書に登場するレヴィアタン、あるいはウガリット神話のリタンに由来する、蛇十字 の杖。
紅海を割ったモーセの杖と同根の存在であり、同時にその杖によって割られた海そのものの象徴でもある。
持つ者に水のごとく変化する性質を与え、どのような状況にも順応可能とする。さらに変幻自在にその姿を変え、自らが嫉妬する者の姿となる事もできるとされた。

三神目はインドにおける河の女神サラスヴァティー。
自然現象、中でも水や風、音楽や言葉、弁舌、詩文といった"流れるもの"を操る能力を持つ。
そこから流れる音色は、聞く者の心に任意の感情うぃ沸き立たせ、さらにコンピュータネットワークなどの電子の流れにも干渉する。

Skills

01 - Constitution of an Abuser [A]
A skill that augments one's aggression in battle. It appears to be a positive skill, but the longer its owner stays in battle, the more their abusive disposition will grow, causing them to lose their usual composure. It's possible to say that this is just one step short of the skill that causes Berserkers to go insane.
The more one attacks, the stronger one becomes, but on the other hand, one's defensive abilities drop. With the added disadvantage of unconsciously lowering one's chances of escape, it can be said that this is a skill that had bad compatibility with the usually composed Meltlilith.

02 - Melt Virus [EX]
A unique power, called id_es, that the Alter Egos possess from their creation.
A skill that evolved from "Absorption." The highest grade of energy drain. Draining, copying, and scaling down are all possible.
The drain process has two parts. First the virus poison (honey) that is produced in Meltlilith's body is injected into the target and fuses the parameters that will be stolen at that time, "experience," "skills," "capacity," etc. After that, she absorbs, converts, and makes a part of herself the parameters that were liquified by the virus.
As long as it as a form, it is possible to drain, regardless of whether it is made of organic matter or inorganic matter, but things without shape...
Things such as spiritual nature and skills can be fused, but converting them into "my own things" is difficult, so it seems she can only utilize them as simple nutrients.
For this reason, what Meltlilith mainly makes into "my own things" is primarily "experience" and "capacity."
Utilizing this ability, Meltlilith plans to augment "my own transcription." She created a transference-type of virus that would melt all the contents of an electronic body and transform them into herself... Meltlilith.

03 - Riding [B]
Riding ability. As long as it is an animal that exists in reality, even if it is a wild animal, she can ride it. Usually, knight-type Servants, such as Saber or Rider, would have this skill but...
Why Meltlilith possesses this skill is something best left to the imagination.

01 - 加虐待質 [A]
戦闘において、自己の攻撃性にプラス補正がかかるスキル。
プラススキルのように思われがちだが、これを持つ者は戦闘が長引けば長引くほど加虐性を増し、普段の冷静さを失ってしまう。
バーサーカー一歩手前の暴走スキルと言える。

攻めれば攻めるほど強くなるが、反面、防御力が低下してしまう。
無意識のうちに逃走率が下がってしまうマイナス面もあり、普段冷静なメルトリリスにとては相性の悪いスキルと言える。

02 - メルトウィルス [EX]
id_esと呼ばれる、アルターエゴたちが生まれながらに持つ特殊能力。
スキル『吸収』から進化したチートスキル。
エナジードレインの最上級。
ドレイン、コピー、スケールダウンなどを可能とする。

ドレイン成立には二工程ありまずメルトリリスの体内で生成されるウィルスを蜜として対象に注入し、『経験値』『スキル』『容量』等の、その時に奪うパラメーターを融解させる。
その後、ウィルスによって液化したパラメーターを吸収、変換し、自らの一部とする。

カタチさえあれば有機物、無機物、問わずドレインする事が可能だが、カタチのないもの……
精神性やスキルといったものは融解する事はできるものの、これを"自分のもの"に変換する事は難しく、単純な養分にする事しかできないようだ。
このため、メルトリリスが"自分のもの"にできるものはおもに『経験値』『容量』がメインとなる。

この能力を利用して、メルトリリスは"自分の転写"を増やす事を計画した。
電脳体の中身をすべて溶かし、自分……メルトリリスに変貌していく転移型のウィルスを作ったのだ。

03 - 騎乗 [B]
騎乗の才能。
現存する動物なら野生のものであれ乗りこなせる。
本来ならセイバー、ライダーといった騎士系のサーヴァントがこのスキルを持つのだが……

メルトリリスがどうしてこのスキルを所持しているかは、想像にお任せしたい。

Setting

01 - Neurological Disorder
Neurological disorder: Humans possess five sense--sight, hearing, smell, taste, and touch--and use those five sensors come to recognize the outside world and, as a result of that, they come to comprehend their own state of being.
At their foundation, humans come in contact with the world through these passive senses. By unconsciously using the excellent sensors known as the five senses, they accept the ordinary. However, in the case that any of the five senses degrade, the consciousness must actively face toward the outside world. That which was passive becomes active.
For example, someone who has lost their sight will deliberately specialize in their remaining four senses and will utilize them as even greater sensors. Ironically, they will come to function as someone whose perception is several times superior to that of a person who has all five senses.
In regards to Meltlilith's five senses, her sense of touch has deteriorated. Especially her hands--she's almost completely lost sensation in her fingers, and for that reason, she has become proactive in her relationship with the outside world.
It is thought that even her interest in causing others pains ultimately arose "because like this, I'm the only one who cannot feel the existence of other people."
This is a digression, but because of the clumsiness of her fingers caused by this, despite her hobby of collecting figures, she cannot immerse herself in assembling garage kits. Currently accepting applications for a skilled assembler!

02 - The End of Pleasure
The end of pleasure: the ego born from BB's "service requirement" and "pleasure." The type of abnormally lovely girl who cannot help but stir up a desire to protect her in men--is what she was, but possibly due to the effect of her skill which allows her to continuously steal her opponent's abilities, she currently possesses a belligerent disposition.
Despite how she takes in other people, she doesn't desire understanding or sympathy from them due to the fact that Meltlilith does not understand the feelings of others.
Meltlilith does not need other people. She doesn't understand love or dreams. Supposing a situation where she would acquire "LOVE," she would probably dedicate everything to and attend the object of it.
To the self-sufficient Meltlilith, the feelings of the object of her affection aren't worth taking into account. She would declare in her oppressive manner that her own feelings are correct.
Without any intention of conversing with them (I already love you so much that I don't feel the need for it), without any desire to touch them (that amount of pleasure is already unsatisfactory), she has no intention of telling them that she wants them to love her (that kind of mutual understanding is already unnecessary.)
Truly, what a domineering Ego devoted to 'no's and 'not's. Beneath that constant domineering attitude and permanent perch on a high horse, there is not a speck of doubt or hesitation but only overly pure "awakening to love."
Meltlilith hasn't noticed. Just what is the true foundation of herself, who is the incarnation of "self-pleasure."
What makes up Meltlilith's core is "devotion to the person one has fallen in love with."
That she repeatedly raised her level by draining and that she decided to control the Moon Cell is so she can offer supreme pleasure to her loved one.
Protecting her loved one → taking her loved one into herself → the herself that she took them into (even if she is completely changed to the point where she doesn't understand herself) will continue to live forever. She has determined that that is the supreme love she will offer to her loved one.
Looking at them from Meltlilith's perspective, even BB and Lip are nothing more than "foreign bodies that even I feel that I want to save."
...However, those feelings are far too closed. To her, who saw only her own feelings as definite, whose connection with the outside world was lacking, "LOVING another person" was itself a fatal bug (defect).

01 - 神経障害
人間は五感————視覚、聴覚、嗅覚、味覚、触覚の五つのセンサーで外界を認識し、その反響によって自己の在り方も認識する。

人間は基本、受動的な感性によって世界と触れあっている。
五感という優れたセンサーを無意識に使うことで、日常を受け入れている。

しかし五感いずれかの能力が低下した場合、意識は積極的に外界と向き合わねばならない。
受動的だったものが能動的になるのだ。

例えば、視覚を失ったものは残った四つの感覚を意識的に特化し、より優れたセンサーとして使用する。
皮肉な事に、その鋭さは五感を持つ人間より何倍も上位のものとして機能する事となる。

             ◆

メルトリリスは五感のうち、触覚が低下している。
特に手————指の感覚がほぼ失われており、そのため外界との繋がりに積極的になっている。

彼女の加虐趣味も、つまるところは"自分だけでは他人の存在が感じられないから"生じたものと思われる。

余談ではあるが、このため彼女は指先が不器用で、趣味の人形収集のうち、ガレージキット作成に没頭できない。
腕のいい作り手募集中!

02 - 快楽の果て
BBの「奉仕要求」「快楽」から作られたエゴ。
男性が保護欲をかきたてずにはいられない病的で可憐な少女像————だったのだが、相手の能力を奪い続けるスキルの影響か、現在の好戦的な性格になった。

             ◆

他人を取り込もうとするクセに、他人からの理解・共感を欲しがらないのは、メルトリリスには他人の気持ちが分からないからだ。


彼女には他人は必要ない。
愛も夢も理解できない。
そんな彼女がもし"恋"を獲得した場合、その対象にすべてを捧げて奉仕するだろう。


自己完結しているメルトリリスにとって、対象の気持ちは考慮するに値しない。
高圧的な態度で自分の愛情こそが正しいと断言する。


話し合うつもりはなく(既に、その必要を感じないほど愛している)、触れあいたい欲望もなく(既に、その程度の快楽では物足りない)愛してほしいと告げる気もない。(既に、そんな相互理解は必要ない)


まさにナイナイ尽くしの高飛車エゴ。
常に上から目線の高圧的な態度の裏にあるのは、一点の迷いも曇りもない、純粋すぎる"恋心"なのである。

             ◆

メルトリリスは気づいていない。
他人を必要としない『自己快楽』の化身である自分の、本当の根底にあるものを。

メルトリリスのコアにあったものは『恋したものへの献身』だった。

ドレインを繰り返しレベルをあげ、ムーンセルを支配しようとしたのも、すべては恋人に至上の快楽を捧げるため。

恋人を庇護する→自分に取り込む→ 取り込んだ自分が(たとえ自分が分からなくなるほど変わり果てても)永遠に生き続ける。
それこそが、自分が恋人に捧げられる至高の愛だと彼女は決断したのだ。

そんなメルトリリスから見れば、BBやリップすら"自分も救われたいと思っている不純物"にすぎない。

             ◆

……だが、その想いはあまりにも閉じている。
自分の心だけが確かであり、外界との繋がりが希薄な彼女にとって、"他人に恋する"こと自体が、致命的な欠陥だった。

↑ 3.0 3.1 3.2 3.3 3.4 3.5

[] Fate/EXTRA material - Character Profile: Meltlilith Alto Ego S, p.108

Meltlilith Alto Ego S


Height: 190cm

Weight: 33kg

Blood type: O

Birthday: 9TH April

Image colour: Ice Blue

Talents: Doll appraisal

Likes: Main Protagonist, Figurines

Dislike: Human

Enemy: No Name, Kingprotea

メルトリリス Alter Ego


身長:190cm

体重:33kg

血液型:O

誕生日:4月9日

イメージカラー:アイスブルー

特技:人形鑑定

好きな物:主人公、フィギュア

嫌いな物:人間

天敵:無銘、キングプロテア