Passionlip (パッションリップ, Passhonrippu?) is an Alter Ego-class High-Servant of BB in Fate/Extra CCC and Fate/Extra CCC Fox Tail. She is one of the Servants of the Protagonist of the Grand Order conflicts of Fate/Grand Order.
Alter Ego M (アルターエゴ M, Arutā Ego M?), whose True Name is Passionlip, was created by BB as a Heroic Spirit-Complex. Classified as a High-Servant, she was created from BB accessing the Moon Cell's Servant Archive and selecting goddesses compatible with the Ego from inside of it. BB reproduced the data of the goddesses, comprising them into Passionlip as a Composite Divinity (複合神性, Fukugō Shinsei?).[2]
She is composed of Parvati, Brynhild and Durga (ドゥルガー, Durugā?). Durga (ドゥルガー, Durugā?) is the goddess of war, considered to be a facet of Parvati. She possesses ten divine weapons, and Passionlip's gigantic nails are the incarnation of these ten blades.[2]
Appearance
Edit
Like Sakura Matou and BB, Passionlip has long flowing violet hair (depicted with pink tint in artwork) and wear a pink ribbon on the left side of her head. Her attire consists of neck belt, two strips of belt covering her large breasts, and several more over her torso. She also wears what appears to be a striped bloomer with brown panty hose and a pair of high heel shoes. Passionlip has had part of her arms turned into gigantic talons, representing the swords of Goddess Durga. She also appears to wear a lipstick. She wears cute pink underwear.[4]
Personality
Edit
Passionlip is the Alter Ego of "the end of love and hate", born out of BB's ego "desire to court" and "hate and love."
She will initially be friendly to Hakuno Kishinami, but orders from her "mother" will force her to attack them. Like Caster and Saber, she will fall in love with them despite their gender.
She doesn't like being touched. In her free time, she practices cooking.[4]
Fate/Extra CCC
Edit
She is the main focus in Chapter 3.[5]

Fate/Extra CCC Fox Tail
Edit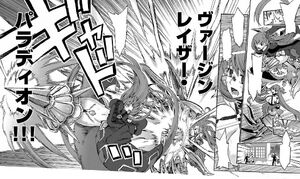 Meltlilith and Passionlip invaded the school and Gawain fought back and things seems at a disadvantage for him. Karna later appears and allies with Gawain to take both Alter Ego. As Passionlip was cut down, Passionlip and Meltlilith combined an attack called "Virgin Razor - Palladion".

Fate/Grand Order
Edit
BB-chan's Counterattack/Let's Meet in The Digital Ocean!
Edit
Other appearances
Edit
In Type-Moon's April Fools' Day 2015, she part of the Imperial Roma talent agency.

Abilities
Edit
Passionlip suffers from a Perception Disorder, where she cannot perceive the actual shape of both her hands. Her "mind" causes her eyes to avert her ugly form, leading it to translate her hands as those of a normal girl. She could only see her claws as "something normal". Once, Passionlip could not understand "why was she feared", but now she has started to properly face her body by the time of Fate/Grand Order, accepting her monstrous nature.[6]
She has an excellent rank in Presence Concealment, normally a base ability of the Assassin class, that was acquired due to her personality. Her cowardice and prudence make it possible, allowing her to have stalked Hakuno Kishinami from early within the story. She was able to watch over them from an unseen location, among other things, without anybody noticing. The main problem is that her gigantic nails get in the way, leading to her becoming discovered and keeping her from becoming an excellent stalker. Her Noble Phantasm is Brynhild Romantia.
Her Quality as a Target of Abuse increases the chances of her being targeted by an enemy during group battles. Though it is normally a Minus Skill. it works for a Servant with a strong defense like her, allowing her to function as an excellent escort and grants some pluses to defensive values. Her A rank also comes with the special effect of causing the attacking side's composure to break the more they assail her, eventually reaching the point of no longer being able to think of anything but the owner of the skill.
She has the ability Trash & Crash, a specialty skill that the Alter Egos naturally possess. It is a Cheat Skill referred to as "id_es" that evolved from Monstrous Strength. It allows for anything, no matter how much of a gigantic capacity it may have, to be crushed and compressed by her nails as long as it is "something that can be enveloped by hand." It is not limited to something that can fit in her hands, but everything in her line of sight will be treated as a target as long as it "is settled in her hands." Even if the target is a gigantic Mega Structure like an Arena, the conditions for compressing it will be fulfilled if there is a place that she can get an unbroken view of the Arena.
She is able to compress her line of sight by holding her hands out towards the target Arena in the distance, gaining a small unbroken view of it. Once the whole figure of the Arena is completely settled in her hand, she will recognize it as having grasped it, making compression possible. Such planar physical interference disregards perspective, but the compressions still takes time if the target is large. Compressed objects become a cube five centimeters on all sides, but the mass of the cube can only be reduced to one tenth of the original object's weight. The compressed objects are treated as dust data, allowing them to be stored within her Breast Valley (ブレストバレー, Buresuto Barē?), a simple trash box with the function of harvesting unnecessary data files and storing them.
It functions as well as a garbage can, and the icon is configured in the middle of her breasts for some reason. It is an imaginary number space pocket that stashes away as much trash as one likes, allowing her to harvest anything as long as it is dust data in any capacity infinitely. Though it is contradictory, that which exceeds her own memory volume can be thrown away in this valley. While it seems like a convenient function, it is truly a meaningless function because dust data cannot return to its original shape. She gained this special structure because she is the type of girl-figure that stashes away her emotions inside and self-mutilates.[2]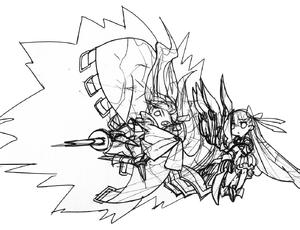 Virgin Razor - Palladion (

ヴァージンレイザー・パラディオン

,

Vājin Reizā - Paradion

?

) - A combination attack with Passionlip. Meltlilith launches as Passionlip throws her towards the enemy.
References
Edit
↑ 1.00 1.01 1.02 1.03 1.04 1.05 1.06 1.07 1.08 1.09 1.10 1.11 1.12 1.13 1.14

[] Fate/EXTRA material - SERVANT Parameter and Skills: Alter Ego M, p.023

Alter Ego M


Master: BB

Identity: Passionlip

Gender: Female

Height, Weight: 156cm/1t

Alignment:Lawful Neutral

Strength: A+

Endurance: A

Agility: C

Mana: B

Luck: E

Noble Phantasm: C



Class Skill
■ Trash & Crash: EX

Personal Skills
■ Quality as a Target of Abuse: A

■ Presence Concealment: A+

Noble Phantasm
■ Brynhild Romantia: Until Death Divide the Two Apart
Rank: C
Type: Anti-Unit Noble Phantasm
Range: 1
Maximum number of targets: 1 person

アルターエゴ M


マスター:BB

真名:パッションリップ

性別:女性

身長・体重:156cm/1t

属性:秩序・中立

筋力:A+

耐久:A

敏捷:C

魔力:B

幸運:E

宝具:C



クラス別筋力
■ トラッシュ&クラッシュ:EX
イデス。スキル『怪力』から進化したチートスキル。
どれほど巨大な容量であろうと"手に包んでしまえるもの"なら何であれその爪で潰し、圧縮する事ができる。
圧縮されたものは五センチ四方のキューブとなるが、その質量は圧縮前の十分の一ほどしか軽量化できない。
圧縮したものは、以後ダストデータとして扱われる。

保有スキル
■ 被虐体質:A
集団戦闘において、敵の標的になる確率が増すスキル。
マイナススキルのように思われがちだが、強固な守りを持つサーヴァントがこのスキルを持っていると優れた護衛役として機能する。

■ 気配遮断:A+
姿を隠して行動するスキル。
アサシンのクラスが基本能力として持つスキルだが。その臆病さ、慎重さから優れた気配遮断を発揮するが、巨大な爪が邪魔をしてすぐに発見されてしまう。爪さえなければ優れたストーカーになっただろう。

宝具
■ 死がふたりを分断つまで
ランク:C
種別:対人宝具
レンジ:1
最大補足:一人
BBがアルターエゴに与えた宝具。
対象への愛情が深ければ深いほど、命中精度とダメージ数値を増していく宝具。
たとえそれが一方通行のものであったとしても、愛した相手は決して逃さない。
材料になったサーヴァントは『ヴォルスンガ・サガ』に登場するワルキューレ、ブリュンヒルデ。

↑ 2.00 2.01 2.02 2.03 2.04 2.05 2.06 2.07 2.08 2.09 2.10

[] Fate/Extra CCC - Passionlip Matrix

Class: Alter Ego
Name: Passionlip
Master: BB
Noble Phantasm: Brynhild Romantia (Until Death Do Us Part)
Keyword: Breast Valley, composite divinity
Strength: A+, Endurance: A, Agility: C, Magic: B, Luck: E
Presence Concealment: A+, Constitution of an Abuse Victim: A, Trash & Crash: EX

Kewords

01 - Brynhild Romantia (Until Death Do Us Part)'
The Noble Phantasm that BB granted to this Alter Ego.
This Noble Phantasm strikes with more accuracy and does more damage the deeper her love toward the target is. Even if it's utterly one-sided, she will never let her loved one escape.
The Servant this Noble Phantasm was made from is the valkyrie, Brynhild, who appears in "The Völsunga Saga." The spear of love and hatred that she wielded in order to get revenge on her husband, Sigurd who betrayed her and wounded her honor. Strictly speaking, not the spear itself, but the deep love and hatred Brynhild felt for Sigurd that has taken the shape of a spear.
In "The Völsunga Saga," the fearless hero Sigurd (Siegfried) takes Brynhild, who was sleeping encircled by flame, as his wife. But afterwards, Sigurd betrays her, presenting her as his brother-in-law's wife. At first, Brynhild believed that this was due to Sigurd drinking alcohol which caused him to lose his memories and accepted these events as her immutable fate.
However, she came to know that, in reality, Sigurd had already regained his memories by that time. In the end, Brynhild killed the man she loved most in the entire world via a conspiracy and then freely took her own life in order to follow after him.

02 - Breast Valley
A simple trash box. Has the function of storing away and safeguarding unneeded data files. It's a garbage can. In Passionlip's case, the icon is set right in the middle of her chest for some reason.
To put it frankly, an imaginary space pocket into which you can put anything as long as it's as trash. If it is dust data that Passionlip has crushed, she can stow away an infinite amount, regardless of capacity.
Though it seems contradictory, it seems even objects that exceed Passionlip's own memory storage can be thrown into this valley.
At first glance, this appears to be a convenient function, but because dust data cannot be returned to its original form, it's an utterly useless function. It appears that Passionlip acquired this unique structure because she is of the type of girl who bottles her feelings up inside, leading to self-destruction and self-harm.

03 - Composite Divinity
Alter Egos are High Servants created as complexes of Heroic Spirits.
BB accessed the Moon Cell's Servant Archives, chose goddesses compatible with the Ego from them, and reproduced the data. Alter Egos came into existence as complexes of goddesses.
Passionlip is made of three goddesses.
The first is the goddess of beauty from Hindu mythology, Parvati. A goddess who loves her husband, the god of destruction Shiva, with blind devotion.
The second is the goddess of war, Durga. Considered a facet of Parvati, Durga possess ten weapons given to her as divine gifts. Passionlip's giant claws are an incarnation of those ten swords.
The third is a goddess of war from Scandinavia, Brynhildr. Unable to be tied to the hero she loved, this queen called destruction to her though her grief. In Wagner's opera, she was rendered as Brünnhilde, who appears as a valkyrie (war maiden) who escorts the souls of the departed to Valhalla. It goes without saying that the circumstances of this work led to a tragedy where she despaired over love and raised her hands against her beloved.

01 - 死がふたりを分断つまで
BBがアルターエゴに与えた宝具。

対象への愛情が深ければ深いほど、命中精度とダメージ数値を増していく宝具。
たとえそれが一方通行のものであったとしても、愛した相手は決して逃さない。

              ◆

材料になったサーヴァントは『ヴォルスンガ・サガ』に登場するワルキューレ、ブリュンヒルデ。
自分を裏切り、その名誉を傷つけた夫シグルズへの復讐のために振るわれた愛憎の槍。
厳密には、槍そのものではなく、ブリュンヒルデのシグルズに対する深い愛情と憎悪が槍の形を取ったもの。

『ヴォルスンガ・サガ』において恐れを知らぬ英雄シグルズ(ジークフリート)は、炎に囲まれて眠るブリュンヒルデを妻とする。
しかしそのあと、シグルズは彼女を裏切り、義兄弟の妻として差し出してしまった。
ブリュンヒルデは当初、シグルズが記憶を失う酒を飲まされたためと考え、運命だから仕方がないとそれを受け入れた。

だが、後に実際にはその時、シグルズはすでに記憶を取り戻していた事を彼女は知ってしまう。
結果としてブリュンヒルデは、この世で最愛の夫を陰謀の末に殺害し、自らもまた己の命を絶ってその後を追ったという。

02 - ブレストバレー
単なるトラッシュボックス。
不必要なデータファイルを一時的に収納し、保管する機能。
ごみ箱とも。
パッションリップの場合、そのアイコンがなぜか胸の中心に設定されている。

端的に言ってしまえば、ゴミならいくらでもため込める虚数空間ポケット。
パッソンリップが遺したダストデータであるなら、どんな容量であろうと無限に収納できる。

矛盾しているが、リップ本人のメモリ量を越えるモノすらこの谷に棄てる事ができるようだ。

一見すると便利な機能に見えるが、ダストデータは元のカタチには戻らないため、まったくもって無意味な機能。
パッソンリップは感情を内に溜め込み、自壊/自傷するタイプの少女像である事から、このような特殊構造を獲得したと思われる。

03 - 複合神性
アルターエゴは英霊複合体として創造されたハイ・サーヴァントである。

BBはムーンセルのサーヴァントアーカイブにアクセスし、その中からエゴと適合する女神を選び、データを再現。
アルターエゴを女神の複合体として成立させた。

パッソンリップに組みこまれた女神は三体。

一神目はインドにおける美の女神パールヴァティー。
盲目的に、そして献身的に夫である破壊神シヴァを愛した女神である。

二神目は戦いの女神ドゥルガー。
パールヴァティーの側面とされるドゥルガーは、十本の神授の武器を持っている。パッソンリップの巨大な爪はその十の剣を具現化したもの。

三神目は北欧の戦いの女神ブリュンヒルト。
愛した勇者と結ばれず、哀しみから破滅を呼んだ女王。
ワーグナーの楽劇においてはブリュンヒルデとされ、死者の魂を天界に送る戦乙女として登場する。
言うまでもなく、こちらの顛末も愛に絶望し、愛する者をその手にかける悲劇だった。

Skills

01 - Presence Concealment [A]
A skill that allows one to take action while hiding themselves. It's a skill that those of the Assassin class possess as it's their most basis ability, but Passionlip has acquired it as well, possibly due to her personality.
Due to her timidness and cautiousness, she manifests excellent Presence Concealment, but her giant claws act as a hindrance and she is quickly discovered. If she didn't have those claws, she would be an excellent stalker.
Though this is a digression, she has been following [the PC] from early on, though no one noticed, observing and watching over them from the shadows, or something like that.

02 - Constitution of an Abuse Victim [A]
A skill that increases the chances of being targeted by enemies in group battles. It appears to be a minus skill, but for a Servant with strong defensive capabilities, possessing this skills allows them to function as an excellent escort.
A slight bonus to defense is included. Once it reaches rank A, an even more unique effect is added: The more the attacking party attacks, the more they will lose their composure until the holder of this skill is all they can think of.

03 - Trash & Crash [EX]
A unique power, called id_es, that the Alter Egos possess from their creation.
A cheat skill that evolved from "Monstrous Strength." No matter how large the capacity of the item, as long as it is "something that can be enveloped by her hands," she can crush and and compress it, whatever it may be.
What that she compresses become a 5 cm by 5 cm by 5 cm cube but its mass can only be reduced to 1/10th of its mass before it was compressed. After it's been compressed, it is treated as dust data.
The only things Passionlip can crush are garments that are smaller than her hands--not. As long as it is something that can be "placed within her hands" based on her vantage point, she can treat it as a target.
For example, in the case of her target being a mega-structure such as the Arena, as long as she is in a place where she has an unimpeded view of the Arena, the requirements will have been met.
She can hold her hands out to the faraway Arena which has become so small and once the entirety of the Arena has completely settled on her hand, it is recognized as Lip "grabbing" it and crushing it becomes possible.
It's planar physical interference which ignores perspective, but as you would expect crushing large objects requires time.

01 - 気配遮断 [A+]
姿を隠して行動するスキル。
アサシンのクラスが基本能力として持つスキルだが、その性格からか、パッソンリップんも取得しているようだ。

その臆病さ、慎重さから優れた気配遮断を発揮するが、巨大な爪が邪魔をしてすぐに発見されてしまう。
爪さえなければ優れたストーカーになっただろう。

余談ではあるが、誰も気づかなかっただけで早い階段から岸波白野を尾行し、陰から監視・見守っていたとかなんとか。

02 - 被虐待質 [A]
集団戦闘において、敵の標的になる確率が増すスキル。
マイナススキルのように思われがちだが、強固な守りを持つサーヴァントがこのスキルを持っていると優れた護衛役として機能する。

若干の防御値プラスも含まれる。
Aランクともなると更なる特殊効力がつき、攻撃側は攻めれば攻めるほど冷静さを欠き、ついにはこのスキルを持つ者の事しか考えられなくなるという。

03 - トラッシュ&クラッシュ [EX]
id_esと呼ばれる、アルターエゴたちが生まれながらに持つ特殊能力。

スキル『怪力』から進化したチートスキル。
どれほど巨大な容量であろうと"手に包んでしまえるもの"なら何であれその爪で潰し、圧縮する事ができる。

圧縮されたものは五センチ四方のキューブとなるが、その質量は圧縮前の十分の一ほどしか軽量化できない。
圧縮したものは、以降ダストデータとして扱われる。

圧縮できるものはリップの手により小さいものだけ————ではなく、彼女の視点上において"手に収まるもの"なら対象として扱われてしまう。

たとえば、対象が『アリーナ』といった巨大構造体であった場合、アリーナを一望できる場所にいれば条件は成立してしまう。

遥か遠方の、小さく一望できるアリーナに手をかざし、その手の上にアリーナの全体像がすっぽりと収まった時点でリップは『捉えた』と認識し、圧縮を可能とする。

遠近法を無視した平面的な物理干渉だが、さすがに大きなものほど圧縮には時間がかかるようだ。

Setting

01 - Barrier Against Cognizance
Barrier against cognizance: Most humans cannot look at themselves from an objective point of view. This is not limited to the heart but also occurs with the physical body.
Humans cannot see themselves. No, more correctly, the impartiality to look upon "oneself without falsehoods" and accept it is rare.
Because humans possess wisdom, they are able to turn only the convenient aspects of the reality in front of their eyes into the truth. It's not just being selective about what information they accept; there is also unconsciously fabricating or modifying information.
Passionlip's barrier against cognizance is of the highest order. She does not comprehend the form of her own two hands. Her "brain" averts its eyes from her own ugly appearance, and within her mind, she is converted into an exceedingly normal girl. To her, her claws only appear as "normal."
Because of this, Lip does not understand the reason "why everyone is afraid of me." Without realizing the reason is her own body's ugliness, she would simply tilt her head if you were to point it out to her.
"Why are you telling such a lie?" "Are you lying to bully me again?"
In relation to her barrier against cognizance regarding her giant claws, Passionlip is a perfect victim. Though a barrier to cognizance is something born from trying to escape, there is neither deceit nor lies in her heart.
Everyone finds it difficult to face their ugly qualities. When one looks in the mirror, is the brain properly observing the image of oneself reflected there?

02 - The End of Love and Hate
The end of love and hate: the Ego born from BB's "desire to court" and "hate and love." The kind of alluring and innocent girl that men cannot help but feel lust for. The claws of her hands are an incarnation of her desire to protect her "easy for men to aim for" self.
She held affection for [the PC] for a certain reason, but after they spoke with each other within the labyrinth, she came to embrace even deeper affection.
She wished: I want to be close to them, I want to touch them, I want to talk to them, but due to her personality, those wishes were never granted, not even once.
I want to talk to them (but for some reason, they're afraid of me), so I can't talk to them. I want to approach them (but for some reason, they run away) so I can't approach them. I want them to love them (but I seem to be hated by them, no matter what) so I won't receive get their love.
From that dilemma, her love grew deeper, but in the face of [the PC's] rejection, that love turns into grief. Unable to withstand the burden of her feelings, by viewing the source of them as an enemy, as someone she hates, she was just barely able to keep her heart from collapsing.
The work of a heart faced with a reality that it could not withstand while sane--in other words, a rampage that resembles insanity.
The only person she loved in the entire world gave her a single gentle word.
Passionlip with continue to embrace that miracle for all eternity.
...Yes, even if despair heavy enough to crush her heart is waiting for her afterward.

01 - 認識障害
多くの人間は自分を客観視する事ができない。
それは精神的なものだけでなく、肉体においても起こりえる事だ。

人間は自分を見る事ができない。
いや、正しくは"偽りのない自分の姿"を直視し、受け入れる公平さに乏しい。

人間は知恵あるが故に、目の前の現実から都合のいい情報だけを真実とする。
情報の取捨選択ばかりでなく、情報のねつ造、改変まで無意識のうちに行う事もある。

パッションリップの認識障害はその最たるものだ。
彼女は自らの両手のカタチを認識できない。
醜い自分の姿から"脳"が目をそらし、いたって普通の少女の腕として脳内変換している。
彼女には自分の爪は「普通のもの」にしか見えていないのだ。


このため、リップは"自分がなぜ怖がられるのか?"の理由が分からない。
自分の体が醜いから、という理由が分からず、それを指摘されても首をかしげるばかりだ。

「どうしてそんな嘘を言うんですか?」
「嘘をついてまだわたしをいじめたいんですか?」

              ◆

巨大な爪と認識障害に関しては、パッションリップは完全な被害者だ。
認識障害が逃避から生まれたものだとしても、彼女の心には欺瞞も嘘もないのだから。

誰しも、自分の醜い部分と向き合うのは難しい。
鏡を見た時、そこに映った自身の姿を本当に正しく、脳は観測してくれているだろうか?

02 - 愛憎の果て
BBの「求愛欲求」「愛憎」から作られたエゴ。
男性が劣情をもよおさずにはいられない、蠱惑的で清純な少女像。
両手の爪は"男性に狙われやすい"自分を守るための心が具現化したものと思われる。

              ◆

ある理由で岸波白野に好意を持っていたが、迷宮内での対話をきっかけにより深い好意を抱く事になった。

近くにいたい、触れあいたい、話したい、と願っていたが、彼女の性格的にそれは一度もかなわなかった。

話しかけたいけど(なぜか怖がられるので)
話しかけられない、
近寄りたいけど(なぜか逃げられるので)
近寄れない、
愛してほしいけど(どうしても嫌われるので)
愛してもらえない。

そんなジレンマから愛情はより深化していくが、岸波白野の拒絶によって愛情は哀しみに転化。
感情の負荷に耐えられず、その原因を敵視・憎む事で、かろうじて精神の崩壊を防ぐ事になった。

正気では耐えられない現実に向き合う心の働き―――
即ち、狂気による暴走である。

              ◆

この世界でただひとり好きだった相手が、ただひとり優しい言葉を投げかけてくれた。

その奇蹟を、パッションリップは永遠に抱き続ける。

……たとえその後に、心を砕くほどの絶望が待っていたとしても。

↑ 3.0 3.1 3.2 3.3 3.4 3.5 3.6 3.7 3.8

[] Fate/EXTRA material - Character Profile: Passionlip Alto Ego M, p.106

Passionlip Alto Ego M


Height: 156cm

Weight: 1t

Blood type: O

Birthday: 10th April

Image colour: Dark purple

Talents: Karate ~ Deadly strike

Likes: Main Protagonist, Dessert time

Dislike: Unfriendly people

Enemy: Meltlilith, Robin Hood

パッションリップ Alter Ego


身長:156cm

体重:1t

血液型:O

誕生日:4月10日

イメージカラー:ダークパープル

特技:空手道~一撃必殺~

好きな物:主人公、デザートタイム

嫌いな物:優しくない人たち

天敵:メルトリリス、ロビンフッド

↑ 4.0 4.1 4.2 4.3 4.4 4.5

[] Fate/Extra CCC - Passionlip Secret Garden [T]

| Information | Character Description | Voice Content |
| --- | --- | --- |
| NAME | Passionlip | "It's my favorite name." |
| HEIGHT | 156cm | "It's the same as mother's, but… it may look taller…" |
| WEIGHT | 1 ton | "Ah, wh…why…?" |
| 3SIZE | B160/W63/H87 | "It's just a little big." |
| HOME | The far side of the moon | "I was just recently born here." |
| BIRTHDAY | April 10th | "I just got it." |
| WEAK POINT | Being touched… | "My chest is especially…ticklish…" |
| FETISHISM | I like everything about that person, but… | "I especially like, their hands. I'd like…to hold to them, or if they patted me on the head." |

◆What do you look for in a partner?


Please be very gentle. "Being cared for makes me happy."


◆What's your favorite color of underwear?


Pink, and cute… "…eh? I am wearing underwear, on the bottom!"


◆How do you spend your free time?


Practicing cooking and such… "But I get hungry really quickly when I start moving."

| 情報 | 文字記載内容 | ボイス内容 |
| --- | --- | --- |
| NAME | パッションリップ | |
| HEIGHT | 156cm | |
| WEIGHT | 1t | |
| 3SIZE | B160/W63/H87 | |
| HOME | 月の裏側 | |
| BIRTHDAY | 4月10日 | |
| WEAK POINT | 触られるのは苦手です…… | |
| FETISHISM | あの人なら全部好きだけど…… | |

◆パートナーに求めることは?


◆好きな下着の色は?


◆余暇の過ごし方は?


↑ Fate/Extra CCC - Chapter 3: The Lip of Love and Hate - Alter Ego / M
↑ Fate/Grand Order Profile of Passionlip, translated by roadromancer at Reddit.