Rider (Fate/strange fake)
Talk

3
447pages on
this wiki
Rider (ライダー, ?) is the Rider-class Servant summoned by Kuruoka Tsubaki in the False Holy Grail War of Fate/strange fake.
Rider is Pale Rider (ペイルライダー, ?), or the Rider of the White Horse, the first of The Horsemen of the Apocalypse, the one who represents plague and sickness which represents the concept of the calamity called Disease (病, ?) in the Book of Revelations, such as the Black Death and Spanish influenza.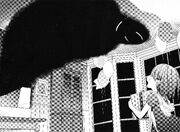 Rider's master, Kuruoka Tsubaki, is the child of magi who are part of the US organization. In addition to studying the Grail War, they looked upon Zouken Matou's work on magical worms and attempted to improve upon it. They infected Tsubaki with a magic-based Bacteria as an experiment to better circulate magical power, and though it put her into a coma, it created an exceptionally powerful Master out of her. They only cared about their experiment and placed her into a hospital, while planning to use her as a puppet Master. They summoned the First Emperor of China as a Servant, though it was instantly devoured from the inside by Tsubaki's true Servant, Rider.
Abilities
Edit
Without human form, Rider "rides" people by killing their minds, manipulates them by bringing them to it's master's residence, and places them into a coma. They are placed into Tsubaki's lonely dream world, where they are forced to obey her will. The first people taken were Tsubaki's parents, and the first thing that they had to do upon entering was to buy her a birthday cake.
References
Edit