Saber of Black
Talk

10
480pages on
this wiki
Saber of "Black" ("黒"のセイバー, "Kuro" no Seibā?) is the Saber-class Servant of Gordes Musik Yggdmillennia as part of the Black Faction in the Great Holy Grail War of Fate/Apocrypha. He was designed by TYPE-MOON and illustrated by KN for the original canceled online game project.
Saber's identity is Siegfried, the Dragon-Blooded Knight (竜血の騎士 ジークフリード, Ryūketsu no Kishi Shīkufurīdo?), a national hero of Germany that has many different depictions in the various legends attributed to him. His most famous role is likely the epic poem Nibelungenlied, "The Song of the Nibelungs." Born a prince of the Netherlands, he wielded the precious sword Balmung which he received from the Nibelungen family, and he fought in many campaigns and adventures since he was a young man. His most well known feat was being crowned dragon-slayer by battling the evil dragon Fafnir for the treasure of the Nibelungen family and killing with the sword. He bathed in the blood of the dragon, and obtained an invincible body.
While bathing in the blood, a single linden leaf happened to stick to his back, making it his one weak point that would bring about his irrevocable death. Adding to the growing ranks of the Burgundians, he brought them many victories, and married Kriemhild, sister of the Burgundian king, accessing the throne of Netherlands. After a trick to marry the Burgundian king to the queen of Iceland, Brünnhilde, he was assassinated by a vassal of the Burgundians who struck him on his weak point. He had surmounted every field of battle without a single defeat, until losing his life at the blade of betrayal striking him in his back. This connects to the revenge tragedy of his wife Kriemhild for the murder of her husband in the later half of the tale.[1]
Personality
Edit
Saber is known for tales of his royalty and the way he lead troops as a captain, but he was also a hero who answered the requests and calls of others. However, this selflessness opened a void in his heart. The more he helped others, the more confused he was about his own wish. At his moment of death, he finally realized that in his next life, he wanted to fight not for others, nor for himself, but for the justice he believed in. He wanted to be a true ally of justice.
He obeys his Master, even if forbidden to speak by necessity, because no command will burden him if it leads to fulfilling his own desire. His personality is truly that of a noble knight, but it is unknown what he really thinks due to the command not to speak.
Fate/Apocrypha
Edit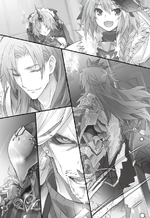 Saber is summoned by Gordes Musik Yggdmillennia with a bloodstained leaf of a Sacred Fig tree as a catalyst in a multiple Servant summoning. Though it was agreed that all would share the names of their Servants, Gordes vehemently disagrees, claiming that revealing knowledge of his Servant's true name to anyone but Darnic and Lancer of Black would be detrimental to their battle. He then leaves with his Master, returning to his quarters. Gordes commands him to never speak unless unveiling his Noble Phantasm in order to keep the possible hints towards his identity to a minimum. Though he is worried that acting as such to a great hero may be overstepping himself, Saber confirms with a nod that he will abide by the command. It may have changed his fate had he refused, forcing the use of Command Spells, but he chose to submit as a Servant of the Saber class, bringing about a fatal misunderstanding between them.
Sometime early on, he and Gordes helped Ruler from Lancer of Red's attack. Saber and Lancer both battle in a death match situation. They both find each other as worthy opponent in the Great Grail War and was hoping to have a rematch before departing.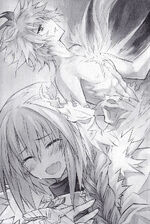 When Rider of Black helps the nameless Homunculus escape during Berserker of Red's attack, Saber is ordered by Gordes to track them down. The homunculus is mortally wounded, and Rider begins to cry over his dying friend, questioning Saber's pride as a hero. Saber is ashamed of himself for abandoning the Homunculus rather than trying to save him, realizing that he was about to repeat the same regret he had in his life. He transplants his heart into the Homunculus and successfully resuscitates him as atonement, fading away. With his death, the nameless Homunculus names himself Sieg in honour of his sacrifice.
With his death, Lancer of Black was furious with Rider of Black who blames him for his death. Sieg later has the ability to shape shift into Saber of Black.
Abilities
Edit
Saber also has the qualifications to be summoned under the Rider class. While he is a powerful and famous hero, one of the greatest of Servants, he also has a massive weakness, the weak spot on his back, that will instantly be known if his identity is found out by others. His legend is known all over, so it is a necessity to keep such a deadly weak point hidden by doing all possible to hide his identity. It is said his swordsmanship far surpasses that of mankind, able to make use of every gap of his opponent's strikes to close the distance between them. His Noble Phantasms are Balmung and Armor of Fafnir.
References
Edit
↑ 1.0 1.1 1.2 1.3 1.4 1.5

Fate/complete material IV: Extra material - Fate/Apocrypha - Siegfried, p. 296-297

Siegfried, the Dragon-Blooded Knight
He is the hero portrayed as the main character of the German Nibelungenlied epic. Prince of the Netherlands, he wields the precious sword Balmung which he received from the Nibelungen family, and has fought in many campaigns and adventures. His most well known feat is killing the evil dragon Fafnir. He then bathed in the blood of the dragon, and has obtained an invincible body. His personality is truly that of a noble knight. But because he never speaks a word, it is unknown what he really thinks.



Class: Saber (Rider)

Source: Nibelungenlied

Region: Germany

Alignment: Chaotic Good

Sex: Male

Height: 190cm

Weight: 70kg

Armament: Sword





STR: B+

CON: A

AGI: B

MGI: C

LCK: E

Noble Phantasm: A



Legend
Siegfried has been in battles ever since he was a young man, and he has gained an invincible body from his victory over Fafnir in battle for the treasure of the Nibelungen family. But when he bathed in the dragon's blood, a tree leaf stuck to his back, making it his one weak point. Adding to the growing ranks of the Burgundians, he brought them many victories, and married Kriemhild, sister of the Burgundian king, accessing the throne of Netherlands. But after a trick to marry the Burgundian king to the queen of Iceland, Brünnhilde, he was assassinated by a vassal of the Burgundians who struck him on his weak point. This connects to the revenge tragedy of his wife Kriemhild for the murder of her husband in the later half of the tale.

↑ 2.0 2.1 2.2 2.3

Fate/Apocrypha - Volume 1: Saber of "Black" Profile

English

 | 

Japanese

Saber of "Black"
Height/Weight:190cm/80kg
Blood type: unknown
Birthday: unknown