Saver (Fate/Extra)
Talk

2
530pages on
this wiki
Nasuverse character
Saver

Normal

|

Original design

Japanese name:
セイヴァー
Also known as:
Heroic Spirit of Salvation (

救世の英霊

,

Kyusei no Eirei

?

, "Legendary Soul of Salvation" in the English version of Fate/Extra)
Franchise:
Fate
Appears in:
Fate/Extra
Character type:
Servant (Master: Twice H. Pieceman)
Gender:
Male[1]
Birthday:
Unknown[2]
Height:
Unknown[1][2]
Weight:
Unknown[1][2]
Blood type:
Unknown[2]
Hair color:
Green
Likes:
Discipline, dialogue, entering nirvana[2]
Dislikes:
Poisonous mushroom[2]
Talents:
Humanity salvation[2]
Natural enemy:
Alternative paths to Salvation[2]
Image Color:
Green[2]
Saver (セイヴァー, Translated as "Savior" in the English localization?) is a "messiah" type Servant, and was carefully selected by the Automaton from the collective records of the Holy Grail War.
Like Avenger, Saver is considered to be distinct from the seven Servant classes.
His identity is Buddha,[2] his Master states that he is an entity that lives to liberate humanity from its suffering.[3] He is a Bodhisattva, a Deva (天, kami?, a class of Buddhist divinity, as distinct from the word 神, which is pronounced in the same manner, but indicates a god in the general sense) of cosmic proportions, easily capable of governing the Solar System.[4] He is referred to as being one of the Vajra users who dwell in heaven.
Development
Edit
Before his identity was announced Takeuchi Takashi commented that he was inspired by reading Osamu Tezuka Buddha manga.[5]
Fate/Extra
Edit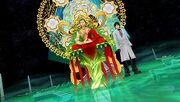 The final boss of the game. The last Servant, who has the form of a god. After Twice lost his original servant Caster, he prayed for salvation and he was given a new servant.
Hakuno Kishinami deduces, after defeating Twice, that Saver allied himself with that Master not because he agreed with Twice's ideals, but out of compassion for his soul.
Abilities
Edit
Saver possesses approximately 36000 HP, and his Noble Phantasm is the Amita Amitabha.
Class & Personal Skills
Edit
As with other hypothetical Servants of the Saver class, Saver possesses the class abilities of Charisma and Counter Hero, which imposes a rank-down upon any opponents that classify as 'Heroes' or 'Antiheroes.' His personal skills include Enlightenment of the Sacred Fig (菩提樹の悟り, Bodaijuu no Satori?), which negates damage and mental interference; and Kalaripayattu (カラリパヤット, Kararipayatto?), the ancient Indian fighting style from which all rationally derived martial arts are descended.
Combat Abilities
Edit
seal_skill(): Codecast used by Twice; locks the SKILL command.
Samadhi: the state of perfect meditative union (

三昧

,

?

): Enhances Savior's attributes, causes Saver's GUARD command to drain MP from the attacker.
Dukkha Samudaya: the noble truth of suffering's accumulation (

集諦

,

?

): Counterattack, deals high damage.
Madhyamā-pratipad: the middle way, moderation in favor of indulgence or mortification (

中道

,

?

): Attribute enhancement, causes Savior's ATTACK command to recover HP.
Dukkha: the noble truth that life is full of suffering (

苦諦

,

?

): Attribute enhancement, causes Saver's BREAK command to stun.
Śūnyatā: emptiness, the concept that all things are without absolute identity or permanence (

空虚

,

?

): Damage, reduced by having a higher 魔力 [prana] stat.
References
Edit
↑ 1.00 1.01 1.02 1.03 1.04 1.05 1.06 1.07 1.08 1.09 1.10 1.11

[] Fate/EXTRA material - SERVANT Parameter and Skills: SERVANT SAVER, p.018

English

 | 

Japanese

SERVANT SAVER


Master: Twice H. Pieceman

Identity: Buddha

Gender: Male

Height, Weight: Unknown

Alignment:Lawful Neutral

Strength: A

Endurance: A

Agility: C

Mana: B

Luck: B

Noble Phantasm: A++



Class Skills


Natural talent for commanding armies. Charisma is a rare talent and it's said that B rank is enough for even a king.



Reduces the parameters of any hero encountered. At Rank B, it reduces all of the opponent's parameters by two ranks. It's weaker against anti-heroes, reducing their parameters by one rank.

Personal skills


Enlightenment of the Sacred Fig EX


Protection covering only one who has arrived at the truth of the world, the answer of humanity. A testament of "protecting the world", called anti-purge protection.
Unconditionally reduces damage from physical attacks, conceptual attacks, inter-dimensional attacks by an amount equivalent to his own HP. Also shuts out mental interference 100%. If it's Saver who has attained the EX rank, it should be possible to tranquilly receive even the seven desires of man.



Ancient Indian martial arts.
The ancestor of martial arts based on rational thinking that does not really only on power and talent. Specialized more toward defense than offense.

Noble Phantasm


Amida Amitabha: Transmigration into One


Rank: EX
Type: Anti-Unit
Range: 0
Maximum number of targets: 1 person
The ultimate "anti-individual" Noble Phantasm.
A kind of teaching to achieve final Moksha, where energies rivaling the law of man's creation are made to converge on a single person and liberate him from suffering.
The longer human history is, that is, the wider its expanse is, the greater the damage.
Theoretically, the humanity of Earth has no way of withstanding this attack.
On the other hand, it's weaker against those humans who aren't quite human, and it can't completely save individuals of a scale of existence greater than the domain of humanity.

↑ 2.0 2.1 2.2 2.3 2.4 2.5 2.6 2.7 2.8 2.9

[] Fate/EXTRA material - Character Profile: Buddha SAVER, p.098

English

 | 

Japanese

Buddha SAVER


Height: Unknown

Weight: Unknown

Blood type: Unknown

Birthday: Unknown

Image colour: Green

Talents: Humanity salvation

Likes: Discipline, dialogue, entering nirvana

Dislike: Poisonous mushroom

Enemy: Different method of Salvation

↑

[] Fate/EXTRA material - Encyclopedia: Saver [Servant name], p.191

English

 | 

Japanese

Saver [Servant name]
Buddha. A messiah type servant.

↑

[] Fate/EXTRA material - Encyclopedia: All the World's Desire [Noble Phantasm], p.158-159

English

 | 

Japanese

All the World's Desire [Noble Phantasm]
Angra Mainyu/CCC.
The anti-planetary Noble Phantasm of reborn Kiara.
The most heinous of Noble Phantasms, which uses the Earth for masturbation.
It's an Authority which lets her gain the greatest of sensations and grow by offering her body to and embracing all life left on Earth - humans, animals, plants.
The nature of this is similar to a certain man-made demon who had once been made into the object of demonization to prove the evil of humanity and turned into a sacrifice.
This vortex of pleasure melts all things with sapience, subliming their lives in a brief instant. It's the birth of an ephemeral but eternal Land of Bliss. This vortex of pleasure works on any sapient being without exception, no matter how different the structure of their intelligence is.
This is not a Noble Phantasm limited to the Earth.
It has a special effect of doing more damage in certain conditions, the damage increasing if it's used on the opposite sex, and the higher the intelligence the greater the damage.
The plan on paper would have been for Archer to take the least damage, while Gilgamesh would receive the greatest damage.
As for why its performance, presentation, and sheer scale are so huge, it's because Kiara is a being close to Saver.
People who devote themselves to bring salvation to sattvas (all living things) are generally called Boddhisattvas, and those who have attained moksha are also Boddhisattvas. And a Boddhisattva is a god of cosmic proportions, and easily governs at least the solar system.
The vastness of the world view of Buddhism is on a different level from that of other religions.
Why there are numerical concepts like Nayuta (10^60) and Muryoutaisuu (10^68) is because they were made to demonstrate the magnitude of the Buddha.
In Buddhism, the universe is the kingdom of the Buddha, and its size is described as the great trichiliocosm.
The galaxy is made up of 3,000 worlds (small trichiliocosm), and a thousand galaxies is a medium trichiliocosm, and a thousand of these makes up the great trichiliocosm.
This truly can be said to be on the scale of galaxies, galaxy clusters, superclusters.
Damn India, you guys came up with this interpretation more than 2000 years ago?
Back in the initial development phase, I handed in the text description and told them I wanted the last boss to do this with the expectation it'd get rejected because of CERO standards but it got passed without a hitch. It's still a mystery as to how this was able to make it through the censors.

↑