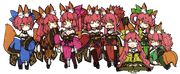 The Tamamo Nine (タマモナイン, Tamamo Nain?) are nine aspects of Tamamo-no-Mae, each taking the form of one of her nine tails.
While all designs for all nine members have been shown, only two have directly appeared. Five others have been given names, but they have not been attributed to specific designs. Three of the nine are said to have their "settings" "suitably changed" in accordance with the trends of the time.
Tamamo Cat, the "wild beast."
Tamamo Gucci (

タマモグッチ

,

Tamamo Gucchi

?

), who likes expensive things.
Tamamo Dermo (

タマモデルモ

,

Tamamo Derumo

?

), "supremacy of the home."
Tamamo Vicchi (

タマモヴィッチ

,

?

), the "talented beautiful secretary."
Tamamo no Hime (

タマモノヒメ

,

?

), the "noncommittal princess."
Tamamo Aria (

タマモアリア

,

?

), the "strange one."
Unknown
Unknown
References
Edit
Ad blocker interference detected!
Wikia is a free-to-use site that makes money from advertising. We have a modified experience for viewers using ad blockers

Wikia is not accessible if you've made further modifications. Remove the custom ad blocker rule(s) and the page will load as expected.