The Queen's Glass Game
Talk

4
447pages on
this wiki
Noble Phantasm
The Queen's Glass Game
Japanese name:
クイーンズ・グラスゲーム
Title:
Perpetual Engine - Maiden Empire
Japanese title:
永久機関・少女帝国
Owner:
Caster
"Beyond beyond the rainbow plains,
black and white squares, the King of Games
Run, run, the maze of mirrors,
farewell, oh pitiable rabbit~~"
—Alice and Caster
The Queen's Glass Game: Perpetual Engine - Maiden Empire (永久機関・少女帝国, Eikyuukikan Shoujo Teikoku?) allows for Nursery Rhyme, a formless irregular servant created from the dreams of her master, Alice, with the Perpetual Engine relic, to take on any number of different shapes or ability sets. As a personification of the full body of British nursery rhymes, she can take on the forms such as Lewis Carroll's Alice and the monster from her short poem, known as "Jabberwocky." All of the in-game descriptions of Nursery Rhyme's abilities, skills, and Noble Phantasms are in a form of nursery rhymes. Its usage as a direct weapon has the effect of harming the enemy and restoring Caster's health.
Abilities
Edit
Nursery Rhymes
Jabberwocky
Edit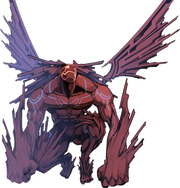 Jabberwocky (ジャバウォック, ?) allows for Caster to create a large creature in the form of the Jabberwock.

Nameless Forest
Edit
Nameless Forest (名無しの森, Nanashi no Mori?) is a Reality Marble in which a forest is manifested, causing an opponent to forget their identity. The field effect may be broken by uttering one's own name. The Protagonist solves this by writing their name on their hand.
References
Edit