Nasuverse character
Tokugawa Ieyasu
Japanese name:
徳川家康
Also known as:
Tanuki
Franchise:
Fate
Appears in:
Koha-Ace
Character type:
Servant (Master: ???)
Servant classes:
Gender:
Male
Tokugawa Ieyasu (徳川家康, ?) is a Servant created for the parody work Koha-Ace.
Tokugawa was one of the three great unifiers of Japan, having once served under Toyotomi Hideyoshi. He will not be summoned by Hideyoshi's Transcendent Dazzling Castle of the Sun unlike the rest of Hideyoshi's followers.
Personality
Edit
Appearance
Edit
Much like Hideyoshi is given the moniker of "monkey", Tokugawa is named Tanuki (タヌキ, ?) due to his appearance.
Abilities
Edit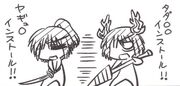 Tokugawa possesses no Personal Skills or Class Skills on his own, but his Noble Phantasm lets him swap between all seven of the standard Servant classes. Each class has its own status and abilities included with it.

References
Edit
Ad blocker interference detected!
Wikia is a free-to-use site that makes money from advertising. We have a modified experience for viewers using ad blockers

Wikia is not accessible if you've made further modifications. Remove the custom ad blocker rule(s) and the page will load as expected.